Global Finance hosted this year's Private Bank Awards dinner on the evening of March 16, 2023. Convening at the elegant The Harvard Club in New York City, private bank executives from around the world shared industry insights and kudos for excellence.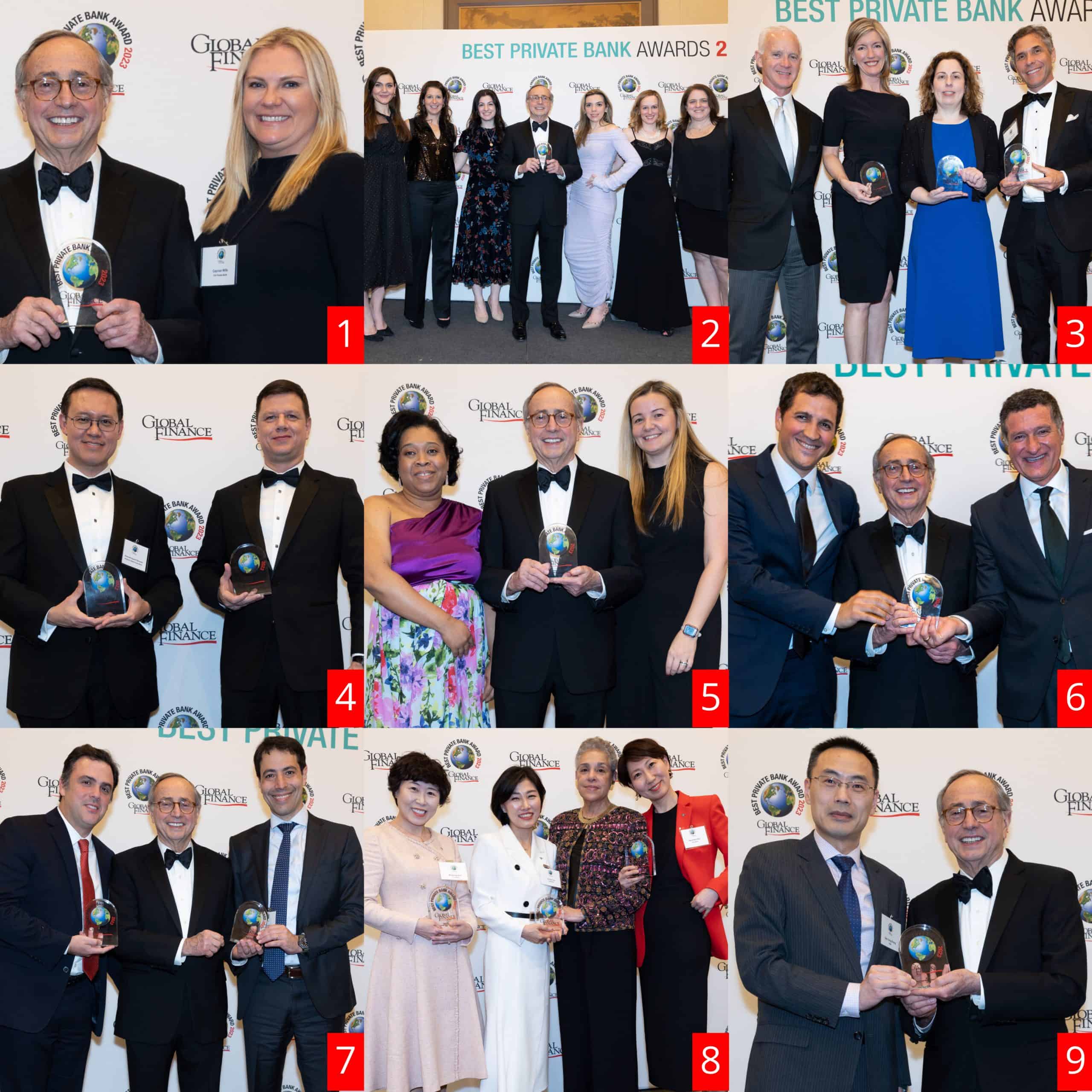 1. Citi Private Bank's Cayman Mills, US Northwest & Midwest Region Head, Managing Director, with Global Finance Publisher Joesph D. Giarraputo.
2. JP Morgan Group: The team from JP Morgan Private Bank accepts their award for Best Private Bank in the World.
3. PNC: (L to R) Don Heberle, EVP & Head of PNC Private Bank; Jennifer Lee, EVP & Head of US Markets; Judith Raffa, COO, PNC Private Bank Hawthorn; Brian Thomas, EVP & Regional Managing Director—Southwest & Mountain Region.
4. Bradesco Global Private Bank: (L to R) Alexandre Sylvestre, Senior Credit Manager, Roberto Schwartz, head of Bradesco New York City Office.
5. Fieldpoint Private: Cherly Rene, VP, Team Lead—Private Banking Associate (L) and Stephanie Coba, Commercial Banking Associate Manager (R).
6. LarrainVial: (L to R) Martín Benitz, Head of Institutional Sales and Gonzalo Córdova, Co-CEO, Wealth Management.
7. BTG Pactual Wealth Management: (L to R) Daniel Passy, Associate Partner and Fabio Feitler, Managing Partner.
8. Hana Bank: (L to R) Mi-Kyung Kim, General Manager; In-Suk Lee, Head of Private Banking Center; Dulce Chicon of Global Finance; Hyun-Soo Kim, General Manager.
9. ICBC: Dan Yang Zheng, Deputy CEO of ICBC USA.
10. Santander: (L to R) Beltran Usera, Head of Satnander Private Banking New York; Victor Matarranz, Senior Executive Vice President and Global Head of Wealth Management; Lourenco Vieira de Campos—Head of Santander Private Banking Portugal; Adriana Cougil, Regional Director; Manuel Perez Duro, Head of Investments.
11. FirstBank Nigeria: Idowu A Thompson—Group Executive, Private Banking & Wealth Management.