NEWSMAKERS: SOUTHERN SUDAN
By Justin Keay
Sudan, the largest country in Africa and the Arab World—and the tenth largest in the world—is about to get a good deal smaller.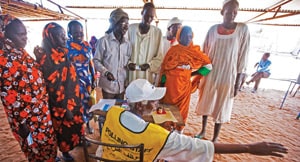 Bold move: Voters decide Southern Sudan's future
Preliminary results were still coming in as Global Finance went to press, but it would appear that the eight million largely Christian people of Southern Sudan have voted for independence from the north.
In what is expected to be a landslide vote in favor of secession, some 97% of eligible voters in the probable new capital, Juba, reportedly turned out to cast their ballots. The UN and other international organizations are due to confirm the results of the vote, largely viewed as free and fair, on February 14. Sudan's ruling National Congress Party in Khartoum has promised to abide by the voters' decision. This would mean the world's newest sovereign state since Kosovo in February 2008 would formally come into existence on July 9.
The new government will have its work cut out. As well as having to deal with lingering hostility from the north (which it fought for 21 years, with over two million deaths, until the 2005 peace agreement) this largely rural, subsistence economy has some of the world's worst infant mortality statistics—115 per 1,000—and virtually no infrastructure. Southern Sudan also, however, has substantial oil reserves, which remain largely unexploited. Provided a workable arrangement can be worked out between North and South Sudan over how to divide this, prospects for the new state look encouraging, even though over time it will have to diversify.
There are other reasons for cautious optimism. An independent South Sudan brings to an end one of the more unsuccessful postcolonial experiments in statehood—the culture, religion and temperament of the people of south Sudan are as different from those of the Islamic north as its green, tropical landscape is from the north's desert-like terrain. The new state will also have global goodwill on its side, most importantly that of its mainly Christian neighbors. Kenya has pledged some $2 million to help the new country train up a civil service, while Uganda has also promised to work hard to support the new state.