Automobili Lamborghini's CFO Paolo Poma explains to Global Finance how his unusual career path from engineering to the C-suite prepared him to lead the company in an era of tighter credit conditions.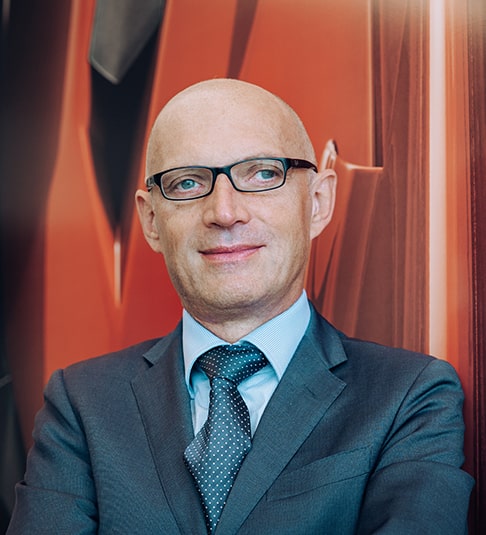 Global Finance: You have an unusual background for a CFO.
Paolo Poma: I am not a normal CFO; I'm an engineer [by training]. I'm not an accountant, I have not worked in the Big Four, and I did not come from auditing. Instead, I come from the business [side], which I thought is where to first understand the business. My approach is always as business partner first; we pay our salaries by selling cars. I then went to controlling, and I started to cope with financial capital markets at Ducati, which is listed both in New York and Milan. That gave me a 360-degree view from inside of the business, the company and the controlling department, and from outside the company of the capital markets.
GF: What keeps you up at night? What are the biggest concerns of someone in your position?
Poma: First is being able to leverage new technologies; we are in a fast-changing world, especially in our industry, and technologies are revealing opportunities as well as risk. Developing our capabilities to leverage new technologies to create new use cases and improve our business will be crucial for the future of the industry, not just for [Lamborghini].
For example, we are collecting data; data will be crucial for the future, and we own the data. And now we are in the process of creating use cases to deliver [better] performance, [since] data by itself [does not do so]. If we leverage artificial intelligence, we develop new systems.
GF: You're talking mostly about the product side, but there are new technologies aimed at helping CFOs as well.
Poma: Taking into consideration that I'm responsible for IT as well, there is a broader concept of finance that also includes IT and legal. But I think what is most important is understanding what is going to impact the business and support resource allocation: whether it is worth it or not, whether we believe that these technologies will be successful. Allocation of resources is a big challenge, and, I would say, will be even more so in the future.
GF: "Legal" implies some kind of role supervising lawyers. How important is this aspect of your job?
Poma: I am not a lawyer, but I like legal topics, so I go into details because I always like to find a good compromise between being too aggressive and being too reluctant. Also, understanding legalese, in my opinion, is important in order to take the right decision. Especially with a brand like ours, it's very important to protect the brand. The more awareness there is of the brand, then the more we deal with legal issues around the world.
GF: You are in charge; when do you seek outside experts?
Poma: We leverage external consultants, especially in a very tricky market like the US, but I also like to have discussions with the lawyers to understand better how they deal with the legal cases, how they behave with a counterpart. Because at the end, we have to make the decision. Delegation is important, but so is understanding what you delegate. Otherwise, sooner or later, you will run into problems.