Qatar Islamic Bank (QIB) has devised a comprehensive growth and development strategy for the coming years with customers at the centre. A Q&A with Bassel Gamal, Group CEO of QIB on the bank's digital channels driving its sustainability strategy.
What are the goals of Qatar National Vision 2030 and the National Climate Change Action Plan and what initiatives is QIB undertaking to support them?
Qatar Islamic Bank (QIB) has devised a comprehensive growth and development strategy for the coming years with customers at the centre. QIB's growth strategy is built on its position as a leading Islamic Bank with deeply rooted customer relationships and strong engagement with the local community. The Bank's strategy is closely tied with Qatar's National Vision 2030 and the Government's commitment to investing in the country's infrastructure, the diversification of the economy and the development of a diverse and sustainbale private sector.
We are a stable financial group covering all segments of the financial markets, including individuals, government institutions, large corporations and SME's providing innovative Sharia-compliant banking solutions that fit every segment's needs.
Our approach involves the strategic evolution of our business model, exploration of novel revenue streams and the seamless integration of ESG principles into our operations. QIB recently formulated a sustainability strategy aligned with the aspirations of Qatar National Vision 2030, the sustainability criteria set forth by the Qatar Stock Exchange, and the United Nations Sustainable Development Goals. These guiding frameworks steer our future endeavours, emphasising sustainability in our financing activities, support for local communities, and pioneering initiatives to mitigate our environmental footprint.
QIB's dedication to Qatar's long-term vision includes rigorous ESG assessments for all business finance requests, leading to substantial investments in areas such as Green Buildings, pollution prevention, education, healthcare, and SME support. Furthermore, QIB actively engages in initiatives aimed at facilitating Qatar's transition towards renewable energy and decarbonization, underscoring our commitment to environmental stewardship. Concurrently, our pursuit of digitalization serves a dual purpose, promoting financial inclusion while enhancing resource efficiency, thereby contributing to both the nation's development goals and environmental sustainability.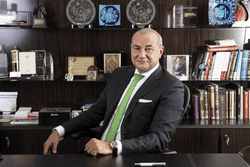 What green financing and other innovative products and services have you specifically introduced to promote sustainability and environmental responsibility?
QIB has taken significant steps to promote sustainability and environmental responsibility through the introduction of Shari'a-compliant and green financing products and services. One noteworthy initiative is the Memorandum of Understanding (MoU) with the Gulf Organisation for Research and Development (GORD), supporting the objectives of Qatar National Vision 2030 and the National Climate Change Action Plan. This collaboration lays the foundation for QIB to actively support green mortgages, sustainable real estate financing, and the introduction of innovative products and services aimed at advancing sustainable projects and addressing climate change impacts.
Moreover, QIB has embraced a commitment to sustainable banking practices by becoming an Equator Principles Financial Institution (EPFI). This strategic move involves updating the bank's risk management framework to align with the Equator Principles, reinforcing its dedication to sustainable development. By adhering to these principles, QIB enhances its risk management capabilities as it monitors the exposure of new project finance and related requests to Environment, Social, and Governance (ESG) based risks. This proactive approach not only reflects QIB's commitment to sustainability but also provides a platform to engage with customers on mitigating potential risks, fostering enhanced risk-awareness among both existing and prospective customers.
As Qatar's leading digital bank, QIB is transforming the country's banking system with cutting-edge digital and mobile products and services. How are QIB's innovative digital offerings supporting your ESG goals and promoting sustainable finance and environmental responsibility in the community?
Since 2018, QIB has undergone a comprehensive digital transformation, resulting in increased sales and revenue while shifting branch transactions to digital channels. In 2022, there was a 20% increase in retail mobile app users and a 48% rise in app-based transactions. Branch transactions have decreased by 44% since early 2020, and digital channels now contribute to almost 60% of the total sales volume for key retail products. On the corporate side, digital channels account for 94% of transfers and 60% of digital check clearing. QIB's digital solutions offer 24/7 banking, a user-friendly interface, and instant service fulfilment.
This focus on innovation and customer experience has made QIB the most customer-centric and efficient bank in Qatar. The firm leverages advanced technologies like optical character recognition, AI and data science, setting new standards in digital banking in Qatar. Going forward, we will continue our investment in digitalisation with a greater focus on strategic partnerships with fintech and other innovative players.
QIB's company-wide digital transformation journey has resulted in an expanded array of products and services available through digital channels, in line with Qatar's National Vision 2030. This digitalization optimizes internal processes, enhances operational efficiency, improves customer experience, ensures security and data protection, and contributes to reducing the bank's environmental footprint. The bank's investments in digital banking technology have played a pivotal role in retail asset growth and increased efficiency across the institution, further bolstering the customer experience.
Sponsored by: