AWARDS CEREMONY: LOCATION NEW YORK CITY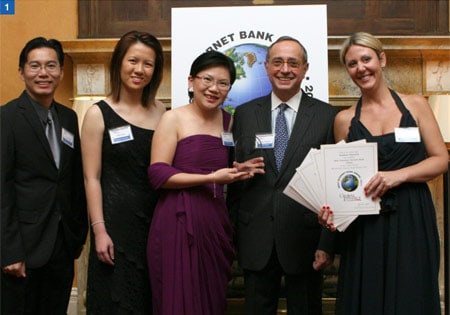 Representatives of most of the first-round winners of The World's Best Internet Banks awards joined Global Finance on November 3 at the Harvard Club in New York City for the ninth annual Best Internet Banks awards ceremony and dinner.
The Round 1 winners—announced in the September 2011 issue of Global Finance —received their awards and Round 2 global and regional winners were announced. Citi once again won the overall Best Internet Bank award. Standard Chartered took the Best Global Consumer Internet Bank award, and Citi garnered the top honor for Best Corporate/Institutional Internet Bank.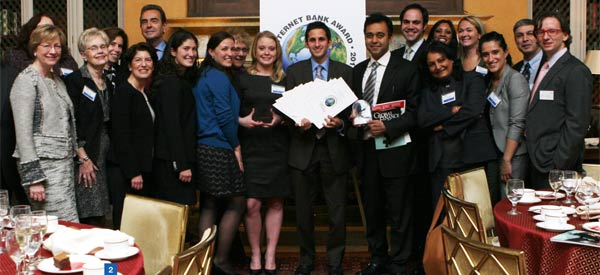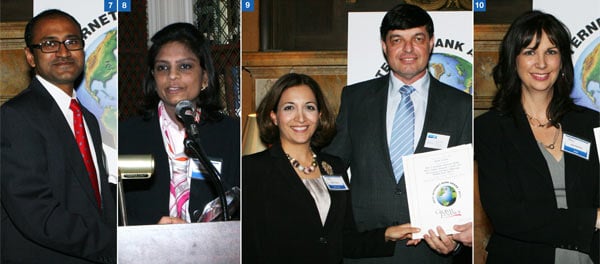 1 L-R: Hin Wai Chang, senior system analyst, Elaine Boey, eBiz product manager, and Lee Sze Tan, senior delivery manager of Standard Chartered; Joseph D. Giarraputo, publisher of Global Finance ; Melissa Waterhouse, digital programme manager of Standard Chartered
2 Internet banking product management, sales and marketing team members from Citi, with Global Finance staff members
3 Haiwen Hsu, head of the treasury department at Chinatrust Bank; with Christopher Giarraputo of Global Finance
4 Kalyani Balakrishnan Nair, manager of electronic banking channels at CIMB Bank
5 Dariusz Nalepa, director of transaction banking; and Przemyslaw Gdanski, member of management board, BRE Bank
6 Miguel Carvalho, COO, ActivoBank
7 Amit Mehta, vice president, CEO Portal and product management, Wells Fargo
8 Priya Bajoria, associate vice president, Infosys
9 Rapoport Udi, vice president, head of business applications department, development & IT section, Bank Leumi Le-Israel; and Harel Meirav, business development, Leumi Trade, capital markets division, Bank Leumi Le-Israel
10 Julia Garbacz, PCM eChannel product development manager, HSBC