Awards Ceremony
New York City
In late April, over 50 people came to the New York Harvard Club to celebrate the winners of Global Finance's seventh annual Best Treasury & Cash Management Awards. Cash management banks maintain that in the wake of the recent crisis their solutions are more relevant than ever as corporate treasurers look for ways to unlock and preserve working capital.
In this year's awards, Global Finance picked the cash management banks and treasury management software and service providers we believe have successfully combined geographical reach, product innovation, investment in technology and
local market knowledge to meet the increasingly sophisticated and complex regional and global needs of their customers.
The event was managed by Tania Vira, special projects/ events coordinator.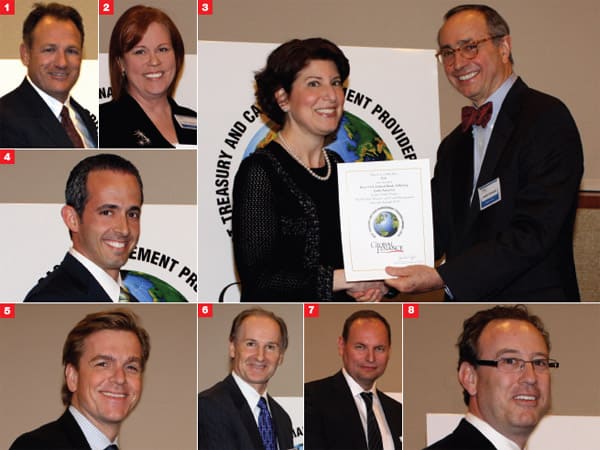 1. Robert Eimers, global business solutions at IBM
2. Eileen Zicchino, managing director and chief marketing officer, J.P. Morgan
3. Leslie Klein,managing director, global head of marketing, Citi Global Transaction Services with Global Finance publisher Joseph Giarraputo
4. Chris Mager, managing director and channel business manager, BNY Mellon
5. Patrik Havander, first vice president, SEB
6. Colin Williams-Hawkes, head of treasury at Nordea
7. Borna Ljubicic, head of business development for CEE at UniCredit Global Transaction Banking
8. Seth Brener, director and senior sales at Deutsche Bank Global Transaction Banking