AWARDS CEREMONY: LOCATION WASHINGTON DC
Global Finance held its annual best banks awards ceremony at Washington's National Press Club on September 26.
The event happened during the annual meetings of the IMF and World Bank. Over 200 financial leaders from around the world were present to accept their awards and honor other award recipients.The awards were announced in previous issues of the magazine. For a full list of 2011 award winners, visit GFmag.com.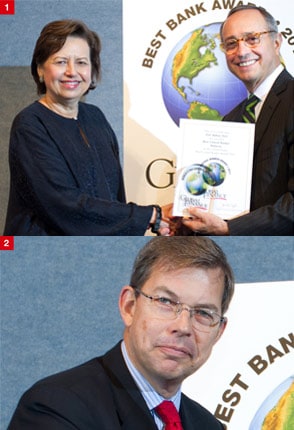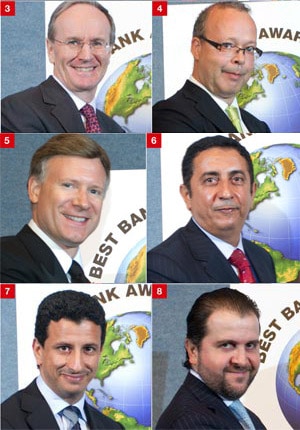 1 Dr. Zeti Akhtar Aziz, Governor, Bank Negara Malaysia, accepting the Best Central Banker award
2 Mr. Mark Watkinson, Senior Executive Vice President, Head of Commercial Banking HSBC – North America, accepting Best Trade Finance Provider in Hong Kong
3 Mr. David Dew, Managing Director, SABB, accepting Best Trade Finance Provider in Saudi Arabia
4 Mr. Ulf Noren, Global Head of Sub-Custody, SEB, accepting Best Bank in Sweden
5 Dr. Michael Woolfolk, Senior Currency Strategist, BNY Mellon, accepting Best FX Research
6 Mr. Mohammed Al-Omar, Chief Executive Officer, Kuwait Finance House, accepting Best Islamic Financial Institution in the Gulf Cooperation Council (GCC)
7 Mr. Ahmed Al-Khateeb, MD & CEO, Jadwa Investment, accepting Best Islamic Investment Bank award
8 Mr. Enrique Corredor, BTG Pactual, Partner, Investment Banking, accepting Best Investment Bank in Brazil
9 Mr. Bruno Boetger, Managing Director, Bradesco BBI, accepting Best Equity Deal of the Year: Lead Manager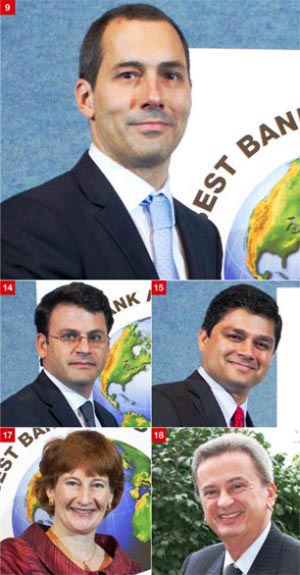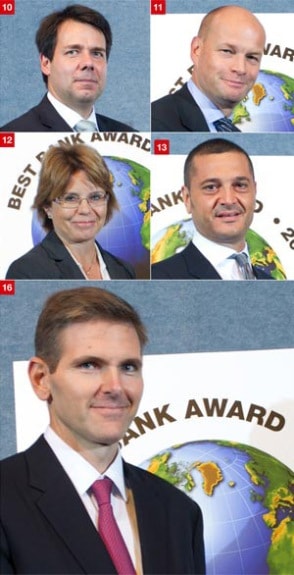 10 Mr. Stefan Goebel, Managing Director/Head of Treasury, Landwirtschaftliche Rentenbank, accepting Safest Bank award
11 Mr. Luc Popelier, Chief Executive Officer, KBC, accepting Best Bank in Belgium
12 Ms. Borghild Holen, Senior Vice President and Head of the ICI division, DnB Nor, accepting Best Bank in Norway
13 Mr. Tolga Egemen, Board Member, Garanti, accepting Best Bank in Turkey
14 Mr. Khalil Geagea, Group Head FI & Correspondent Banking, Bank Audi, accepting Best Bank in Lebanon
15 Mr. Rakesh Purohit, Director, Citi, accepting Best Global Trade Finance Bank, Best Global SCF Provider-Bank, and Best Global Sub-Custody Bank
16 Mr. Michael Kalavritinos, Managing Director, Head, Asset Servicing, Latin America, BNY Mellon, accepting Best Global Custody Bank award
17 Ms. Karen Fawcett, Group Head, Transactional Banking, Standard Chartered, accepting the Best Foreign Exchange Provider awards in Africa, Asia-Pacific, and Southeast Asia
18 Mr. Riad Salameh, Governor, Banque du Liban, accepting the Best Central Banker award