MILESTONES: EMERGING MARKETS
By Erik Heinrich
The BRICS (Brazil, Russia, India, China and South Africa) countries have agreed to set up a development bank to better serve their economic needs and reduce their reliance on Western financial institutions.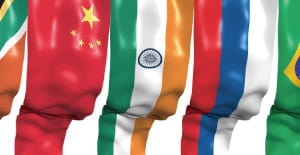 The move reflects mounting frustration among emerging nations at having to rely on the World Bank and the International Monetary Fund for develoment financing, which some believe unfairly reflect the interests of developed countries.
Finance ministers from the BRICS nations say the new bank will support trade and infrastructure spending or help stabilize economies during crises.
But critics question the usefulness of a BRICS bank. "The World Bank has built up its project expertise over many years, and the proposed entity would be starting from scratch," remarks Peter Buchanan, senior economist with CIBC World Markets. "Governments [that] once depended on official sources of developmental financing can these days often raise the funds affordably in private capital markets."
Laurence Booth, a finance specialist from the Rotman School of Management at the University of Toronto, says he cannot see Brazil, for example, agreeing to help out Argentina through a BRICS bank on better terms than the IMF.
An initial $50 billion will be injected into the new development bank, but there is disagreement over whether each BRICS member should contribute $10 billion or if contributions should vary by the size of their respective economies.
China's economy is about 20 times the size of South Africa's and four times as big as Russia's or India's.
The BRICS bank offers an alternative to global institutions like the World Bank and the European Bank for Reconstruction and Development, which attach political conditions to the low-interest loans they offer developing countries.In contrast, the BRICS development bank is expected to offer unconditional loans at somewhat higher rates of interest. But it could complement the World Bank by funding projects in industries such as construction of biofuels, large dams and nuclear power plant projects, which the World Bank won't touch for environmental reasons.
One potential stumbling block the BRICS face is deciding what currency to use. China has waged a compaign for its currency, the renminbi, to be adopted.