ANNUAL SURVEY

In our 14th annual survey of top banking performers in emerging markets, we name those banks that are consistently providing high levels of service in often-tumultuous markets.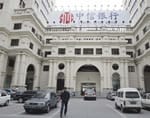 Despite China being hit by its worst day of trading in 10 years, emerging markets remain resilient

The Chinese stock market suffered its worst day of trading in 10 years on February 27, with the Shanghai composite index falling nearly 9%. While the plunge unnerved investors in global markets and temporarily widened spreads on emerging market debt, the bigger surprise was how quickly the markets bounced back.
The emerging markets appear to have reached a new level of maturity that relegates panics and domino theories to a bygone era. Structural reforms have reduced foreign debt mountains to molehills in many cases, and inflation has been brought under control, with one or two notable exceptions.
It is impossible to generalize across diverse emerging markets that are geographically dispersed and account for 85% of the worlds population. There is also no predicting when the next bout of risk aversion could rear its head. It is clear, however, that the biggest opportunities lie in the emerging markets that are implementing policies for financial reform and are integrating into the global economy.
The outlook for commodity prices recently brightened, and prospects for global growth remain solid. The fastest growing regions of the world, such as Asia, Central and Eastern Europe and most of the oil-producing countries of the Middle East, will require increased financial services. Other countries that are experiencing political upheavals and imploding economies require the financial security and sound advice that good bankers can provide.
A sound banking system is a key to economic development. As markets open to foreign competition and international banks make further inroads, they are sharing their knowledge and introducing new technology. Meanwhile, many local banks are rising to the competitive challenge and improving their products and services.
In selecting this years winners, we relied as always on input from industry analysts, corporate executives and banking consultants, as well as research by Global Finances editorial team. Our selection criteria included knowledge of local conditions and customer needs, growth in assets, profitability, strategic relationships, experienced staff, innovative products, competitive pricing, level of non-performing loans and use of technology.
The winners are not always the biggest banks but, rather, the best banksthose with the qualities that corporations should look for when choosing a bank. These are banks with effective risk-management systems and good corporate governance. They often are also banks that get involved with improving their local communities through support for higher education and social programs, particularly in the poorest countries. Many are involved with microfinance and lending to small and medium-size businesses, as well as serving the needs of the growing list of major corporations in their countries.