NEWSMAKERS: GLOBAL
By Michael Shari
Not since the reconstruction of Western Europe in the aftermath of World War II has an incoming managing director of the International Monetary Fund come under such tremendous pressure to prove that it is still relevant 65 years after it was founded as the lender of last resort for distressed governments.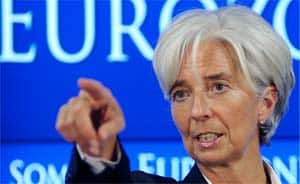 Lagarde must show strong leadership on tough issues, such as the eurozone crisis
When the IMF convenes its annual meeting with its sister organization, the World Bank, in September, the beleaguered Christine Lagarde will be expected to demonstrate that she has made tangible progress on several battle-weary fronts less than three months after having fallen into a job suddenly vacated in disgrace by her predecessor.
Nowhere is Lagarde's dilemma more immediately apparent than in the European Union, a systemically important economy where an escalating sovereign debt crisis threatens to deal a devastating blow to the global financial system. Yet the eurozone crisis is also central to the political destiny of Europe, and the posturing of finance ministers of France, Germany and other large European countries is making it increasingly apparent that they intend to keep their destiny in their own hands. To that end, they can be expected to have a hand in dictating any course the IMF plots for the EU, says Domenico Lombardi, a senior fellow at the Brookings Institute in Washington.
"The role of the IMF in the eurozone is very peculiar," says Lombardi, a former board member of the IMF and a former official of the Bank of Italy. "It is not a nation. It is a group of nations with monetary sovereignty. So it's very difficult for her to navigate these uncharted waters."
Among the obstacles that have surfaced thus far for the 55-year-old Lagarde is that, in her last job as finance minister of France until June 29, she was intimately involved in shaping the EU's response to its own sovereign debt crisis. That could make her a target for serious political opposition should the IMF propose debt restructuring or other financial remedies on core EU member states that is anywhere near as painful as those imposed upon Greece this summer.
Any attack on her credibility could only further erode the image of a lending agency that already lacks the capacity to bail out an economy any larger than Greece, Ireland or Portugal. That lack of capacity has precluded the possibility that the IMF would lend to countries as large as France or Italy, depriving the IMF of the leverage it would need to induce large scale reforms in such countries, says Lombardi.
Greater Representation for Emerging Economies
Lagarde threw her support behind a series of reforms to the IMF's governance structure that would give greater representation to emerging economies like China, India and Brazil—which are now considered the world's most dynamic engines of growth.
These countries are also seen as more likely to become lenders to IMF programs than developed countries that are cutting back on their support for such international efforts. To that end, IMF watchers expect her to spend more of her time on the road interacting with governments of emerging nations than have her predecessors.
Some IMF watchers believe Lagarde is better equipped than most of her predecessors to make the IMF more relevant at a time like this as a result of the difference between her and previous managing directors of the fund.
Not only is she the first woman to have run the IMF, but she was also the first to have served as chairman of international law firm Baker & McKenzie. The private sector efficiency that she reportedly is bringing to the IMF headquarters, for example, could compensate for her lack of experience as an economist.
"If anything, this is exactly the diversity, the range of professional skills, that the IMF might hopefully draw from," says Lombardi. "A non-economist may be in a better position to chart a course for the IMF."