REGIONAL REPORT: GCC / COUNTRY PROFILE: QATAR
Qatar has plenty of gas for the long drive to becoming a knowledge-based economy.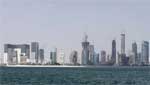 Doha's constantly changing skyline illustrates Qatar's rapid growth.
Qatar has the world's third-largest reserves of natural gas after Russia and Iran. Not only is it the world's largest exporter of liquefied natural gas (LNG), but it also could become the center of a gas pipeline grid extending throughout the six member nations of the Gulf Cooperation Council.
"Looking ahead, Qatar's profile in the international gas market is set to rise further as the global demand for cleaner forms of energy grows—with Qatari LNG a relatively clean fuel, likely to become increasingly popular," says John Sfakianakis, chief economist at Riyadh-based Saudi British Bank (SABB).
Moreover, Qatar's role as an additional exporter of LNG to Europe is likely to improve Europe's energy security by diversifying its supply to reduce dependence on Russia, Sfakianakis says. Through 2012, he says, Qatar will invest $90 billion in the gas sector, which will result in a tripling of LNG exports.
Qatar, a peninsular country extending into the Gulf from the east coast of Saudi Arabia, has the fastest-growing economy in the Middle East, with a real gross domestic product expected to grow more than 14% in 2008. The booming oil and gas sector will be supplemented by continued fast growth in construction and financial services, economists forecast.
Meanwhile, Qatar is planning for the day decades in the future when its oil and gas reserves run dry. It has the vision of establishing a world-class technology center to support a knowledge-based economy. "This is a long-term vision that sees Qatar growing into a regional science and technology hub, and that is beginning to take shape," Abdullah bin Hamad Al Attiyah, deputy premier and minister of energy and industry, said in late April at the opening of Shell Qatar's research and technology center at the Qatar Science and Technology Park.
Shell Qatar, part of the Royal Dutch/Shell Group, is a partner with Qatar Petroleum in Qatargas 4, a joint venture to produce LNG destined for the United States and other markets. Shell's other major project in Qatar is the construction of a large facility called Pearl GTL to convert natural gas into a cleaner-burning alternative to diesel fuel.
The financial services sector of the Qatari economy was given a boost by the advent in May 2005 of the Qatar Financial Center and its regulatory authority, which has licensed 81 financial institutions and has another 20 applications under consideration. In late May Riyadh-based Samba Financial Group was the latest bank authorized to operate at the QFC.
"It is very important to be in Qatar now, when things are happening and the future is very promising," says Fady Amatoury, general manager of Bank Audi Qatar. Bank Audi is the first Lebanese bank to be established in Qatar, operating from the QFC. "This is a way for us to participate in the fast-growing Qatari economy and other GCC economies," he says. The bank already has an investment company in Saudi Arabia.
With its Grade 1 license from the Qatar Financial Center Regulatory Authority, Bank Audi Qatar can take deposits, provide and arrange credit facilities, deal and advise on investments and provide custody services. It operates with a paid-in capital of $50 million, which represents five-fold the minimum capital required by the QFC.
The competition and high costs in Qatar are challenging, Amatoury says. "The rent is very high, and we have to pay a housing allowance for people coming from Beirut," he explains. "But the Lebanese are very well liked here," he adds. "It's a friendly and very open society."
Dermot Dick, executive vice president, international underwriting, of QIC International, points out that the QFC provides the insurer a high profile and a respected regulatory platform from which to underwrite its international portfolio and manage its overseas operations.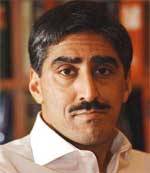 Qureshi: Specialists can help ensure terms are drafted to your advantage.
"We have confidence in the QFC as a platform from which to develop our international ambitions," Dick says. The company's parent, Qatar Insurance Company (QIC), is the leader in the domestic insurance market, with more than 50% of premium volume.
In July 2007 Standard & Poor's reaffirmed QIC's local currency financial strength rating of A, with a stable outlook, citing its extremely strong capital adequacy and strong competitive position. However, the rating agency cautioned on the heavy local concentration of QIC's investment portfolio, as well as the energy and petrochemical focus of its risk book, which it said could lead to increased volatility in operating performance.
QIC International was incorporated in February 2007 to coordinate the insurer's push into international markets and to further develop a non-correlating revenue stream, Dick says. Meanwhile, as the Qatari insurance market continues to open to new participants, QIC is working to develop new products and to refine its business model. In 2007 it signed a memorandum of understanding with strategic partners to establish an Islamic insurance company. It also upgraded its branch in Kuwait to form a national company, Kuwait Qatar Insurance, with the participation of Kuwaiti and Omani investors.
Scott Callander, director, Middle East institutional advisory, at AXA Investment Managers, says the establishment of the firm's Qatar office was a natural progression for AXA IM and demonstrates its commitment to the region. "Our business model works exceptionally well in this market, which firstly demands a strong understanding of our clients' needs and, secondly, provision of diverse and innovative investment solutions, leveraging all of our multi-expert platforms," he explains.
AXA IM offers expertise across all major asset classes, including fixed income, equity, alternative investments, structured products and balance-sheet management for insurance companies. AXA Group is the firm's biggest client, but AXA IM serves a wide range of institutional investors and fund distributors. The firm has $17 billion of assets under management in the Middle East, the majority of which are institutional. "We are seen as a diversification tool to get exposure in the US, Europe, Japan and Asia through a variety of vehicles, both conventional and alternative," Callander says. "The next stage of our strategy is the implementation of our distributor plan for the region."
AXA IM's experience at the QFC has been very positive, notwithstanding the increasing costs across the region, Callander says. "One of the biggest challenges is finding high-quality staff," he says. "It is incredibly difficult to find experienced asset-management-related talent, so we are not confining our searches to the region to expand our team," he notes. Another major challenge for financial services firms and others operating in the region is finding office space at a reasonable price, he says. "The same goes for housing and schools," he points out. "English or US schools are at a premium, but this is not unusual in rapidly developing markets like Qatar or the GCC in general."
In October 2005 London-based Ansbacher, the private banking group owned by Qatar National Bank (QNB), became the first financial institution to be granted a license to operate in the QFC. Adel A-Aziz Khashabi, head of private banking-Qatar at the Doha branch of Ansbacher, says that while the domestic private banking business of QNB is thriving, the international wealth management business remains limited to institutions. "High-net-worth individuals in Qatar want to invest in local property, initial public offerings and shares," he says. "If they can get a 25% return in the domestic market, they are not interested in international markets," he explains.
Institutional investors are more sophisticated and understand the need for portfolio diversification, Khashabi says. "Wealthy individual investors will change their thinking in three to five years, when the market will be saturated," he says. "This will come with the maturity of the market."
The real boom will happen in 2012, when Qatar's new airport is completed and upgrading of the ports is finished, according to Khashabi. "Qatar is creating the infrastructure and developing at the same time," he says. "This is like a new business that is spending heavily to build up its operations and will reap the rewards later," he says.
McNair Chambers, the first-ever English barristers chambers outside the United Kingdom, has opened an office in Doha to provide specialist advisory services in commercial law, international arbitration and public international law. Barristers are self-employed lawyers who work together in offices called chambers but who have distinct areas of specialization.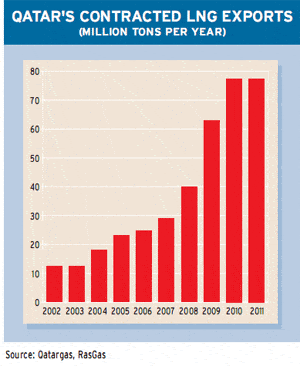 Khawar Qureshi, head of chambers at McNair, says that being self-employed adds to barristers' objectivity and independence and also means they can offer clients a direct relationship. "We have had links to Qatar-based firms for 30 years," he says. "Now they can have direct access to our services without having to hop on a plane to London."
The Qatar Financial Center Regulatory Authority in March authorized McNair Chambers to operate from the QFC. "Our skill sets reflect international business, such as advising on negotiations and disputes arising out of commercial contracts," says Qureshi, who was awarded the title of QC, or Queen's Counsel, the highest UK honor for a barrister. "We cannot appear in Qatari courts and cannot advise on Qatari law," he says.
The lawyers at McNair frequently advise on multi-billion-dollar commercial contracts and disputes arising in a wide range of industries, including oil and gas, banking, construction, financial services, aviation and shipping. All of these industries are important to the diverse Qatari economy. McNair's members include experts in Arab law and Chinese law.
"Our clients include multinational corporations, global law firms whose clients are active in the region, regional law firms, state entities and local corporations engaged in international business," Qureshi explains. "Barristers can advise on the strength of a case and can tell you what supporting evidence is needed," he continues. "However, it is even better to get specialist advice at the contract stage, since this can save you costly legal fees later or simply ensure terms are drafted to your advantage."
To give something back to the community, McNair plans to train Qatari law students. It has signed a memorandum of understanding with the College of Law at Qatar University to set up an internship program.
Government spending will continue to grow strongly in 2008, as capital programs in education, health and transport give the economy a boost, according to Sfakianakis of SABB. This additional spending also triggers more private consumption, since 96% of Qatari workers are employed by the state, he says.
"As far ahead as 2012, the economic outlook is very strong, with our forecast for real GDP growth projected to average over 11% per annum," Sfakianakis says. Qatar will register another surplus in 2008, even on an oil-price assumption of just $45 per barrel, he says.
Gordon Platt