MILESTONES | UNITED KINGDOM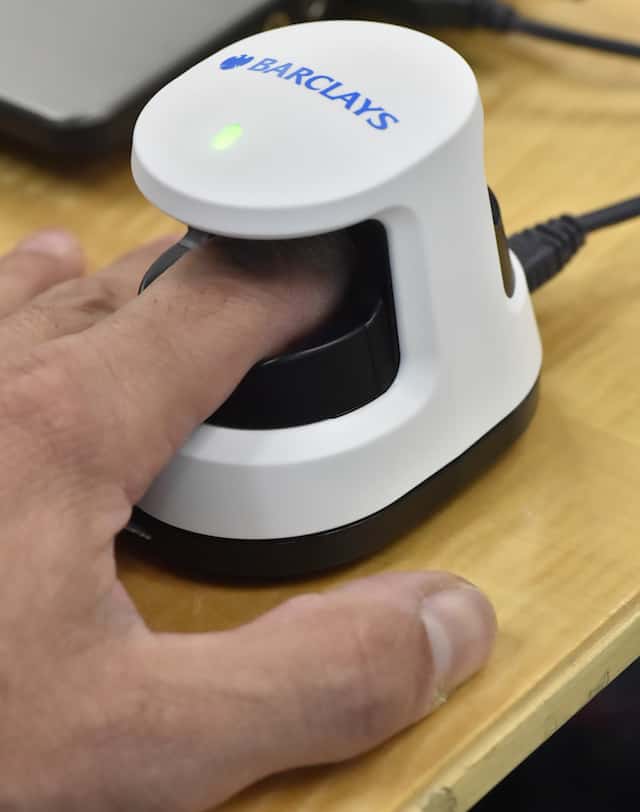 Technology derived from medical scanning is being used by a UK bank in the fight against cybercrime and identity fraud. In early September, Barclays Bank announced its Biometric Reader for corporate banking customers, which uses Hitachi's Finger Vein Authentication Technology (Vein ID). Vein ID arose out of Hitachi's extensive research activities in the area of medical scanning. Finger vein recognition is used in the majority of bank branches in Japan, but Barclays is reportedly the first UK bank to roll out the technology.
The Biometric Reader, available to Barclays's corporate clients next year, can be used to verify a user's identity when logging on to online banking applications. The reader connects to a computer via USB and provides the user with an interchangeable SIM card for two-factor authentication. Finger vein recognition works by shining an invisible near-infrared light through the finger. The light is absorbed by hemoglobin in the blood of the veins, and the pattern is then captured by a sensor below the finger.
Upon the client's registration, Barclays Biometric Reader captures three initial images of his or her finger vein pattern, which are coded and encrypted on the SIM card. The same finger needs to be used every time, although backup fingers can be registered. Michael Mueller, head of cash management at Barclays, says the user is identified and authenticated within a matter of seconds.
Compared with other forms of biometrics such as fingerprint, face or iris scans, finger vein, says Hitachi, ticks all the boxes when it comes to anti-forgery, accuracy and speed. As an internal biometric it is difficult to replicate, and it is insensitive, Hitachi says, to such factors as dirt, sweat, grease or a surface injury.
Barclays believes the technology is safe enough to roll out to its corporate clients for accessing their online banking applications on Barclays.Net. "Finger vein biometrics are unique and are extremely difficult to spoof," asserts Mueller, adding that the introduction of the technology forms part of the bank's wider digital strategy, of which protecting customers from identify fraud is an important component. Unlike PINs and passwords, which can be shared and stored, vein patterns are unique to the user. Mueller says the bank will not retain a database or public record of the users' finger vein patterns.
The Biometric Reader is one of a series of steps the bank has taken in the field of biometrics—voice biometrics is already used by Barclays Wealth and Investment Management customers for identification purposes. Mueller says the bank will continue to work with Hitachi to explore using similar technology for mobile devices in the future.