In the first round of our Best Digital Bank Awards, evolving customer needs drive financial institutions' technology innovation.

---
Best Digital Banks Keep Customers In Mind
Q&A With Digtial Award Winning Banks
For the 18th consecutive year, the first round Global Finance Best Digital Bank Awards program honors banks, by country and regional sub-category, that have pushed boundaries in meeting challenges with digital solutions and providing their customers with exceptional digital experiences. (Full list of winners in tables below)
"To build a true digital bank," says Zhiwei Jiang, global head of insights and data at Capgemini financial services, "the starting point, endpoint and digital journey need to have the customer as the main driver from both a design and building point of view."
Methodology
Global Finance's Best Digital Awards are based on submissions from banks for consideration for the awards as on July 31, 2017. This is the 18th year for the awards.  A panel of representatives from global consulting, tech and outsourcing firm Infosys evaluate these entries and give their recommendation to the Global Finance editorial board. The final calls are taken by the magazine's editors.  
Winners were selected based on the strength of the digital measures implemented both within and outside the company with an aim to increase operation efficiency and online customer satisfaction. Equal importance was given to the length and breadth of their digital initiatives and innovation shown while adopting new technologies. 
Citi keeps customer experience at the forefront of its digital process, and so won big in both our corporate/institutional and consumer bank categories around the world. With a global network of innovation labs in Tel Aviv, Dublin, Singapore, San Francisco and New York City, Citi's most recent launches include a new mobile app that combines banking, wealth management and money movement capabilities—complete with cutting-edge servicing and authentication features developed by Citi FinTech; and deployment of the CitiConnect application programming interface across 96 countries, enabling Citi's treasury services clients to connect directly with the bank.
North American neighbor Scotiabank picked up three regional consumer banking sub-category awards and the consumer banking award in a staggering 23 countries in Latin America. By opening digital factories in Mexico, Peru, Chile, Colombia and Canada, Scotiabank hopes to support digital uptake in the region following the rollout of its new online and mobile platform across Latin America. "We are also committed to building strong partnerships with academia, technology start-ups, and innovation centers," says Michael Zerbs, Scotiabank's chief technology officer. Those include the Scotiabank Center for Customer Analytics at the Smith School of Business in Queens, New York, the Creative Destruction Lab in Machine Learning at the Rotman School of Management at the University of Toronto, and the Scotiabank Digital Banking Lab at Western University's Ivey School of Business in London, Ontario, where, Zerbs adds, "we can leverage great talent with real-life training in joint labs that bring together technology, data scientists and business to solve real use cases that all require strong data management as a foundation."
Standard Chartered's ambitious technology transformation initiative in Africa and the Middle East paid off with big regional wins. By investing in smart technologies and strategic alliances with other retail businesses, including telecoms and oil retailers, the bank is continually finding new ways to match diverse banking needs across the region.
"We are delighted with the recognition given to our continued efforts and investments in transforming client experience in Africa," says Jaydeep Gupta, regional head of retail banking for Africa and Middle East at Standard Chartered. "Delivering simple and convenient banking with a human touch for increasingly tech-savvy clients tops our digital agenda." The bank also won three country awards for Islamic banking in Asia.
Yapi Kredi Bank picked up a number of awards in both corporate/institutional and consumer banking categories. The Turkish bank has just revamped its mobile banking application, adding three new features: password-free Eyeprint ID, MobilNakit (MobileCash), which allows contactless cash withdrawals at automated teller machines, and direct access to the bank's call center.
Other notable first round winners in the 2017 Best Consumer Digital Banks Awards include Citi, CaixaBank and Odeabank in Western Europe; SEB, TBC, Otkritie Bank* and Sberbank in Central & Eastern Europe; Citi, Scotiabank, CIBC and HSBC in North America; DBS in Asia-Pacific; and Arab Bank, Mashreq Bank, Bank Leumi in the Middle East.
Many of these banks were winners in the Corporate/Institutional categories too: SEB and TBC in Central & Eastern Europe; Yapi Kredi Bank and Odeabank in Western Europe; Wells Fargo in North America; DBS in Asia-Pacific; Bank Leumi, National Commercial Bank and Samba in the Middle East.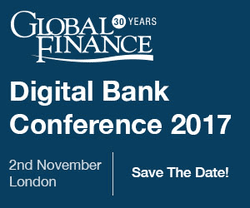 Bank Millennium, Best Consumer Digital Bank in Poland and Best Trade Finance in CEE, has launched a number of innovations, facilitating not only banking but also interactions with public offices and everyday activities, such as shopping or parking payments. It just proves there are many ways to keep customers happy.SEB is among those whose innovation-focused approach brought significant advances. "Starting from spring, our clients can use the remote advisory service or remotely open a banking account. We have updated our mobile app and improved our Website," explains Ainar Leppänen, head of retail banking and technology at SEB Estonia. "To provide world-class services, we must keep up with the ever-changing needs of our customers."
*At the end of August the central bank of Russia took control of 75% of Bank Otkritie after a strong outflow of its deposits by clients in the last few months and some downgrades by the rating agencies.
             GLOBAL FINANCE WORLD'S BEST DIGITAL BANKS 2017 – ROUND 1 WINNERS                                                                  CORPORATE/INSTITUTIONAL BANKS
| NORTH AMERICA | BANK |
| --- | --- |
|   |   |
| Country Winners |   |
| Canada | Citi |
| United States | Wells Fargo |
|   |   |
| Regional Sub-Category Winners |   |
|   |   |
| Best Investment Management Services | Wells Fargo |
| Best Online Cash Management | Citi |
| Best Trade Finance Services | Wells Fargo |
| Best Web Site Design | Wells Fargo |
| Best Integrated Corporate Bank Site | Wells Fargo |
| Best Information Security Initiatives | Wells Fargo |
| Best Online Treasury Services | Citi |
| Best in Mobile Banking | Wells Fargo |
| Best in Social Media | Wells Fargo  |
| Best Mobile Banking App | Wells Fargo |
| Most Innovative Digital Bank | Citi |
| WESTERN EUROPE | BANK |
| --- | --- |
|   |   |
| Country Winners |   |
| Austria | Citi |
| Belgium | Citi |
| Cyprus | Hellenic Bank |
| Denmark | Citi |
| Finland | Citi |
| France | Citi |
| Germany | Citi |
| Greece | Eurobank |
| Ireland | Citi |
| Italy | Citi |
| Luxembourg | Citi |
| Netherlands | Citi |
| Norway | Citi |
| Portugal | Citi |
| Spain | BBVA |
| Sweden | Citi |
| Switzerland | Citi |
| Turkey | Yapi Kredi Bank |
| United Kingdom | Citi |
|   |   |
| Regional Sub-Category Winners |   |
|   |   |
| Best Investment ManagementServices | Odeabank |
| Best Online Cash Management | Citi |
| Best Trade Finance Services | Nordea |
| Best Web Site Design | Yapi Kredi Bank |
| Best Integrated Corporate Bank Site | Yapi Kredi Bank |
| Best Information Security Initiatives | Bank of Ireland |
| Best in Mobile Banking | Citi |
| Best in Social Media | Odeabank |
| Best Mobile Banking App | Citi |
| Most Innovative Digital Bank | Odeabank |
| CENTRAL AND EASTERN EUROPE | BANK |
| --- | --- |
|   |   |
| Country Winners |   |
| Czech Republic | Citi |
| Estonia | SEB Banka |
| Georgia | TBC Bank |
| Hungary | Citi |
| Latvia | SEB Bank |
| Lithuania | SEB Bank |
| Poland | mBank |
| Romania | Citi |
| Russia | Citi |
| Slovakia | Citi |
|   |   |
| Regional Sub-Category Winners |   |
|   |   |
| Best Online Cash Management | Citi |
| Best Trade Finance Services | Bank Millennium |
| Best Integrated Corporate Bank Site | TBC Bank |
| Best In Mobile Banking | Citi |
| Best In Social Media | TBC Bank |
| Best Mobile Banking App | TBC Bank |
| Most Innovative Digital Bank | Citi |
| LATIN AMERICA | BANK |
| --- | --- |
|   |   |
| Country Winners |   |
| Argentina | BBVA |
| Bolivia | Banco de Credito BCP |
| Brazil | Citi |
| Chile | Banco de Chile |
| Colombia | Citi |
| Costa Rica | Citi |
| Dominican |   |
| Republic | Citi |
| Ecuador | Citi |
| El Salvador | Citi |
| Guatemala | Citi |
| Haiti | Citi |
| Honduras | Citi |
| Jamaica | Citi |
| Mexico | Citibanamex |
| Panama | Citi |
| Paraguay | Citi |
| Peru | Citi |
| Puerto Rico | Citi |
| Uruguay | Citi |
|   |   |
| Regional Sub-Category Winners |   |
|   |   |
| Best Investment ManagementServices | Citibanamex |
| Best Online Cash Management | Citi |
| Best Trade Finance Services | Citi |
| Best Web Site Design | Citi |
| Best Integrated Corporate Bank Site | Citi |
| Best Information Security Initiatives | Citi |
| Best Online Treasury Services | Citi |
| Best in Mobile Banking | Citi |
| Best in Social Media | Citi |
| Best Mobile Banking App | BBVA |
| Most Innovative Digital Bank | Citi |
| ASIA-PACIFIC | BANK |
| --- | --- |
|   |   |
| Country Winners |   |
| Australia | Citi |
| Bangladesh | Citi |
| China | ICBC |
| Hong Kong | Citi |
| India | Citi |
| Indonesia | Citi |
| Kazakhstan | Citi |
| Malaysia | Citi |
| New Zealand | Citi |
| Pakistan | Citi |
| Philippines | Citi |
| Singapore | Citi |
| South Korea | Citi |
| Sri Lanka | Citi |
| Taiwan | CTBC Bank |
| Thailand | Citi |
| Vietnam | Citi |
|   |   |
| Regional Sub-Category Winners |   |
|   |   |
| Best Online Cash Management | Citi |
| Best Trade Finance Services | DBS |
| Best Online Treasury Services | Citi |
| Best in Mobile Banking | Citi |
| Best In Social Media | DBS |
| Best Mobile Banking App | Citi |
| Most Innovative Digital Bank | Citi |
| MIDDLE EAST | BANK |
| --- | --- |
|   |   |
| Country Winners |   |
| Bahrain | Citi |
| Egypt | Citi |
| Israel | Bank Leumi |
| Jordan | Arab Bank |
| Kuwait | Citi |
| Lebanon | Citi |
| Qatar | Mashreq Bank |
| Saudi Arabia | Samba |
| United Arab Emirates | Citi |
|   |   |
| Regional Sub-Category Winners |   |
| Best Investment Management Services | Bank Leumi |
| Best Online Cash Management | National Commercial Bank |
| Best Trade Finance Services | Samba |
| Best Web Site Design | National Commercial Bank |
| Best Integrated Corporate Bank Site | Samba |
| Best Information Security Initiatives | CIB |
| Best in Mobile Banking | Citi |
| Best Mobile Banking App | Citi |
| Most Innovative Digital Bank | Citi |
| AFRICA | BANK |
| --- | --- |
|   |   |
| Country Winners |   |
| Algeria | Citi |
| Cameroon | Citi |
| Cote d'Ivoire | Citi |
| Democratic Republic of Congo | Citi |
| Gabon | Citi |
| Kenya | Citi |
| Morocco | Citi |
| Mozambique | Banco Unico |
| Nigeria | Citi |
| Senegal | Citi |
| South Africa | Citi |
| Tanzania | Citi |
| Tunisia | Citi |
| Uganda | Citi |
| Zambia | Citi |
|   |   |
| Regional Sub-Category Winners |   |
|   |   |
| Best Online Cash Management | Citi |
| Best in Mobile Banking | Citi |
| Best Mobile Banking App | Citi |
| Most Innovative Digital Bank | Citi |