NEWSMAKERS: UNITED STATES
By Gordon Platt
Billionaire investor Warren Buffett was soaking in the tub when he came up with the idea of investing $5 billion in Bank of America.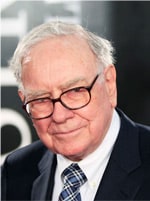 Buffett banks on domestic investments
The Berkshire Hathaway chief executive says he was impressed with the profit-generating capabilities of the bank. As a long-term investor with an eye for value, he was tempted to buy after the bank's share price fell 50% on concerns about mortgage-related losses.
"Bank of America is a strong, well-led company, and I wanted to invest in it," Buffett said in a statement. He picked up the phone and began negotiating with Brian Moynihan, the bank's CEO. Buffett says BofA's management is "working aggressively to put their challenges behind them."
BofA has marked down billions of dollars worth of loans from Countrywide Financial's mortgage portfolio since acquiring the bank in 2008. It recently sold to Fannie Mae the right to collect payments on 400,000 loans with an unpaid principal balance of $73 billion. BofA also reached an $8.5 billion settlement with investors who lost money in mortgage-backed securities, although the settlement is being challenged.
Buffett advises investors to bet heavily against a double-dip recession and he predicts that employment will rise sharply on a housing recovery. He made headlines once again in August by urging members of a new Congressional supercommittee on deficit reduction to stop coddling the rich and to raise their taxes. He will host a fundraiser for president Barack Obama at the Four Seasons restaurant in New York in October.
Berkshire Hathaway's future investments will be almost entirely domestic, according to Buffett. The firm's top five holdings are: Coca-Cola, Wells Fargo, American Express, Procter & Gamble and Kraft Foods.
Berkshire's investment in BofA echoes its investments of $5 billion in Goldman Sachs and $3 billion in General Electric in 2008, at the height of the financial crisis. However, the terms of the current deal are not as attractive. Goldman and GE paid Berkshire a 10% dividend, but BofA is paying only a 6% dividend.
To raise additional capital, BofA sold about half of its 9% stake in China Construction Bank for $8.3 billion.