MILESTONES: CANADA
By Erik Heinrich
The takeover of Canadian stock market operator TMX Group by Maple Group, a consortium of financial institutions, was approved by TMX's shareholders, bringing to a close more than a year of sometimes acrimonious negotiations with shareholders as well as regulators.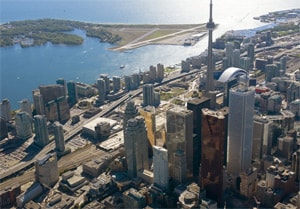 Bay Street, Toronto's financial hub, is in home to the Toronto Stock Exchange
The approval of the $3.8 billion bid brings all of Canada's main securities exchanges under a single parent company that combines the Toronto Stock Exchange (TSX) with its main rival, Alpha. It also incorporates the Canadian Depository for Securities, which clears and settles all stock trades in Canada.
As a result, the new TMX will control some 85% of Canadian stock trading, adding Alpha's 20% share to the 65% it already controls through the Toronto Stock Exchange and junior TSX Venture Exchange.
A sticking point to Maple's plan to acquire the Alpha Group, TMX's biggest domestic competitor, was that the alternative trading system was already partly owned by Maple shareholders.
Regulators and investment dealers alike are worried that such a high concentration of power will not be good for Bay Street, Canada's financial hub in Toronto, because they fear it cannot be adequately supervised. Even now as ink on the deal dries, concerns remain over how Maple (whose owners are some of the country's biggest banks and securities underwriters, including TD Bank, Scotiabank and CIBC) might use the TMX Group to unfairly limit competition in the securities market.
Certainly if a consortium of lending institutions led by Bank of America Merrill Lynch and Wells Fargo made a similar bid for the NYSE and Nasdaq, it's unlikely that their proposal would receive regulatory approval in the U.S.
Canada's Competition Bureau warned as recently as April that it had serious concerns about the Maple-TMX deal, but it appears to have tossed caution to the wind and embraced the proposal.