NEWSMAKERS: CANADA
By Joel Kranc
In late September, the international financial community was abuzz with the news that Jamie Dimon, CEO of JPMorgan Chase, had publicly chided the head of a central bank over his views; views that might radically reshape the global banking system.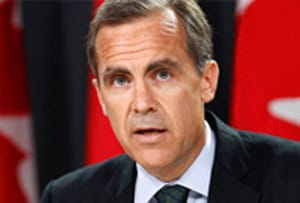 Mark Carney espouses robust bank reform
That central bank figure was Mark Carney, governor of the Bank of Canada. He had spoken earlier that day at a Financial Forum meeting in Washington and expressed the need for regulations that would impose higher capital requirements on large banks.
Carney, having successfully served as Canada's central bank head since 2008, is now being touted as the possible next leader of the Financial Stability Board (FSB) after Mario Draghi steps down in November.
The FSB, established in 2009 as an extension of the Financial Stability Forum, will develop and promote regulatory and supervisory financial sector policies in collaboration with international financial institutions. The board also works with the IMF to conduct early warning exercises and advises on best practices in meeting regulatory standards.
Carney is no stranger to both the public and private sector. He served 13 years with Goldman Sachs, eventually as a managing director, and joined the Bank of Canada in 2003.
In his time at the Bank of Canada, Carney successfully navigated through the last recession. By keeping interest rates low and supporting monetary stimulus, he kept Canada relatively free from the troubles affecting other world economies.
Canada's financial system has been touted as a model for the developed world—an accolade not unnoticed by those making the decision at the Financial Stability Board.
Given the FSB's mandate, his current position, his chairmanship of the Committee on the Global Financial System and his support of the G20 adoption of the Basel III Accord, Carney is high on the list of contenders to lead the FSB.