Annual Survey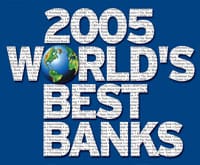 The biggest banks in the world have performed like well-oiled money-creating machines this year, generating billions of dollars of profits on a quarterly basis. The risks to the global economy from rising oil prices and interest rates, however, could leave some banks exposed to any future downturn. While non-performing loans have declined, the banks have reduced their loan-loss reserves and have a thinner cushion to fall back on. Credit standards have also eased, particularly in the United States and Europe. Meanwhile, rising regulatory burdens and increasing competition are putting bankers in a vise. They are being asked to do more for less to please increasingly demanding customers.
The winners of this years awards are those banks that provided more value and higher-quality service, while managing risks and keeping costs under control. Our selections begin with nine truly global banks that provide the best banking services in these specific sectors: corporate, consumer, private, asset management, custody, investment banking, trade finance, foreign exchange and sub-custody. Global Finances editorial team also identified the best bank in 109 countries.
In selecting these top banks, we considered factors that range from the objective to the informed subjective. Objective criteria were growth in assets, profitability, geographic reach, strategic relationships, new business development and innovation in products. Subjective criteria included the opinions of equity and credit-rating analysts, banking consultants and others in the industry. The winners are leading banks that may not be the largest, the oldest or the most diversified in a given country or sector, but rather the bestthe bank with which corporations around the world would most likely want to do business.
Within this listing of the Worlds Best Banks we have included our April 2005 list of the Best Developed Market Banks and our May 2005 list of the Best Emerging Market Banks.

Contributors: Gordon Platt, Anita Hawser, Laurence Neville, Paula Green, Santiago Fittipaldi