The sixth annual exclusive Global Finance survey of the World's Best Companies profiles global leaders in 28 industries or sectors and identifies the top regional players.
AIRLINES
Emirates
President: Dermot Mannion
As a private company little is known about the finances of Emirates, but what is clear is that it has the votes of the traveling public. In customer satisfaction surveys Emirates consistently ranks high, and the company recently completed a $2.6 billion financing to increase its fleet of Airbus A330s. Airline industry observers say that Emirates, as usual, has been successful in its financing strategy for the Airbus purchase. In this case, the money came from a wide range of regional and international sources, including conventional export credit agency and commercial asset-backed debt, and non-conventional sources, such as an innovative use of Islamic funding and equity from Japanese investors.
Emirates has one of the youngest fleets of any major international scheduled airline, at an average of just 36 months old. Its fleet includes 29 Airbus A330s, 20 Boeing 777s, three Boeing 747 freighters and one Airbus A310. Its current order book has a value of $26 billion and includes 45 Airbus A380s, which enter service in 2006, as well as 26 Boeing 777s, 20 Airbus A340-600s and eight Airbus A340-500s.
www.emirates.com
AUTOMOTIVE
BMW
Chairman and CEO: Helmut Panke
BMW is the world's most successful premium car brand. Having worked its magic in the European and US markets, the company is now expanding production in new and potentially vast markets in China and India. This strategy is part of an overall plan to locate production in major markets where possible.As a result of this, and through some judicious hedging,BMW managed to avoid being hit by the strong euro this year while rivals such as VW notched up losses.
The acquisitions of British stalwarts Mini and Rolls Royce in the past few years have also proved to be smart. The new Mini model has been a huge success, selling strongly in the US market.The new-model Rolls Royce also looks set to be a triumph and should expand this most premium of brands outside its traditionally small customer base. For the core BMW brand, this is a significant year during which Helmut Panke believes the company will top the 1 million unit level for the first time ever.
www.bmw.com
BEVERAGES
PepsiCo
Chairman and CEO: Steven S. Reinemund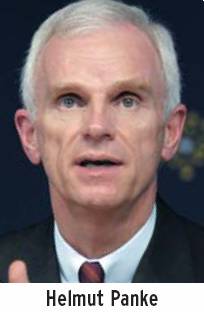 PepsiCo, whose Pepsi-Cola flagship trademark is celebrating its 100th anniversary, began selling its beverage products internationally in 1934, when it entered the Canadian market. The company's international operations now include such worldwide brands as Pepsi, 7-Up, Mirinda, Kas, Teem, Fruko and Yedigun, among many others.
Carbonated soft drinks make up around 75% of the company's beverage portfolio, but the firm is offering an increasing number of non-carbonated products, including water, energy drinks and fruit juices.
North America is still the US-based company's core market, accounting for 56% of PepsiCo's beverage sales by volume. Latin America comes in second place with 14%, followed by a tie between Europe and Asia for third place,with 11% each.PepsiCo is making a strong push into the emerging markets, particularly in China, India, Russia and Turkey.
So far, its global growth strategy is showing results. PepsiCo Beverages International posted a 23% rise in operating profits in 2002, despite market challenges that included a boycott of US brands in the Middle East and an economic downturn in Latin America.
www.pepsico.com
CHEMICALS
BASF
Chairman: Jürgen Hambrecht
The world's number-one chemical company has 89,389 employees, production facilities in 39 countries and customers in more than 170 countries. Its products include natural gas, oil, petrochemicals, high value-added chemicals, plastics and agricultural products.
Thanks to a timely cost-reduction program, the company increased EBIT by 1.2% in the second quarter of 2003 compared to 2002, despite sales falling 1.6%. Although there was pressure on margins in chemicals, plastics and performance products due to higher raw material costs, there were also significant profit increases in agricultural products and nutrition.
The company is also restructuring its operations in the NAFTA region, with a view to saving $100 million from service functions, and it is aiming to optimize its product portfolio and site structures in the region, which should lead to cost savings of $150 million by 2006.
www.basf.com
COMPUTER HARDWARE
Dell
Chairman and CEO: Michael S. Dell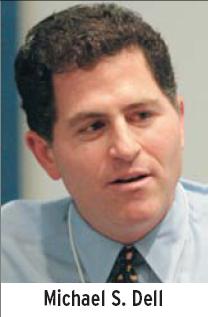 The world's number-one PC system provider continues to exceed average global growth in its sector, with good value and a commitment to customer satisfaction as its main driving forces. Founded by its CEO in 1984 to sell custom-built computers directly to US computer users, Dell made its international debut with the establishment of a UK subsidiary just three years later. Dell now employs nearly 42,000 workers worldwide and has captured nearly 18% of the world's PC market.
In addition to being the top seller of x86 servers in the US, it has jumped into the top slot for servers in China for the first time. In Brazil,where it is the largest playplayer in the desktop computer market, it is estimated that one of every five servers sold carries the Dell brand.
Dell's profitability in its European sales region, which includes the Middle East and Africa,was up almost 90% during the second quarter of fiscal 2004. Profitability was up 73% in Mexico.
www.dell.com
COMPUTER SOFTWARE
Microsoft
CEO and Director: Steve Ballmer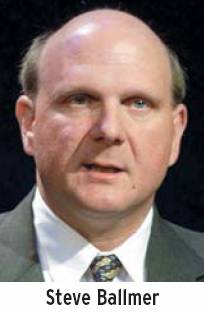 Microsoft is the global leader in software and Internet technologies for personal and business computers. The company produces many industry standards including the Windows operating systems and the Office software suite. Desktop applications and platforms remain Microsoft's core business. However, the company has been shifting away from its role as a traditional software developer to become a global technology services and media company. It has expanded into video game consoles, interactive television and Internet access. Microsoft invested some $4.5 billion in R&D; activities last year.
Its international presence is enhanced by global alliances with more than 17 leading services and technology partners, including Accenture, Cap Gemini Ernst & Young, Dell, Fujitsu, IBM and Unisys.
In 2003 Microsoft settled an antitrust suit filed last year by AOL Time Warner's Netscape, agreeing to pay $750 million.The settlement also allows AOL to license Microsoft's Internet Explorer browser as well as its digital media technology. Microsoft declared the first-ever dividend for its common stocks, in a move partly designed to deal with the company's growing cash reserves.
www.microsoft.com
CONGLOMERATES
United Technologies
Chairman and CEO: George David
United Technologies is a global technology company with pioneering innovations in the aerospace, aviation, helicopter design, climate control, elevator design and hydrogen fuel cells sectors. It operates in more than 180 countries, and more than half of its 155,000 employees are based outside of the United States.
United Technologies' business units are globally recognized in their respective fields: Carrier (heating and air conditioning), Chubb (security and fire protection), Hamilton Sundstrand (aerospace and industrial systems), Otis (elevators and escalators), Sikorsky (helicopters), Pratt & Whitney (aircraft engines) and UTC Power (energy). Its United Technologies Research Center carries out the conglomerate's R&D; activities where many of its innovations are born. R&D; investments totaled nearly $2.4 billion last year alone.
Of the company's $28.2 billion revenues last year,56% came from international operations. Its net income in 2002 was $2.4 billion, or $4.42 per share, with assets of $29 billion. United Technologies has paid cash dividends on its common shares for 68 consecutive years, with the dividend boosted by 30% in September on account of the US government's dividend tax cut.
www.utc.com
CONSTRUCTION AND ENGINEERING
Bechtel
Chairman and CEO: Riley Bechtel
Already the United States' largest contracting company, Bechtel now has a $680 million contract from the US government to rebuild Iraq's war-damaged infrastructure. The contract involves restoring the country's water and sanitation systems, rebuilding bridges and reestablishing normal phone communications.
Bechtel,now under the fourth generation of the Bechtel family's leadership, is no stranger to mega-projects. Typical examples include participating in Boston's 'Big Dig,' the largest urban transportation project in US history; building Britain's first high-speed rail line; building the In Salah pipeline that will increase Algeria's natural gas output by 15%; and operating Lima's Jorge Chavez International Airport under a 30-year concession.
The company has already completed more than 20,000 projects in 140 countries and is currently involved in some 900 projects in 60 countries. Bechtel landed another $12.7 billion in new contracts last year and reported revenues of $11.6 billion.
www.bechtel.com
CONSUMER DURABLES
Samsung Electronics
Chairman and CEO: Kun-Hee Lee
Vice Chairman and CEO: Jong-Yong Yun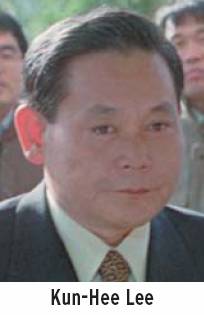 Samsung is a remarkable turnaround story. Just four years ago this Korean company had a reputation for producing cheap, unremarkable products. Now consumer polls put the company on a par with Sony in brand recognition and quality perception in many of its markets. The transformation has not just been about marketing, although Samsung Electronics' sponsorship of the Olympics and the Matrix films has raised its profile dramatically. Rather,the company has sought to become an innovation leader and has consequently captured the imagination of US consumers, among others, with its hightech and well-designed mobile phones,DVD players and other electronics products.
The cultural transformation was tough, as Samsung traditionally had been focused on individual product units rather than the entire company. It now perceives its brand as one of its most important assets and is supporting it through the 'DigitALL'marketing campaign.
The company has suffered from weak domestic demand during the second quarter and reported sharply lower profits, but conditions are expected to improve for the remainder of the year.
www.samsungelectronics.com
CONSUMER NON-DURABLES
Procter & Gamble
Chairman, President and Chief Executive: Alan G. Lafley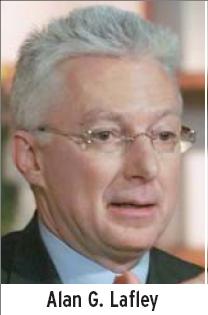 Procter & Gamble's 300 brands are purchased by an estimated 5 billion consumers in more than 160 countries. Adding to such globally recognized brands as Pampers, Clairol and Crest, Procter & Gamble acquired Germany's Wella for $7 billion this year—the conglomerate's largestever acquisition.
The company is the number-one US maker of household products, and 12 of its brands have sales above $1 billion.This year it obtained FDA approval to sell its Prilosec heartburn and anti-reflux medication over the counter.The move cheered investors already encouraged by higher earnings expectations and a company decision to sell off some less-profitable brands.
Procter & Gamble remains committed to innovation, investing more than $1.7 billion in research and development last year. It introduced a new water purifier this year that should help provide clean drinking water in developing countries.The group has nearly 98,000 employees in more than 80 countries.
www.pg.com
DEFENSE AND AEROSPACE
Lockheed Martin
Chairman and CEO: Vance D. Coffman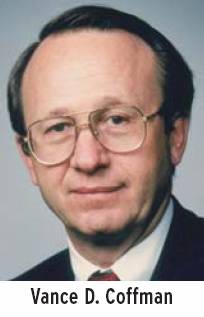 Lockheed Martin is the world's largest defense contractor and one of the largest technology companies, with sales of $26.6 billion and a backlog of $70.4 billion in 2002. International sales accounted for 17% of the company's total.
US government contracts were responsible for nearly 80% of the company's revenues last year. It operates more than 900 facilities in 45 US states and has business locations in more than 56 countries and territories worldwide, employing a total of 25,000 workers.
Among contracts signed this year is a five-year $140 million contract to support the development of a new security system for the FBI's computer network and a $59.8 million contract to deliver antisubmarine rockets to Japan by 2005. It is already working on a reusable space launch vehicle for NASA and just two years ago won the largest defense contract ever—the more than $200 billion Joint Strike Fighter program—from Washington.
www.lockheedmartin.com
ELECTRONICS
Hitachi
President and CEO: Etsuhiko Shoyama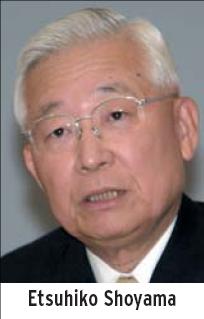 Japan's Hitachi has nearly $70 billion in annual revenue, but it has accomplished what many large firms, especially in Japan, fail to achieve: knowing when to stay out of a market.The LCD market is a case in point. While rivals such as Samsung have invested heavily, Hitachi has curtailed its investment, though it continues to service the market from its existing plants. It believes that LCD displays will rapidly go the way of computer memory chips and become low-margin commodity products.
The decision not to ramp up LCD production is indicative of a new spirit at Hitachi.The company has had a tough time in recent years but increased operating income to $1.28 billion in 2002 from a $978 million loss in 2001.Its massive restructuring since 1999 has resulted in around 80 new alliances, joint ventures, M&As; and reorganizations within the company. One of the outcomes of this transformation has been a 20% reduction in materials purchasing costs in the past two years.
www.hitachi.com
ENERGY SERVICES/ELECTRICITY
RWE
President and CEO: Harry Roels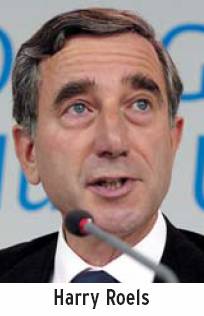 RWE is the holding company for more than 500 energy and industrial interests and provides electricity, gas, water and environmental services to more than 100 million residential and business customers, primarily in Europe and North America. It is one of Germany's top two electricity suppliers and owns two major UK-based utilities:Thames Water and electricity and gas supplier Innogy.
In the first half of fiscal year 2003, RWE generated group sales of €22.4 billion, and the group operating result was 35% up year-on-year with core businesses posting a 46% rise—despite negative currency effects. The company has already surpassed its goal of reducing consolidated net debt to less than €24 billion by year-end, having decreased it to €22.3 billion by June 30.
A restructuring begun in October, which will group RWE Plus, RWE Gas and RWE Net into RWE Energy and unite all continental power generation under the RWE Power banner, is expected to result in cost savings of €300 million a year by 2006.
www.rwe.com
ENERGY SERVICES/EQUIPMENT
GE Power Systems
Chairman and CEO: John G. Rice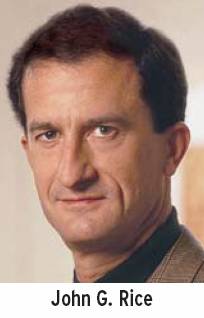 The world leader in power generation technology and services, GE Power Systems views its globalization process as extending beyond the global sale of goods and services to include sourcing of raw materials, components and products, as well as the hiring of intellectual capital, around the world.
The company provides equipment, service and management solutions for the power generation, oil and gas, distributed power and energy rental sectors worldwide, leveraging global resources provided by a host of other GE units. In 2003 it signed a $127.6 million deal to provide maintenance services for a liquefied natural gas complex in Malaysia, a $70 million contract to supply gas turbines to a gas processing plant in Algeria, as well as contracts to upgrade hydro plants in Scotland and Switzerland. It has also been moving aggressively into the global wind energy industry, receiving more than $2 billion in orders and commitments since entering the market last year.GE Power also continues to grow through acquisitions.
www.gepower.com
FOOD
ConAgra Foods
Chairman and CEO: Bruce Rohde
ConAgra Foods is moving away from the commodities business and into food processing and packaging. Its agricultural products segment is still an important supplier of crop inputs for farmers and retailers in the United States, South America, Europe and South Africa.
One of North America's largest packaged food companies, ConAgra's more than 35 household brands are well known the world over in the consumer grocery, restaurant and foodservice sectors. Among the company's product lines are packaged foods, food ingredients, meat processing and agricultural brands.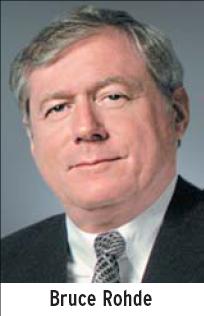 ConAgra posted net sales of $19.8 billion in fiscal 2003, with its board of directors announcing the 29th year of dividend increases. Dividends were up 5.1%, to $1.04 per share. Although the divestiture of some business units lowered sales figures in fiscal 2003, net income rose by 6% as packaged foods and agricultural products led gains.
During fiscal 2004 the company will continue to sell off its less-profitable units to focus on its branded and value-added food operations that are less volatile and promise higher profitability. Among businesses on the block are its canned seafood, cheese processing and chicken processing divisions.
www.conagra.com
FRANCHISE
McDonald's
Chairman and CEO: James R. Cantalupo
McDonald's is the world's leading foodservice retailer and one of the largest franchisers on the planet. More than 80% of its 30,000 restaurants worldwide are operated by franchisees.The company opened its first franchised location in Des Plaines, Illinois, in 1955, with its first international restaurant opened in Canada's British Columbia province in 1967.Today the company has operations in 119 countries, serving 47 million customers daily. Although the United States' $20.3 billion still accounted for nearly half of last year's $41.5 billion system- wide sales, Europe followed with $10.5 billion.
A global revitalization plan announced this year seeks to reassert the company's operational and marketing leadership. So far, McDonald's has paid down nearly $400 million of debt, appointed a worldwide nutrition director to tackle consumer concerns over fast foods, and cut back on the number of new restaurants, to focus on boosting sales at existing locations.
www.mcdonalds.com
HOTELS
Marriott International
Chairman and CEO: JW Marriott Jr.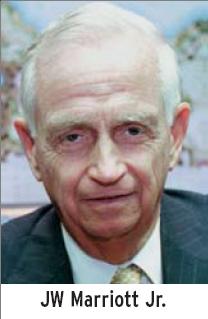 Marriott International has 2,600 owned or franchised properties in 65 countries.The hospitality company also operates golf courses, conference centers, executive housing, real estate development services, hotel reservation centers and time-share resorts worldwide.
The company's hotels and resorts carry some of the best-known brands in the industry, ranging from the high-end JW Marriott and Ritz-Carlton chains to the less expensive Ramada International and Fairfield Inns. Marriott enjoys global brand recognition and continues to add new properties to its portfolio.
Although some investors have expressed concern over Marriott's high debt load, others are encouraged by the fact that the company owns few hotels and makes its money through management fees from franchisees, thereby lowering its risk factor. In a move to enhance profitability, the company last year sold its senior assisted living services for $150 million as well as its food services distributor. It still maintains a 50% stake in a synthetic fuel company.
The company's 128,000 employees worldwide still follow the 'Spirit to Serve' core values put forth by its Marriott family founders more than seven decades ago.
www.marriott.com
INSURANCE
MetLife
Chairman and CEO: Robert H. Benmosche
Ranked as the United States' top life insurer, MetLife is also an international provider of diversified insurance and financial services products. In addition to its 12 million US customers, the firm has 8 million international clients. The company operates its global businesses under the MetLife, Hyatt Legal Plans and Paragon Life Insurance brands. Its global growth strategy involves establishing a presence in emerging markets with strong demand for insurance products, while also gaining market share through acquisitions.
MetLife International expects to grow operating earnings by 30% to 40% and revenues by 15% to 20% each year through 2005, while obtaining leadership positions in key markets.The international division's goal is to contribute as much as 9% of MetLife's operating revenues and earnings by 2005. The company has more than 48,000 employees worldwide, and its reported net income leapt to $1.6 billion in 2002 from $473 million in 2001.
www.metlife.com
LEISURE
Starbucks
President and CEO: Orin C. Smith
Starbucks' international expansion began in 1996 when it opened a coffeehouse in Tokyo.Today it has a presence in 31 markets outside North America, with 1,655 international locations in fiscal 2003.Together with its 5,570 locations throughout North America, this means there are now more than 7,000 places in which to enjoy what the company describes as the "Starbucks Experience." Its first Paris store is set to open in early 2004.
The company's goal is to become a leader in each of its target markets. Its international expansion strategy involves a combination of joint ventures, licenses and coowned operations. Annual consolidated net revenues in fiscal 2003 rose by 24%, to $4.1 billion.
Specialty operations, which produced 15% of net revenues in fiscal 2002, develops channels outside of the company-operated retail stores, including foodservice accounts, North American and international retail store licensing, grocery channel licensing, warehouse club accounts, direct-to-consumer marketing and joint ventures. Company-operated retail stores produced 85% of revenues.
www.starbucks.com
LOGISTICS
United Parcel Service (UPS)
Chairman and CEO: Michael L. Eskew
UPS, the world's largest package delivery company and a global leader in supply chain services, serves more than 200 countries and territories.The company touted its brand recognition when it described itself in its most recent marketing campaign simply as "brown," its corporate color scheme.
Ranked as one of the world's most admired companies, UPS moves more than 13.3 million packages and documents each day worldwide. Europe is UPS's largest international market, with more than $2 billion in revenues in 2002. However, it has become Latin America's largest express and air cargo carrier and is also experiencing rapid growth in Asia.
Its Mail Boxes Etc. division is expected to double its presence in Europe over the next decade to 1,400 locations. Mail Boxes Etc., which UPS acquired in 2001, is now known in the US as The UPS Store, where it has more than 3,000 locations that bring the UPS brand into the retail sector.
"Neighbor to Neighbor," UPS's employee volunteer program,launched a global volunteer challenge this year to achieve at least 100,000 hours of volunteering by UPS employees worldwide.
www.ups.com
MEDIA & ENTERTAINMENT
News Corporation
Chairman and CEO: Rupert Murdoch
News Corp goes from strength to strength.The company has assets of $45 billion and total annual revenues of $17.5 billion but continues to grow like a start-up. In the fiscal year that ended in June, operating income increased 36%, to a record $2.5 billion, and the company turned a $11.9 billion loss last year into a $1.8 billion net profit in fiscal 2003.
Rupert Murdoch has already achieved many of his stated objectives for the calendar year 2003. He has finally acquired Hughes Electronics and its valuable DIRECTV brand—a company he has long coveted—after a long bidding and approval battle. News Corp intends to offer many of the innovative interactive-style programming features developed by UK subsidiary BSkyB on its newly acquired network. And in Italy he has created Sky Italia, which launched in July with 2 million subscribers as the first major satellite broadcaster in the country.
www.newscorp.com
METALS & MINING
Anglo American
CEO: Tony Trahar
In the six months to June, turnover increased by 26% at this global mining group, which includes the prestigious De Beers diamond unit. Headline earnings for 2002 were $1.76 billion compared with $1.68 billion in 2001. CEO Tony Trahar says that reform within the company has begun to pay dividends.
Anglo American has a number of major projects about to come on-stream. "Anglo American has one of the largest high-quality project pipelines in the resources sector,with $6 billion of approved projects under way," says Trahar.
Already well advanced is the planned 75% increase in the production of platinum by 2006—a $2 billion investment. Meanwhile, the paper and packaging division is expanding production and facilities in South Africa and Slovakia while a new $173 million cement plant in England will begin operation later this year.
www.angloamerican.co.uk
NETWORK SYSTEMS
Cisco Systems
President and CEO: John Chambers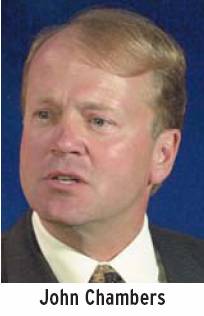 Cisco Systems' networking equipment has been described as the global "backbone" for the Internet. More than 80% of Internet data traffic is said to flow through Cisco products. The company dominates the international market for corporate networking equipment but is planning for the future by going into some new business segments. Beyond its routing and switching core technology, Cisco has identified nine new growth areas: Internet Protocol (IP) telephony, voice, security, wireless/ mobility, cable, converged packet networks (CPN), metro optical, storage networking and virtual private networks (VPN).
Its R&D; investments are beginning to pay off. The number of IP telephony certifications it issued more than doubled in first-half 2003.The acquisition this year of SignalWorks, a developer of advanced audio software for IP telephony systems, advanced Cisco's leadership in the global IP telephony market.The IP telephony industry expanded by 60% last year and is expected to grow by another 40% yearly through 2007.
www.ciscosystems.com
OIL & GAS
BP
CEO: John Brown
BP's second quarter result, adjusted for special items,was $3.12 billion, compared with $2.20 billion a year ago, an increase of 42%.For the half year, the result was $6.84 billion compared with $3.78 billion, up 81%. Some of the gains are attributable to continuing higher oil and gas prices following the war in Iraq, where it recently won a contract to re-develop the country's oilfields.
The recent conclusion of BP's TNK deal in Russia, in which it will merge its assets in Sidanco and TNK with those of AAR, is expected to bring more Russian contracts. BP is poised to benefit from the significant untapped reserves and the rising domestic prices in Russia, analysts believe.
The company is continuing its program to increase returns by improving its portfolio. It has completed the divestment of several US onshore and Gulf of Mexico shelf properties and agreed the sale of the Liuhua and QHD fields in China to China National Offshore Oil Corporation. It also recently sold its interest in the Gyda field in Norway and has agreed to sell 50% of the In Amenas gas condensate project and 49% of its interest in In Salah gas in Algeria to Statoil.
www.bp.com
PHARMACEUTICALS
Pfizer
Chairman and CEO: Henry A. McKinnell, Ph.D.
Pfizer is the world's largest researchbased drug company, with its market leadership solidified by the acquisition— completed this year—of rival Pharmacia. It had already merged with another major competitor, Warner-Lambert, three years ago.
Pfizer's R&D; unit is now the world's largest private biomedical organization, with more than 200 products currently in the pipeline. Pfizer expects physicians to write more than 1 billion prescriptions for its medicines each year. But in addition to being the largest human pharmaceuticals market player in the US, Canada, Europe, Latin America,Africa, the Middle East and Japan, Pfizer is also the world's largest discoverer and marketer of veterinary drugs.The company is also among the world's largest global consumer healthcare companies,where some of its best-known brands include Rogaine,Visine, Benadryl, Sudafed and Listerine.
www.pfizer.com
RETAILING
Wal-Mart Stores
President and CEO: H. Lee Scott
The world's largest retailer,Wal-Mart serves more than 138 million customers worldwide each week.Just a little over a decade since the company opened its first international store in Mexico City in 1991, it has grown to now operate more than 1,300 international stores in nine locations.
In addition to its more than 1 million employees in the US,Wal-Mart has over 300,000 staff members in Argentina, Brazil, Canada, China, Germany,Korea,Mexico, Puerto Rico and the UK. In keeping with the company's global standardization efforts, all its employees are trained to follow the beliefs established by founder Sam Walton: respect for the individual, customer service and striving for excellence.These basic tenets are at the core of what the corporation describes as "The Wal-Mart Culture,"which it has spread throughout its global retail network.
Total international sales in the fiscal year ended January 2003 were $40.7 billion, for a 15% increase over the previous year. Operating profits grew by nearly 56% to $2.03 billion.
www.walmart.com
TELECOM EQUIPMENT
Nokia
Chairman and CEO: Jorma Ollila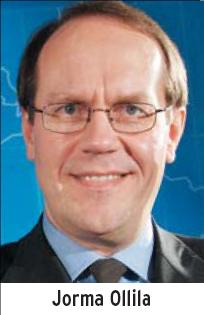 For the second quarter of 2003 net sales gained 1% on the previous year, but operating profit took a hammering, dropping 32%. The bulk of that loss came from a charge related to restructuring in Nokia Networks.
Chairman and CEO Jorma Ollila focuses on the positives: "[There was] continued excellent profitability and further positive market-share developments in mobile phones during the quarter.We gained in two strategic focus areas: the US, our largest market, and the global CDMA market."
Nokia's market share in mobile phones is now estimated at 39%.A total of 13 new models were rolled out during the quarter, and a staggering 35 new models will have been launched by the end of the year. Crucially, nearly a third of all Nokia phones now sold are higher-margin color- screen and multimedia-capable models.The company is expanding into imaging, music, games and enterprise applications and recently acquired Sega.com to provide enhanced gaming content for its mobile users.
www.nokia.com
TELECOM SERVICES
Vodafone
CEO: Arun Sarin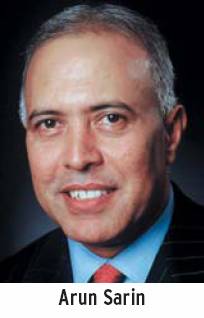 In August Vodafone's legendary dealmaker CEO Chris Gent retired after almost seven years at the helm, during which the company has transformed itself from a UK operator into the largest mobile company in the world. His legacy is a global giant with 122.7 million subscribers but a company structure that is still being tidied up. Arun Sarin will have a lot to live up to and a lot to do.
One element of that tidying has been dealt with rapidly. Vodafone has pulled out of the low-margin Japanese fixed-line telecom market, with the sale of parts of Japan Telecom to US private equity fund Ripplewood, allowing it to concentrate on its mobile business, which will be renamed Vodafone. Already the company has launched aggressive discounting programs to win new customers and plans to offer TV services for phones shortly in Japan.
In the financial year that ended in March,Vodafone increased turnover by 33% and operating profit by 36%. Significantly for the future growth of the company there was a 73% jump in data revenues.However,with the massive costs of 3G licenses still looming over the company, growth needs to continue.
www.vodafone.com