BRAZIL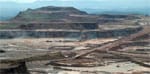 Digging in: Brazilian miner Vale is investing heavily.
After several years of steady profit growth, Brazil's banking sector reported a slowdown in second-quarter 2008. Bradesco, Brazil's largest non-state bank by assets, posted a 13% drop in second-quarter profits to $1.28 billion, the sector's largest profit decline and the bank's first quarterly drop since third-quarter 2006. Banco Itaú, its closest competitor, saw profits drop by 3.5% year-on-year to $1.3 billion for its first decline since fourth-quarter 2006. The downturn was sparked by increased competition, a government order to cut fees and a rise in earnings taxes to 15% from 9%. Banks have responded by seeking to expand their customer bases and grow their loan portfolios.
Vale, the world's largest iron ore producer, raised $12 billion through a global share offering in July, with funds earmarked to finance acquisitions and an ambitious expansion plan that seeks to boost output by 50%, to 450 million tons, by 2013. The Brazilian company has a $59 billion investment plan in effect for 2008-2012 and reported a 22.7% year-on-year increase in gross revenue, to a record $10.9 billion, in second-quarter 2008. Vale placed a $1.6 billion order for 12 of the world's largest ore carriers from Jiangsu Rongsheng Heavy Industries, a Chinese shipbuilder, to reduce delivery costs to China and tackle competition from producers in India and Australia. Shipments to China are expected to rise by 10% year-on-year, to 100 million tons, this year.
Chevron, the United States' second-largest oil company, confirmed plans to begin pumping crude from its Frade offshore oil project in Brazil in 2009. The $2.8 billion project is expected to produce 85,000 barrels of oil per day, contributing to global supply. Chevron holds a 51.74% stake in Frade, while Brazil's Petrobras state-owned oil company holds 30%. The remainder is held by Japanese partners led by Inpex Holdings, marking the first Japanese investment in a Brazilian oil project.
Antonio Guerrero