NEWSMAKERS: EUROPE
By Valentina Pasquali
With the fate of the debt-ridden eurozone hanging in the balance, the German Federal Constitutional Court is expected to decide on September 12 whether the European Stability Mechanism (ESM), the currency union's permanent bailout fund, is compatible with Germany's constitution.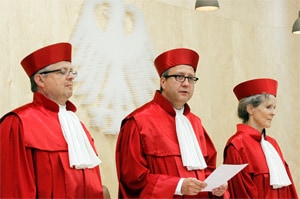 Vosskuhle (center) is the public face of a high-stakes ESM decision
Photo Credits: REUTERS / ALEX DOMANSKI
The public face of this decision is Andreas Vosskuhle, a professor of public law and, at 48, the youngest president in the court's history. "He is considered a very savvy and smooth political operator and is a highly respected jurist," says Mattias Kumm, professor of European and constitutional law in Berlin and New York. "He knows the stakes are very high and that the worst thing that can happen for the court is to be blamed if things turn out badly."
According to Sebastian Dullien of the European Council on Foreign Relations (ECFR), if the court rules in favor of the ESM, the impact on international markets will be small to nonexistent. But "the German government has said it does not have a 'plan B,' so any negative decision would cause huge uncertainties," adds Dullien.
Ulrike Guérot, also of the ECFR, wonders why Vosskuhle would want to bear the burden of saying no to the ESM and taking down Europe. However, she says, pressure from those who believe debt mutualization violates German sovereignty is strong. Therefore the justices may opt for a more nuanced verdict to put the ball right back in the political court—for example, by allowing the German president to sign the treaty while also requiring ad hoc legislation by the Bundestag or a referendum.
Vosskuhle, who was nominated to his post with the support of the Social Democrats, appears to favor the referendum option. His pro-European views and support for the creation of a European federation are well known.