Global Finance selects the winners from among the leading banks that create and implement financing plans for major projects around the world.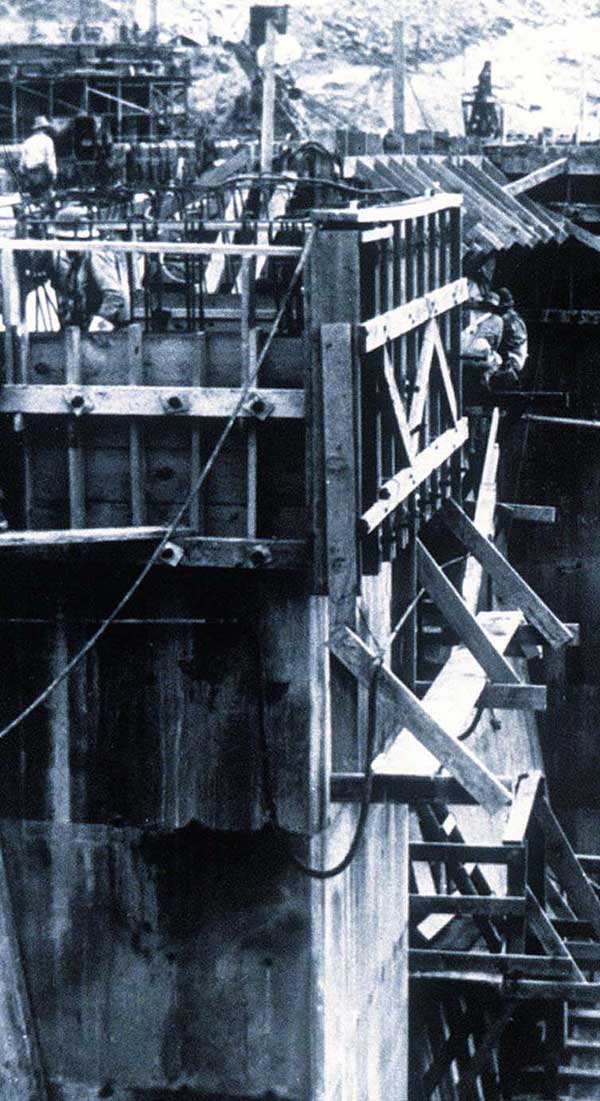 Private finance initiatives, or PFIs, in Europe, big petrochemical plants in Asia and power-sector restructurings in the United States are contributing to a sharp rise in project finance activity worldwide. The volume of project financing rose 19% in the first nine months of 2004 compared with the same period last year, according to Dealogic ProjectWare, a global database covering nonand limited-recourse debt facilities provided by commercial banks.
We apply a strict definition to project finance, says Vander Caceres, a London-based analyst at Dealogic. The bonds and loans that finance a project must be secured solely by the projects assets and cash flow.
Project finance will play an increasingly important role in large energy projects and in the many government privatization plans expected to be announced in the next three to five years, says Steven S. Greenwald, a managing director of Credit Suisse First Boston and senior member of the banks energy and project finance group.
Global Finance selected CSFB as the Best Global Bank in Project Finance in 2004, based on advisory work and financing for projects completed in the 12 months ended in June.
Greenwald attributes the banks success in the field large- ly to its ability to provide totally unbiased advice to its clients. We have access to all relevant markets: the bank market, bond markets, the term-loan B market and all of the bilateral and multilateral lending agencies, he says.Further, we have shown a willingness to use our own balance sheet to finance highly structured project transactions, he adds. B loans are provided by commercial banks to supplement the A loans provided by development banks to fund a project.
Christopher Hasty, managing director and global head of infrastructure and energy finance at Citigroups structured corporate finance division in London, says record-high oil prices and a greater focus on protecting the environment are the main forces shaping projects in the energy sector. Geographic diversification to reduce reliance on the Middle East as the main source of crude oil, as well diversification by energy type to include more liquefied natural gas, are providing the impetus for many new energy projects, he says. Our energy clients are increasingly cognizant of the wider opportunities available to monetize stranded reserves, he adds.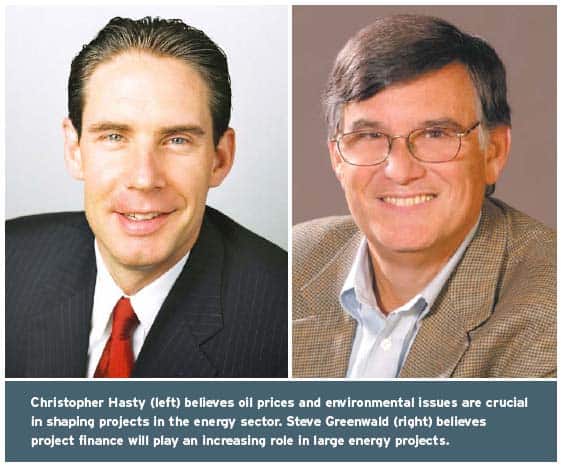 Citigroup helped finance the BTC Pipeline project that will deliver 1 million barrels of crude oil a day to world markets from the Caspian Sea area.The bank also has many current mandates for LNG projects worldwide.
In the global infrastructure sector, governments in the developed countries are seeking to leverage private-sector capital without outright privatization, which can be politically sensitive. Hasty says PFI activity is continuing to spread across all asset classes, from roads, schools and hospitals to the launch of satellites and associated communications services.
In selecting the top project finance banks, Global Finance editors analyzed objective as well as subjective criteria. Among factors considered were the banks quantitative performance over the 12 months through June, the banks market positions, innovations in dealmaking, and the strength of the banks project finance teams.We considered data provided by the banks and by leading international market research organizations, and surveyed key project finance attorneys, consultants and other market observers.

GLOBAL WINNER
CREDIT SUISSE FIRST BOSTON

Credit Suisse First Boston was financial adviser and arranger on many of the leading project finance transactions in the last half of 2003 and the first six months of 2004. The bank was particularly strong in major power projects and in the North American market, where it also won awards in this years survey by Global Finance.While CSFB was not the volume leader in every category, it was judged overall to be the best bank in the world in project finance. Major corporations, government agencies and institutions worldwide count on CSFB to provide customized advice on the project finance borrowing instruments and services that will best meet their needs. CSFB not only is a top-tier mandated arranger of project finance loans worldwide, but it also is a leading book-runner and arranger of project-related bond financings and refinancings. It is praised by industry participants for its ability to arrange innovative and highly structured transactions that set precedents for future deals. CSFB says it is committed to social and environmental sustainability in all of its business practices. It was one of 10 leading banks from seven countries that adopted the voluntary Equator Principles in June 2003.

GLOBAL INFRASTRUCTURE
BARCLAYS

Barclays has been an innovator in introducing PFI schemes in Britain, and its finance team is respected for developing customized, structured deals for its project clients. Barclays was an arranger of the $2.2 billion PFI for the Skynet 5 project in the United Kingdom in October 2003. The project will provide secure satellite communications for the UK Ministry of Defense for 15 years. Paradigm Secure Communications, a subsidiary of Airbus manufacturer EADS, will handle the ground infrastructure, including control centers and network links. EADS Astrium will build two satellites for the project. The PFI scheme involved a debt financing with bank syndication. In Spain, Barclays was co-arranger in July 2003 of the 860 million financing for three toll motorways in Madrid. The project is designed to improve traffic flow and to extend the trans-European motorway network with a ring road around the capital city.The borrower is Accesos de Madrid, which has a 50-year concession to build and operate the motorways. Barclays was the top arranger of loans for infrastructure projects in the year through June.

GLOBAL POWER
CREDIT SUISSE FIRST BOSTON

Credit Suisse First Boston led all banks as mandated arranger of $1.75 billion of project finance loans to the power sector in the 12 months ended June 30, 2004, according to Dealogic ProjectWare. In April, CSFB was financial adviser to Midwest Generation of the US on its $1.9 billion refinancing. The bank was the book-runner on a $1 billion bond issue for the company and was mandated arranger of a $700 million term loan and a $200 million revolving credit. In Australia, CSFB was sole book-runner on a $128 million refinancing bond issue in June 2004 for Redbank Power. In July 2003, CSFB closed on a $1.77 billion financing for the Umm Al Nar desalination and power plant in Abu Dhabi, United Arab Emirates.

GLOBAL OIL & GAS
CITIGROUP

Citigroup in February closed on the financing of the $3.6 billion BTC Pipeline and the related $3.2 billion ACG Oilfield in Azerbaijan, by far the largest oil and gas projects this year. The pipeline will run from the Caspian Sea near Baku, Azerbaijan, across Georgia to the port of Ceyhan,Turkey. Citigroup acted as an initial mandated lead arranger and coordinating joint book-runner on the pipeline financing, the largest-ever limited-recourse financing in the Caspian region. Citigroup also was facility agent and manager of the OPIC Trust that provided political risk insurance for the project, one of the most challenging project financings in recent years.

GLOBAL TELECOM
WEST LB

The telecom project finance market is a faint whisper of its former boisterous self, but deals are still being done.WestLB was mandated arranger of the financing late last year of Orascom Telecom Algerias 437 million global system for mobile (GSM) communications network. Orascom is an Egypt-based mobile phone operator with upcoming projects in Tunisia and Iraq. WestLB also was mandated arranger in February for the refinancing of a $415 million telecom project for Eastern Multimedia in Taiwan.

NORTH AMERICA
CREDIT SUISSE FIRST BOSTON

Credit Suisse First Boston was mandated arranger of $2.2 billion of project finance loans in North America in the 12 months through June, giving it a leading share of more than 26% of the market, according to Dealogic ProjectWare. CSFB also was a star performer in the market for project finance bonds. In November 2003 the bank closed on a $939 million financing for Tri-State Generation and Transmission Association and Tucson Electric Power to build a coal-fired generating plant in Arizona. The financing comprised $179 million of lease equity funding and $760 million in long-term bonds. It was the largest-ever financing for a rural electric cooperative. CSFB creates innovative structures to meet the project financing needs of its customers in a wide range of industries.

LATIN AMERICA & CARIBBEAN
CITIGROUP

Citigroup has been active in financing major toll-road projects in Chile, which incorporate the first electronic toll-collection system in Latin America. In June Citigroup closed a $427 million non-recourse financing for Vespucio Norte Express, a concession operating a toll road in Santiago, Chile.The bond issue was the largest and longest maturity ever in the Chilean domestic market. In December 2003 Citigroup was sole lead arranger and sole book-runner on a $618 million financing for Autopista Central, another concession company operating an expressway in Santiago. The bonds were issued in the US and Chilean capital markets. In Brazil, Citigroup acted as sole lead manager on $400 million of senior secured notes for Arcel Finance.The notes were secured by receivables generated by the export of bleached eucalyptus Kraft pulp.

WESTERN EUROPE
ROYAL BANK OF SCOTLAND

Royal Bank of Scotland is repeat winner as Best Project Finance Bank for Western Europe. The bank led the league tables for the region in the 12 months through June, when it was mandated arranger for more than $2 billion of project finance loans. RBS is particularly adept at applying the PFI model, which is fast becoming the preferred means of funding major projects in Europe. Project finance is part of the banks structured finance business and operates in seven countries. Last year, RBS formed a dedicated project finance team in Paris to seek project advisory and financing assignments in the power, oil and gas, and infrastructure sectors.

CENTRAL & EASTERN EUROPE
CALYON

Calyon is a new name in the project finance business, but its constituents are well known and have a proven track record. Crdit Agricoles corporate and investment bank, Calyon was created in May by the transfer of the corporate and investment banking division of Crdit Lyonnais to Crdit Agricole Indosuez. Calyon has a network of 50 senior bankers and 15,000 staff in about 60 countries.The bank was the mandated arranger of $3.3 billion of project finance loans worldwide in the 12 months through June, topping the league tables. Calyon is notably strong in Central and Eastern Europe, where it led the field in the same period as mandated arranger of $334 million of loans, according to Dealogic ProjectWare.

ASIA
BANK OF CHINA

Bank of China took the lead in structuring the $2 billion onshore portion of the financing for the Nanhai petrochemical project, one of the largest project financing deals closed between July 2003 and June 2004. The $4.3 billion project, located in Chinas Guangdong Province, is a joint venture of Shell Petrochemicals, which has a 50% stake, and China National Offshore Oil, with a 45% share. Guangdong Investment holds the remaining 5%. Chinas domestic banks were able to draw on excess liquidity in the countrys banking system to offer attractive pricing on the transaction. The offshore portion of the financing totaled only $700 million, of which $400 million was provided by export credit agencies and $300 million by international commercial banks. The project, near Hong Kong, is designed to help meet Chinas growing demand for petrochemical products and to reduce reliance on imports.

AUSTRALASIA
WESTPAC BANKING

Westpac Banking was the mandated arranger of $1.6 billion of project finance loans in the Australasia region in the 12 months ended in June, giving it a leading 16.9% share of the market, according to Dealogic ProjectWare. A major lender to the energy sector,Westpac has demonstrated a commitment to sustainable energy development in Australia. It was a lead arranger of $56 million in financing for the Challicum Hills Wind Farm developed by Pacific Hydro. This was the first wind farm to be completed using project financing in Australia. The proven technology of wind-generated power, combined with long-term power purchase agreements, makes wind farms attractive assets for commercial banks to fund using project finance techniques, Westpac says.

MIDDLE EAST & AFRICA
HSBC

HSBC was one of the most-active mandated arrangers of project finance loans in the Middle East and Africa in the 12 months through June 2004.The bank is also a leading provider of trust and agency services to the project finance market. As trustee, it acts as an independent third party, representing all of the lenders, from commercial banks to multilateral agencies, and manages the cash flows and collateral associated with a project. In July, Abu Dhabi-based Dolphin Energy signed a $1.36 billion loan agreement to fund a portion of the construction and operating costs for a multibillion-dollar project to bring gas from Qatars offshore North Field to the United Arab Emirates. HSBC was named as security trustee, along with First Gulf Bank. Meanwhile, HSBC opened its first branch in South Africa this year. The office will serve as the regional management center for its business in sub-Saharan Africa.

GORDON PLATT