Internet Banking Conference and Awards Ceremony
Global Finance brings together leading figures from the Internet banking world to discuss the future of the market.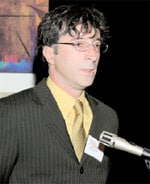 Jorge Vargas,
W3

On November 8, 2005, Global Finance presented its inaugural Internet Banking Conference. The event brought the latest online banking developments to the operations and marketing staffs of Internet banks from around the world. The program began with a presentation by Jorge Vargas, co-founder and director of W3 in Buenos Aires. W3 has been the web developer of many of Citigroups award-winning sites. Vargas focused on web-credibility and how credibility is affected by usability and accessibility. He concluded by offering advice on increasing bank site credibility.
Anup Bagchi, general manager and head of retail liabilities at Indias ICICI Bank, followed. He is a member of the core team that founded ICICI in 1994 and has since made it the second-largest bank in India and, according to Global Finances May issue Best Emerging Market Banks selections, the best bank in India. Bagchis presentation began with a description of the banking environment in India and then provided details of the banks Internet banking philosophy. ICICIs approach has seen its Internet adoptions increase to a significant portion of its customer base.
Rex Richardson, general manager of National Bank of Kuwait, the largest bank in Kuwait and Global Finances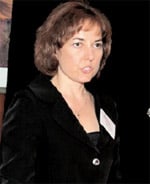 Natalia Major,

Tatra Bank

choice as the best bank in the Middle East & Africa, presented the banks multi-channel online strategy that aims to manage a customers experience and brand promise delivery. Use of NBKs site has increased significantly in recent years, growing 50% since 2003.
Next up was Natalia Major, head of electronic distribution channels at RZBs Tatra Bank in Slovakia. Her presentation, Successful Electronic Banking, opened with a description of Tatras rudimentary site from 1998 and finished with today, when Internet banking customers are 36% of the banks customer base. Major, who plays a role in the development of all RZB sites in central Europe, showed that even a small bank in an emerging market can offer world-class Internet services.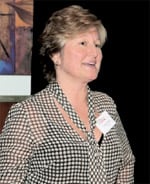 Nancy Todor,
Citigroup

Nancy Todor, director, global payments, Citigroup Global Transaction Services, followed with a description of a major new initiative for the banks treasury customers. Citigroup has redefined customers needs according to their new version of STPSimplicity, Transparency and Perfection. The results are a payment flow manager including a set of online tools that give customers real-time information and control of their payment flow, and a payment investigation manager that provides customers with fast and effective case resolution.
Danny Peltz, executive vice president of Wells Fargo in the US, then gave a spirited description of how a bank located in the heart of the 1990s dot-com mania reacted to develop a super-site for its CEO customers. It was a time when Peltz and his team had more money than time to do the job. The result has been a single CEO site with more than 50 services and 28,000 business customers. Wells Fargos relentless pursuit of customer feedback has, according to Peltz, allowed the bank to continually upgrade and improve its CEO offering.
The Internet banking conference was followed by Global Finances Third Annual Best Internet Bank Awards dinner. The program first honored the winners of round one of Global Finances Best Internet Bank competition. These winners were announced in Septembers Global Finance. But the real excitement of the night came with the announcement of the second-round winnersthe best regional and global Internet banks. This years top global awards were taken by Bank of America for best consumer Internet bank in the world and by Citigroup both for best corporate/institutional bank in the world and for best overall Internet bank in the world. See page 29 for the full report and a list of all of this years winners.