Global Finance selects the winners in a specialized area of financeone that is often hidden to end-users of custody services.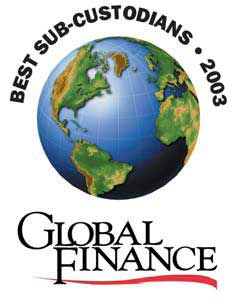 Sub-custodians form the bedrock of the custody business. They hold and process securities on behalf of other custodians and possess detailed and valuable knowledge of local market conditions and procedures. In recognition of the service provided by these hard-working professionals, Global Finance has selected the Best Sub-Custodians in 2003 in 34 developed and emerging markets, as well as in eight regions of the world. Much of securities processing today is commoditized, and there is, therefore, limited opportunity for banks to differentiate themselves in transaction processing, says Paul Hedges, Hong Kong-based head of Standard Chartereds securities services, sales and relationship management.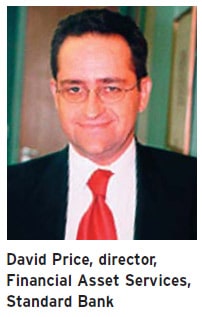 Our technology helps us in terms of strength in customer servicing, Hedges says.We know that we are in the business of providing risk information and that we need to deliver the right information to the right customer segment at the right time and in the right format.

According to Hedges, Standard Chartered, which Global Finance selected as the best sub-custodian in the Asian region, assists its customers in managing their risks by focusing on the handling of exception items, such as a trade that doesnt clear because of an overdrawn account.

The predominance of our customer base is outside of Asia, and we need to be ready to serve our customers during their business hours, helping them with whatever problems they might have, he says.

Michael Goering, Miamibased head of Latin America custody for Citigroup Global Securities Services, says systems and people are the key ingredients to a successful sub-custodian operation.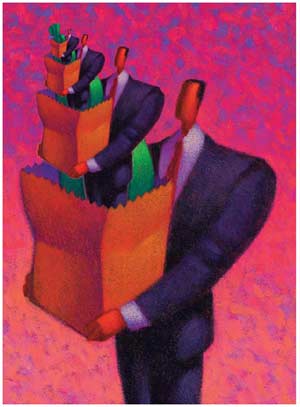 There are situations in some countries where the competition bids one-third or one-quarter of the price of processing just to win the business, but the quality of service is not there, Goering says. Investors need to be careful, he says, because occa-sionally physical assets are not properly destroyed and are put back in the marketplace.
When problems arise, such as currency restrictions or devaluation, timely market information is very important to our customers, he says.For international and local clients alike,we act as their advocate in the market.

David Price, Johannesburgbased director of the Financial Asset Services division at Standard Bank of South Africa, says one of the major concerns of investors in sub-Saharan Africa has been the poor performance of custody and settlement service providers.

Although volumes are generally small relative to South Africa, indifferent performance in these markets has created a significant workload for our clients,Price says.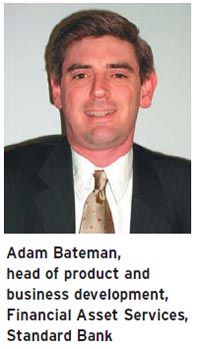 In response to customer feedback, he says, Standard Bank decided to launch a regional custody network for sub-Saharan Africa that will improve service delivery and reduce operational risks throughout the region.

Once the network is up and running later this year, the participating markets will be converted to a shared technology platform, says Adam Bateman, head of product and business development in Standard Banks Financial Asset Services division.

Global custodians will deal directly with Standard Bank in South Africa, which will take action on all instructions through the use of shared technology with the individual countries, he says. The banks clients will have a single point of contact or a relationship manager to handle all trade-related and post-settlement issues.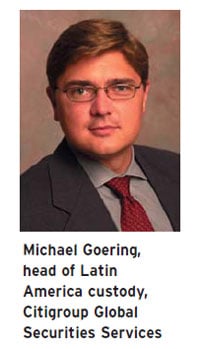 Standard Bank currently provides custody services in eight sub-Saharan African countries, excluding South Africa. It plans to launch custody operations in Malawi this year through Commercial Bank of Malawi.

Standard Chartereds Hedges says his bank offers customers the choice of 16 physical locations as hubs for their Asian operations.Our products are homogenous, Hedges says.We have to make sure that what we offer in one market is consistent with that which we offer in another market,even though the local regulations differ. Each of these markets comes with its own particular challenges,which the bank is able to effectively navigate due to its deep local knowledge across the region.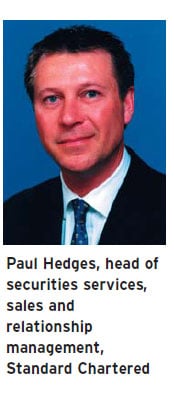 Operating in a region prone to natural disasters, such as earthquakes and floods, as well as one with a volatile political environment, the bank has long concentrated on business continuity plans and disaster recovery.

Our preparedness has always been paramount in our minds, Hedges says.

During the recent outbreak of the illness known as severe acute respiratory syndrome, or SARS, the banks operations center in Kwun Tong, outside of the central business district in Hong Kong, was supplemented by the use of an off-site location to ensure continuity of operations.

We made sure that we fully segregated essential personnel and did not allow them to have physical contact with each other, Hedges says.

The leading sub-custodians offer a full range of custodial services, including safekeeping and settlement services, securities lending and borrowing, management of corporate actions such as dividend payments and stock splits, and portfolio valuation.

Global Finance editorswith input from industry analysts, consultants and other expert sourcesselected the best sub-custodians based on credit ratings,commitment to the business, cost-effective operations, technical capabilities, business continuity plans and prompt customer service.
BEST SUB-CUSTODIANS 2003 COUNTRY WINNERS



ARGENTINA

: Citigroup


AUSTRIA

: Bank Austria

Creditanstalt


BRAZIL

: Citigroup


CANADA

: RBC


CHILE

: Citigroup


CHINA

: HSBC


CZECH REPUBLIC

: CSOB


FRANCE

: BNP Paribas


GERMANY

: Dresdner Bank


GREECE

: National Bank of Greece


HONG KONG

: Standard Chartered


INDIA

: Standard Chartered


INDONESIA

: HSBC


ITALY

: IntesaBCI


ISRAEL

: Bank Hapoalim


JAPAN

: Mitsubishi Tokyo Financial


MALAYSIA

: Malaysia Berhad





MEXICO

: Banamex


NETHERLANDS

: KAS Bank


PERU

: Banco Wiese Sudameris


PHILIPPINES

: Standard Chartered


POLAND

: Bank Pekao


PORTUGAL

: Banco Espirito Santo


RUSSIA

: ING


SINGAPORE

: DBS


SOUTH KOREA

: Standard

Chartered


SPAIN

: BBVA


SWEDEN

: Svenska Handelsbanken


SWITZERLAN

D: Pictet


TAIWAN

: Citigroup


TURKEY

: Garanti Bank


UAE

: HSBC


UK

: HSBC


US

: Bank of New York


ASIA
STANDARD CHARTERED

One of the worlds leading emerging market banks, Standard Chartered beats the competition in numerous markets in Asia, where it is a focused regional provider of securities services and has unsurpassed knowledge of local developments.The bank provides custody and clearing services in 16 centers across Asia, from Pakistan to Hong Kong, and is arguably best in the business in many countries in the region.
On the ground in Asia, Standard Chartered sees itself as the eyes and ears of its customers. It provides clients with market intelligence comprising breaking news, market updates, detailed analyses and reports on how the latest developments may affect their operations and the security of their assets.The banks online information service wins plaudits from the banks custody customers.
Standard Chartered became the largest foreign bank in India with its acquisition of ANZ Grindlays in 2000. It is one of the few foreign banks with a custody license in China.
The bank maintains close relations with regulators in each of its markets, which allows it to represent effectively the interests of its customers to the authorities.
By providing consistently high-quality service, Standard Chartered has been pleasing investors in Asia for nearly 150 years.
AUSTRALASIA
WESTPAC BANKING
Westpac Banking is the largest provider of custodian services in Australia and has 1,000 branches across the Australasia region. The Sydney-based institution has to work hard to stay ahead of stiff competition in the custody area from National Australia Bank and ANZ.
Westpac gets top grades in settlement services, account administration, informing clients of corporate actions, and technology.
The bank uses the Australian Stock Exchanges Clearing House Electronic Subregister System, or CHESS, to lessen the risk of settlement failure. Settlement is processed on a delivery-versus-payment basis, in which the transfer of securities and funds is simultaneous and irrevocable.
The Australian market is notably cyclical in nature, with peaks and troughs of activity from foreign investors that mandates a flexible clearing and settlement system. At Westpac Custodians, foreign client holdings are held in a separate account at CHESS.
Westpac has developed an electronic interface with a third-party provider, Information Express, so that clients receive information on corporate actions promptly.

CARIBBEAN
BANK OF BERMUDA
Like many leading participants in the custody business, Bank of Bermuda is both a global custodian and a sub-custodian.With $105 billion of assets under administration, the bank provides a comprehensive range of custodian services.As a global custodian, the bank uses a network of 100 sub-custodian banks in 80 markets.
Bank of Bermuda specializes in unusual and customized services, such as the exception processing of non-standard transactions.This is particularly relevant in emerging markets, where about 20% of the banks custody assets are invested.
A number of specialist fund administrators outsource custody services to Bank of Bermuda on behalf of their clients.The banks custody customers gain access to the banks online Custody Interactive network, which provides market information and data.

CENTRAL AND EASTERN EUROPE
ING
Netherlands-based ING maintains a network specializing in custodian services that is among the biggest in Central and Eastern Europe.The bank has been a leading provider of custodian services in Hungary since 1995,where it started by concentrating on serving foreign institutional investors. It has since gathered a wide range of clients thanks to attention to service and an attractive fee structure.
ING provides custodial and payment agent services for corporate bond issues. It also handles dematerialized securities,which trade through account transfers, and sets up escrow payments.
The bank provides exceptional service in markets, such as Ukraine, where only a handful of brokers and custodians operate. INGs offices in the Czech Republic, the Slovak Republic, Poland, Romania and Bulgaria are highly rated by the banks customers.
ING Moscow, the largest custodian bank in Russia, last year acquired Credit Suisse First Bostons custody activities in the country.
In May 2003 ING launched a European joint venture in custody services with Bank of New York, one of a series of cooperation and outsourcing agreements with BNY.
LATIN AMERICA
CITIGROUP

Citigroup, the regional winner for Latin America, takes top honors in Argentina, Brazil and Chile, while its Banamex unit, acquired in August 2001, is the leading sub-custodian in Mexico. Under the Citigroup umbrella, Banamex has attracted an additional $12 billion of assets under its management in a very short time.
Citigroup has a market share of 65% to 90% in each of the markets in which it was selected by Global Finance as best sub-custodian. Its investments in highly qualified staff and technologically advanced systems have produced fewer failed trades and better service than the competition.
Citigroup has more branches in the region and covers more markets than any other sub-custodian, and it provides the same high level of service in the smallest markets in which it operates.The banks Tampa, Florida- based regional operations center has electronic links to depositaries and exchanges throughout the Latin American region. Citigroup boasts the ability to adjust quickly to volume spikes, wherever they may occur.
The bank offers a full range of securities services. Its custody staff members sit on depository boards and participate in industry best-practice groups.
MIDDLE EAST
HSBC
HSBC, the UKs largest banking company, has been providing custody and clearing services in the Middle East ever since the regions markets opened to foreign investors.
HSBC is the only international bank providing custody services in Saudi Arabia. It has been serving local investors in the kingdom since the market opened in 1984. HSBC has served foreign investors in Saudi Arabia since 1998, following the opening of the treasurybill market to foreign investors.The bank is a member of the Investment Product Committee, which helps prepare draft regulations governing the local financial market.
In Bahrain and Lebanon, HSBC has been providing custody services since 1996, when those markets opened to non-resident investors. HSBC also has strong relationships with major market participants and regulators in Jordan. It began providing custody and clearing services to foreign clients in the Palestinian Autonomous Area in May 1999. The bank serves some of the largest global custodians in Oman, Qatar and the United Arab Emirates.
SOUTHERN AFRICA
STANDARD BANK

Standard Bank of South Africas financial asset services division has approximately 750 billion rand ($100 billion) of assets under custody.The bank acts as sub-custodian to seven of the top 10 global custodians and settles 40% of all market trades in South Africa.
Not only is Standard Bank the leading provider of South African custodial services, but it also announced plans in March 2003 to launch a regional custody network for sub-Saharan Africa.The bank aims to improve service delivery and reduce operating risks throughout the region, building on its experience and technology in its home market.
The banks initial focus will be on Kenya, Nigeria, Botswana, Namibia and Zimbabwe. A substantial part of the network will be in place by the end of 2003.
Standard Bank also offers trustee services and global custody, the latter in alliance with Bank of New York. It is the only South African custodian to offer a comprehensive online securities module.
WESTERN EUROPE
BNP PARIBAS
BNP Paribas is the leading pan-European bank providing securities services, with about $2 trillion of assets held in custody. Its Multi-Direct Clearing and Custody, or MDCC,business line offers direct access to the major European markets. Bank of New York, for example, uses MDCC for clearing its flows on the Euronext Paris market. Credit Suisse uses the service to handle clearing and custody for its businesses on the French, Portuguese, Dutch and Belgian stock markets.
In March 2002, BNP Paribas and Frances other leading banking group, Crdit Agricole, formed a joint subsidiary, Euro Securities Partners. The new company, with 150 employees drawn from both institutions, will develop and operate a common technology platform for securities custody, serving 6.5 million accounts in retail and private banking.

Gordon Platt