SPREADING THE WEALTH
Saudi Arabia's industrial base is already the largest in the Middle East, and its service sector is growing rapidly.
By Gordon Platt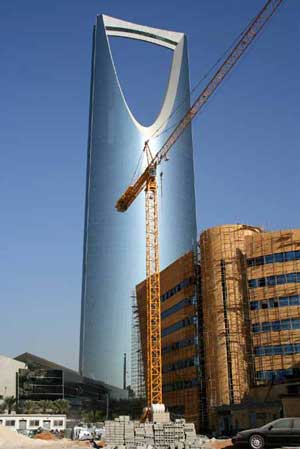 With more than 20% of the world's oil reserves, Saudi Arabia stands to benefit significantly from rebounding oil prices and the global economic recovery. Demand for petrochemicals and refined petroleum products is picking up, particularly in the fast-growing economies of Asia. At the same time, the Saudi government's strong fiscal stimulus is lifting the economy's non-oil sector. A backlog of projects totaling $400 billion through 2013 stretches across infrastructure, real estate, utilities, health and education.
Despite the recovery in oil prices, the world's biggest crude producer is pushing ahead with its investment plans and is willing to incur small budget deficits to maintain its fiscal stimulus program. In December 2009 it unveiled its largest budget ever, with spending of $144 billion. The economy is clearly in a recovery phase after stalling in 2009, with gross domestic product likely to grow by about 4% this year, economists forecast.
The Saudi government's ongoing commitment to developing infrastructure and supporting social services by building and refurbishing hospitals, schools and transportation networks is having a significant trickle-down effect on the broader economy, says Richard Groves, managing director of the Saudi British Bank (SABB). "Allied with increasing business and consumer confidence, the Saudi economy got off to a strong start in 2010, which is apparent from both the retail and corporate lending segments of the bank," he says.
Commercial bank lending was lower in 2009, reflecting a lack of demand and a reluctance of banks to take on new risks in a challenging economic and financial environment. "Now is the time to expand lending and to help with efforts to diversify the Saudi economy," Groves says. The construction sector, for example, is well positioned to benefit from the big projects the government is sponsoring, he says. The shortage of affordable housing is another reason to expect construction activity to pick up, he adds. Tourism is also likely to show strong growth in the future, he suggests, with increasing demand for facilities in the two holy cities of Makkah (Mecca) and Madinah (Medina). A high-speed rail project will link the cities with the port of Jeddah. Groves says airports, hotels and other infrastructure that will be built to support the growing religious tourism industry will be a major boost to the country's economy.
As the leading trade finance bank in Saudi Arabia, SABB has its finger on the pulse of the country's trade flows. "Trade is really the backbone of many banks," Groves says. SABB, which is 40%-owned by HSBC, has benefited from its association with HSBC, a leading global financial institution, which has its roots in China. Michael Geoghegan, HSBC's group CEO, relocated to Hong Kong in February, saying the bank could not get away from the fact that the East is growing at a faster rate than the West. China already has passed the United States as the largest importer of Saudi crude, according to the national oil company, Saudi Aramco.
The kingdom's major infrastructure projects require imported machinery and other inputs, Groves says. This should support import volumes, although the prices of some commodities have declined.
Strength in Diversity
Saudi Arabia is building world-class industries and promoting entrepreneurship to diversify and sustain economic growth. Saudi mining company Maaden signed a $10.8 billion joint-venture contract in December 2009 with Alcoa of the US, the world's leading aluminum producer, to create an integrated aluminum industry at Ras Al Zour on the east coast. The project will include a bauxite mine with an initial capacity of 4 million metric tons a year, an alumina factory with a capacity of 1.8 million tons annually and an aluminum smelter with hot-mill capacity of up to 460,000 metric tons a year.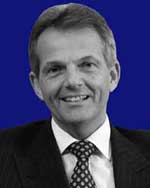 Groves: "The Saudi economy got off
to a strong start in 2010"
At least 18 industrial cities are under construction, in addition to four new economic cities. The Saudi Industrial Property Authority, known as Modon, signed an agreement last year with Falcom Financial Services, a shariah-compliant investment bank, to encourage public-private partnerships to develop the country's industrial backbone.
"Our role is to facilitate the broad agenda of developing synergies through mergers and acquisitions and fostering a healthy competitive environment that prepares the kingdom for privatizations and opens its doors to global markets and investors," says Adeeb Al-Sowailim, CEO of Falcom. The bank is working closely with Modon on a number of assignments and has created a dedicated task force to carry them out. "One of the significant milestones is a joint training program to educate and energize industrial managers and stakeholders on M&A; initiatives," Al-Sowailim says.
Healthcare, education and building materials are among the most attractive sectors of the Saudi economy, according to Falcom. "Education presents good potential, as the government continues to focus on equipping the younger generation for the future," Al-Sowailim says. One-quarter of government spending is directed toward education in the latest budget, he points out.
The Saudi stock market, the Tadawul, was the best-performing market in the Gulf Cooperation Council (GCC) countries in 2009, with a gain of 27.4%. The Falcom Saudi Equity Fund, which invests in 11 sectors, outperformed the market last year, with a rise of 40.4%. "We have been very confident in the economy, and our strategy of diversification helped to achieve the desired results," Al-Sowailim says. All sectors of the Saudi economy had positive growth in 2009 except the oil sector, he says. Listed companies performed better in 2009 than in 2008, as Kingdom Holding, the largest company in Saudi Arabia, which is controlled by Prince Alwaleed bin Talal, swung to a profit following a major loss, he adds. But two heavyweight sectors—banking and petrochemicals, which together account for 61.4% of the total market—posted lower earnings in 2009.
The Falcom Shariah Index, comprising 112 companies that represent nearly 78% of the companies in the broader Tadawul All Share Index (TASI), is the first shariah-compliant index licensed in the country. The components are selected by the bank's shariah department and approved by shariah scholars.
Falcom's online brokerage business is growing rapidly, and its information portal is now being offered to clients in Oman. "We believe innovation, [investor] empowerment and performance are the three pillars of our business," Al-Sowailim says. "The GCC region is full of opportunities, and we are soon going to offer client services in the Abu Dhabi market."
Meanwhile, Falcom has created a consumer finance company, Nayifat, in a joint venture with National Bank of Kuwait. "The company's products will be targeted to SMEs [small and medium-size enterprises] and consumers, with a mission of enabling growth and enriching lives," Al-Sowailim says. Twenty branches are planned nationwide, including in Al Khobar, Jeddah and Riyadh.
Growth From the Bottom Up
Small businesses based in Saudi Arabia are among the most confident in the world, according to a recent survey by HSBC. The country's small businesses are especially optimistic about prospects for growth in the Saudi economy. They are increasing spending and hiring new workers, as well as expanding their international operations. Of the 300 small companies surveyed, 86% said they expect the economy to grow at or above the current rate over the next 12 months.
The Saudi Arabian General Investment Authority (Sagia), which works to create a pro-business environment in the country and to make it more globally competitive, releases an annual ranking of the Saudi Fast Growth 100, a list of the fastest-growing emerging companies in the kingdom. "The dynamism of the applicants demonstrated clearly that Saudi Arabia is creating a business climate that supports and rewards innovation and entrepreneurial initiative," says Amr Al-Dabbah, governor of Sagia. "The winners on the list will be the guides to our future," he says. "These trailblazers will be the most potent signal that Saudi Arabia is a dynamic economy full of creativity and opportunity."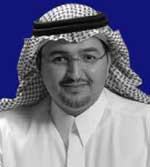 Al-Sowailim: Our role … is to foster a healthy competitive environment
The leader of this year's list is WorleyParsons Arabia, which provides technical, project and operational services from its base in Al Khobar. Construction and engineering is by far the largest industry employer on the Fast Growth 100 list, with 9,000 employees, followed by high-tech and telecommunications, with 3,500 employees. The companies on the list already have created more than 19,000 jobs.
The average age of company CEOs at startup was 33 years, and many of them have formed three or more companies. While a survey of the CEOs was generally positive, it revealed obstacles impeding business development and growth, including difficulty accessing growth capital and excessive government regulations. Also cited was a need for skilled workers.
"The problems cited are clearly serious, but the good news is they can be corrected," says Deirdre Coyle, co-founder of Boston-based AllWorld Network, which has operations in Riyadh and is a partner with Sagia in the Fast Growth 100. AllWorld is seeking to find and accelerate growth at scalable growth businesses in emerging market countries. "The paucity of start-up capital, surveys indicate, is due in part to the lack of information about Saudi businesses and the country's business climate," Coyle says. "With regard to human capital, there is a general recognition of the need and the benefits of building a deep, skilled labor pool."
State-owned firms, rather than the central government, are handling much of the surge in public investment. This will help to keep deficits at manageable levels, economists say. The current account likely will remain in surplus if oil prices remain steady.
"An abundance of feedstock coupled with sustained investment has made Saudi Arabia the industrial heavyweight of the Middle East, while stalwarts such as Saudi Basic Industries (Sabic) and Saudi Aramco have risen to become true global players," according to a report by Oxford Business Group, a London-based publishing and consulting group focused on emerging markets in the Middle East and Asia. The Saudi petrochemicals sector has shown particularly strong growth, it says. Steel, fertilizer and paper products are other sectors likely to expand rapidly, it adds.
Major projects are under way in Jubail and Yanbu, the kingdom's largest industrial cluster zones. Industrial development is a vital component of future growth, Oxford Business Group says. Meanwhile, the country's retail market is the largest in the Middle East and is likely to grow rapidly considering the country's demographics, it adds.
State-owned Saudi Aramco, the world's largest oil exporter, plans to invest more than $120 billion in oil and petrochemical projects in the next five to six years. Roughly half of that total will be directed to the downstream petrochemical industry. The government recently commissioned Saudi Aramco to build a $10 billion refinery at Jazan Economic City in the southern province of Jazan. The national oil company and France-based Total, Europe's biggest refiner, obtained $6 billion in bank loans in January 2009 to finance the construction of a refinery at Jubail.