Global Finance selects the leaders in the $1.25 trillion-a-day foreign exchange market.

The foreign exchange market, with daily turnover of $1.25 trillion, remains the worlds biggest financial market, even though trading has dwindled somewhat following the introduction of the euro. As the financial services industry continues to consolidate, currency trading is becoming more and more concentrated in the bigger banks with the liquidity and ability to offer the best prices.
At the same time, online systems have increased transparency in the marketplace, making it easier to discover who the price leaders are without making a series of phone calls.
While it is true that the market is very liquid, you can still move prices against you if you try to do a transaction of a few billion dollars in a single day, says Simon Wilson-Taylor, managing director at Boston-based State Street Bank. The banks FX Connect platform has captured a leading share of the online multi-bank foreign exchange market.
A bank with the networks and capital behind it to make tight markets in a range of currency pairs can consistently offer the most competitive prices. And fiduciary responsibilities mean that institutions will give their business to the bank offering the best deal,Wilson-Taylor says.
Global Finance selected the top foreign exchange banks in eight regions and 37 countries, as well as the best online currency trading companies and the leading research provider.
Citigroup, with its unmatched global network and massive liquidity, is a repeat winner this year as the best global foreign exchange bank, as well as the regional winner for North America and the country winner for the United States. The bank is the epitome of global banking,with an unmatched presence in 100 countries and some 200 million customers.
Global Finance used a series of objective and subjective criteria to arrive at its selections.The criteria included transaction volume, customer service and advice, competitive pricing, innovative technologies and opinions of analysts and market sources.
CitiFX, the foreign exchange service of Citigroup, is a market leader in all major and emerging-market currencies. The bank recently launched an outsourcing platform called CitiFX White Label to give small and medium-size banks access to its deep currency markets.
The platform was developed and deployed in conjunction with California-based Integral Development. Market leadership is always the result of vision, focus and execution, says Harpal Sandhu, president and CEO of Integral.CitiFX is a great example of how it gets done, he adds.
Meanwhile, the currency market has been held in the grip of geopolitical uncertainties in recent months that have put extra strain on currency strategists and analysts.
Maybe by the middle of this year the economy will come back into focus, says Lara Rhame, senior currency economist at Brown Brothers Harriman in New York, a repeat winner as the best bank in foreign exchange research.
Rhame says many corporations have used the threat of war as an excuse for not having to invest in new plants and equipment. The US economy still faces serious headwinds, she says.The dollar is sliding because the economy is a giant question mark, and the United States is looking more like a target than a safe haven.
The dollar remained strong for as long as it did, Rhame says, because the international community was the last group holding on to irrational exuberance. While the euro is one obvious alternative to the greenback,Rhame also expects the Japanese yen to strengthen for the remainder of 2003. Because of Japans large current-account surplus, she says, it takes massive capital outflows to weaken the yen. Japanese investors, meanwhile, have little appetite for investing abroad, she adds.

GLOBAL WINNER


CITIGROUP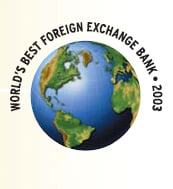 Citigroup is a repeat winner as the worlds best foreign exchange bank. No financial services company comes close to matching Citigroups presence in 100 countries, where it serves 200 million customers. Its foreign exchange operation, branded CitiFX,is a leading provider of products and services in every major currency and most emerging-market currencies as well.The banks competitive pricing and fast execution reflect its indepth and up-to-the-minute knowledge of local markets and its investment in people and systems.
At times like these, fraught with geopolitical uncertainties, technological change, huge cross-border capital flows and trade imbalances, currency markets can move very quickly. Citigroup has the resources to meet clients needs and to get the big transactions done discreetly and without moving the market against it.The banks risk advisory and research teams help customers cope effectively with changing market conditions.

BEST ONLINE FOREIGN EXCHANGE TRADING SYSTEMS

The April 2002 demise of Atriax, a foreign exchange trading platform backed by 65 banks representing more than half of worldwide currency trading, was a wake-up call for the online trading community. The clear message was that electronic trading was not going to grow as quickly as some had hoped and that the field of play was getting crowded. Nevertheless, the remaining portals were left in a better position to survive with the exit of a major competitor.
FXall, another bank-led consortium, quickly received liquidity commitments from JPMorgan Chase, Deutsche Bank and Citigroup, three of the largest providers of quotes to Atriax. But two earlier entrants to online FX trading, State Streets FX Connect and independent Currenex, held on to their leading positions. FX Connect, a multi-bank portal lauded for its speed and simplicity, has established a dominant share of about 70% of the online trading market, according to analysts at Needham, Massachusetts-based research house TowerGroup. Currenex, an independent platform that is going through a lot of changes, is growing rapidly and claims to be the most economical trading system.

BEST BANK SYSTEM


State Streets FX Connect Boston, Massachusetts www.e-globallink.com

FX Connect, a part of State Streets multi-asset trading platform GlobalLink, was the first online currency trading system to go live, in August 1996.
We started early and had a global imprint before others even opened their doors, says Simon Wilson- Taylor, managing director of GlobalLink. We focused on one customer at a time, improving their work flow and making sure they got the right price. You cant just build a system and expect people to come, he says.
Today, FX Connect is the established leader in the online multi-bank foreign exchange industry. Until recently, it has concentrated almost exclusively on serving large global institutional investment managers. Now it is expanding into the corporate market.
In October 2002 State Street announced a partnership with SunGard to offer FX Connect as an integrated component of all of SunGards corporate treasury workstation products. No other platform has focused on customer issues the way we have, Wilson-Taylor says. We delayed making a major push into the corporate FX market until we had the right solution.
Analysts praise FX Connect for its straightthrough processing, open access to liquidity providers and integration with other asset classes on the GlobalLink platform.

BEST INDEPENDENT


Currenex New York www.currenex.com

Currenex, the leading independent global currency trading platform, is literally on the move. In January 2003 the company pulled up its California roots and moved its headquarters to New York City. Also in January Clifford Lewis, former senior vice president of strategic planning and international relations at the Chicago Board of Trade, was named chairman and CEO of Currenex. Lori Mirek, former Currenex chief executive, left the company at the end of 2002.
Currenex also received a final round of financing in January 2003 from TH Lee Putnam Ventures and Royal Dutch/Shell Group.This investment provides the financing that will enable Currenex to reach profitability, Lewis says.The company will use the funds to enhance and extend its trading services.
We look forward to delivering further innovation with executable streaming prices combined with our prime brokerage service model, Lewis says. He adds that Currenex has proven to be an outstanding service provider for both sides of the market. The company primarily serves corporate treasurers at large multinational companies. Besides New York, Currenex also maintains offices in London, Singapore, Geneva, Amsterdam and Chicago, with development staff in California.

Regional Winners


North America


Citigroup

Global winner Citigroup is also the repeat regional winner in North America, despite a strong showing from JPMorgan Chase.
Dealing in 150 currencies, Citigroup is a leader in trading the US dollar against the euro, the British pound and the Japanese yen. The banks currency trading desks are major providers of liquidity to the foreign exchange market. Citigroups Banamex subsidiary is a leading market maker in the Mexican peso.
Robert Sinche, chief currency strategist in New York,provides expert commentary on the market outlook. In-house sales specialists offer customers advice on risk management, electronic trading systems and investment opportunities in currency-linked products.

Latin America


Banco Bradesco

Banco Bradesco, the largest private-sector bank in Brazil, is the regional winner for Latin America, where it continues to expand. The bank offers online and mobile banking services and a network that blankets Brazil. It recently acquired the Brazilian operations of both Banco Bilbao Vizcaya Argentaria and JPMorgan Fleming Asset Management. Banco Bradesco also has a branch in New York and two in the Cayman Islands, as well as a network of 3,000 correspondents worldwide.

Western Europe


Deutsche Bank

Deutsche Bank has expanded its currency-trading operations in recent years and has developed one of the most substantial foreign exchange operations, with specialists in 38 centers worldwide.The bank is a volume leader in many currencies, particularly the euro, and is one of the top three foreign exchange revenue-earners globally.
Deutsche Bank combines a customer-focused strategy with advanced risk-management hedging activities. The banks structured-product specialists are among the best in the industry.
Deutsche Bank is active in the main currencytrading locations worldwide, as well as in developing nations in Asia, Eastern Europe and Latin America. Its massive banking operations enable it to take the pulse of the worlds capital flows.

Central and Eastern Europe


Bank Austria Creditanstalt

Bank Austria Creditanstalt is a clear market leader in Central and Eastern Europe. Together with its German parent, HVB Group, it operates the largest network throughout the region, in terms of both area and total assets.
Each subsidiary of Bank Austria Creditanstalt in the region has its own treasury unit, of which the largest are in Poland, Hungary and the Czech Republic. There also are local operations in Slovakia, Slovenia, Croatia, Serbia and Montenegro, Bulgaria, Romania, Ukraine and Bosnia- Herzegovina. At the end of 2002 the merger of Bank Austria Creditanstalts subsidiaries, Biochim and HVB Bulgaria, was completed, creating the fourth-largest bank in Bulgaria.

Scandinavia


Den norske Bank

Oslo-based Den norske Bank is Norways largest participant in the foreign exchange market. The bank, which offers 24-hour dealing services, has branches in Stockholm, Copenhagen, Helsinki, London, Hamburg, New York and Singapore. DnB is well known in global shipping markets. In January 2003 it applied to acquire Nordlandsbanken in northern Norway. The December 1999 merger of DnB and Postbanken has produced higher cost savings than expected.

Africa and Middle East


Citigroup

Citigroup is the regional winner for Africa and the Middle East, where it has a presence in two dozen countries. The bank has been active in Lebanon and Saudi Arabia since the 1950s. It also has offices in Bahrain, Jordan, Oman, Israel and the United Arab Emirates. Citigroup has 600 employees in Egypt, serving 100,000 accounts. Its other African offices span the continent from Algeria to South Africa.

Asia-Pacific


Standard Chartered Bank

London-based Standard Chartered Bank has 500 offices in 50 countries and operates primarily in Asia,where it took advantage of the regions financial crisis of the late 1990s to expand its presence. The bank has moved into China and was the only foreign bank invited to become a strategic investor in the Bank of Chinas Hong Kong arm. It also was one of the first foreign banks to be granted central bank approval to provide custodian services for qualified foreign institutional investors in China. Standard Chartered is a leading emerging markets bank worldwide, with 150 years of experience.

Southeast Asia


DBS Group

Singapore-based DBS Group is a major provider of Asian currency products, in particular Singapore dollar and Thai baht currency swaps.
DBS is the largest banking group in Southeast Asia. It owns 21% of Bank of the Philippine Islands and is active throughout the region via subsidiaries and associated companies, most notably in Indonesia and Thailand.With its acquisition of Dao Heng Bank in 2001, DBS became the fourth-largest bank in Hong Kong by assets. It is a recognized leader in Internet banking and e-commerce.

Best FX Research:


Brown Brothers Harriman

New York-based Brown Brothers Harriman is a repeat winner in the Best Foreign Exchange Research category thanks to consistently on-target forecasts and incisive coverage in 70 markets. BBHs currency research team,under the direction of Anne Parker Mills, senior vice president, delivers twice-daily in-depth comments,as well as weekly and quarterly analyses.
Lara Rhame, former Federal Reserve economist, keeps clients ahead of the curve with her economic and political insights. Nick Bennenbroek and other BBH currency specialists work side by side with the firms traders and sales force to keep a close watch on the market. Global investors are well served by BBHs timely delivery and ability to develop well-thought-out strategies that reduce risks and capture opportunities.

Country Winners


Argentina


Citigroup

Citigroup has had a presence in Argentina since 1914. Bank executives hope the majority of the countrys economic and financial crisis is behind it.The central bank has begun easing strict currency controls.

Australia


Australia and New Zealand Banking

ANZ, one of Australias largest banks, has 1,000 domestic branches, as well as 50 overseas branches in 25 nations.The bank makes tight markets in the Australian dollar and New Zealand kiwi, as well as the Japanese yen.

Austria


Bank Austria Creditanstalt

Bank Austria Creditanstalts Vienna trading floor is the center of the Austrian foreign exchange world and the hub for German parent HVB Groups foreign exchange activities in Central and Eastern Europe.

Belgium


Fortis Bank

Fortis Bank is one of the largest financial service providers in the Benelux market, with 3,000 branches. The group has 100 companies operating internationally in insurance, banking and investments and specializes in risk management.

Brazil


Banco Bradesco

Banco Bradesco, the largest private-sector bank in Brazil and Latin America, has subsidiaries in the Bahamas and Argentina, as well as a New York branch and three branches in the Cayman Islands.

Canada


Royal Bank of Canada

Royal Bank of Canada, that nations largest financial institution, has 300 offices in 30 countries.With a solid niche in Canadian dollar and euro trading, it has expanded its London foreign exchange operations.

Chile


Banco de Chile

Banco de Chile, the nations largest private sector bank, has a 20% market share in Chiles financial system following its merger in January 2002 with Banco de A. Edwards.

China


Bank of China

Bank of China, one of the countrys Big Four stateowned commercial banks, operates 28 overseas branches. The bank is seeking government help to reduce its huge burden of non-performing loans ahead of a domestic stock listing by 2005.

Colombia


Bancolombia

Bancolombia, Colombias largest bank, maintains an extensive network of branches and ATMs, as well as an online banking system. It offers a variety of foreign exchange and trade-finance services.

Egypt


Commercial International Bank

Commercial International Bank, Egypts largest private bank, has a strong financial profile and has captured the largest share of the countrys corporate banking market.

France


BNP Paribas

BNP Paribas, one of Europes largest banks, is active worldwide. The bank has developed a strong franchise in currency options and derivatives.

Germany


Deutsche Bank

Deutsche Bank has a market share of 15% of global foreign exchange trading. It is known for the large volume of its currency-options business.

Greece


National Bank of Greece

National Bank of Greece, the largest commercial bank in the country, offers Internet banking, factoring and loans in foreign currencies.

Hong Kong


Standard Chartered Bank

The UK-based banking group, which operates primarily in Asia, has 500 offices in 50 countries. It was the only foreign bank allowed a strategic stake in Bank of Chinas Hong Kong arm.

India


ICICI Bank

ICICI Bank, the first Indian bank to list on the New York Stock Exchange, is the largest private-sector bank in India. It recently introduced resident foreign- currency accounts.

Israel


Bank Hapoalim

Tel Aviv-based Bank Hapoalim, Israels largest bank, serves corporations and investors through 24 foreign offices and 329 branches in Israel.

Italy


IntesaBCI

IntesaBCI, Italys largest bank holding company, operates in 40 countries but plans to exit Latin America over the next three to five years.

Japan


Mitsubishi Tokyo Financial Group

Mitsubishi Tokyo Financial Group, one of the worlds largest banks, is a major player in the foreign- exchange markets. The bank offers first-class customer service.

Malaysia


Malayan Banking Berhad

Malayan Banking Berhad,known as Maybank,accounts for 25% of the assets of the countrys banking system. It has 400 branches in Malaysia and Southeast Asia.

Mexico


Banamex

Banamex is one of the largest banks in Mexico, with a 25% market share. It is owned by Citigroup and is the leading peso-clearing agent for foreign exchange transactions.

The Netherlands


ABN-AMRO Bank

ABN-AMRO Bank has foreign exchange operations in 60 countries, serviced by hubs in Amsterdam, London, New York, Chicago, Singapore and Sydney.

New Zealand


Australia and New Zealand Banking

Besides Australia and New Zealand,ANZ offers international banking to clients in the Americas, Europe and the Middle East. The bank has 50 overseas branches in 25 nations.

Nigeria


Standard Bank

South African-based Standard Bank operates under the Stanbic Africa banner in Nigeria and 15 other African countries.

Portugal


Banco Comercial Portugus

Banco Comercial Portugus is Portugals largest private bank. In addition to 900 domestic branches, it has operations elsewhere in Europe,Asia,Africa and the Americas.

Russia


International Moscow Bank

International Moscow Bank is Russias largest foreign- owned bank. HVB of Germany holds a 43.2% stake, and Scandinavias Nordea controls 22.6%.IMB has one of Russias largest correspondent networks, with 1,200 banks in 96 countries.

Saudi Arabia


Saudi American Bank

The 1999 merger between Saudi American Bank, or Samba, and United Saudi Bank formed one of the largest banks in the Middle East. Part-owned by Citigroup, the bank has subsidiaries in Britain, Switzerland and Luxembourg.

Singapore


DBS Group

Active in regional Asian currencies, DBS has become a member of the CLS Group,a global initiative to help to reduce settlement risk in the currency markets.

South Africa


Standard Bank

South Africas largest bank has offices in Hong Kong, Russia, Sweden, the United Arab Emirates, the UK and the US, as well as in 16 African nations.

South Korea


Korea Exchange Bank

Korea Exchange Bank, the former governmentowned flagship bank, has correspondent relationships with 3,100 banks worldwide.

Spain


Banco Bilbao Vizcaya Argentaria

The leading Spanish bank also operates in Portugal, France and Italy and controls banks in a dozen Latin American countries. It agreed in January 2003 to sell its Brazilian affiliate to Banco Bradesco.

Switzerland


Credit Suisse Group

Credit Suisse Group is a leader in trading of the Swiss franc against the euro and other global currencies and offers a full line of treasury products.

Taiwan


International Commercial Bank of China

Taipei-based International Commercial Bank of China has 25 foreign operations, including branches in Los Angeles and Chicago and a New York agency.

Thailand


Bangkok Bank

Bangkok Bank,Thailands largest commercial bank, has 20 overseas branches and connections with 1,500 correspondent banks.

Turkey


Isbank

Isbank,Turkeys largest retail bank, has 866 domestic and four overseas branches. It has relations with correspondent banks in 121 countries.

United Kingdom


Barclays

Barclays, with a presence in 60 countries, offers a variety of ways to hedge foreign-currency cash flows to reduce exposure to sudden adverse movements.

United States


Citigroup

Citigroup, the largest US financial services group, recently introduced CitiFX White Label, a platform that allows mid-size and regional banks to reduce the costs of providing their clients with foreign exchange products.

Gordon Platt