NEWSMAKERS | UNITED STATES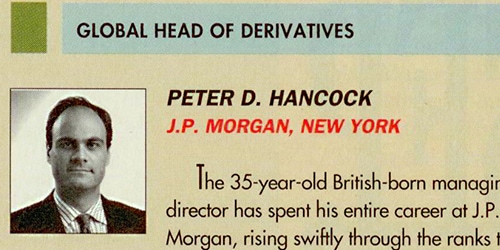 After steering American International Group (AIG) during the financial crisis and putting it back on a sounder footing, president and chief executive officer Robert Benmosche is handing the baton over to Peter Hancock, a longtime J.P. Morgan hand who came to AIG in 2010 as vice president of finance and risk. In 2011, Hancock was promoted to head of AIG's property and casualty division.
"Hancock's experience running the P&C division will be essential, as it is still dealing with many more legacy issues than the life division," says Charles Sebaski, an equity research analyst at BMO Capital Markets. "Peter's background in banking and risk is also particularly valuable, given the amount of new regulatory hurdles, like the US Federal Reserve stress tests, which are more bank-like than insurer-like." Hancock, who was chief financial officer and chief risk officer at J.P. Morgan and founded the bank's global derivatives group, takes the helm of AIG on September 1, at a time of great change in the regulatory landscape, with the Dodd–Frank Wall Street Reform and Consumer Protection Act having tightened the screws on so-called systemically important financial institutions, AIG being among them.
Though he inherits a healthier company than Benmosche had to contend with, Hancock faces his own challenges. "AIG has moved on from dealing with a near-collapse, and the expectations of employees and stakeholders will likely increase, while the new CEO will not likely share in the goodwill Benmoche built up by saving the company," says Sebaski. "Additionally, the life insurance business is very important to AIG's overall financial performance, and Hancock has less direct experience on that side of the business."