Global Finance magazine has named its eighteenth annual World's Best Foreign Exchange Providers in 104 countries, and 7 global regions, as well as the best banks for FX research & analysis and for FX trading technology. Global Finance also named its Corporate FX Awards honorees, covering FX management and innovation. An exclusive report on all winning organizations will be published in the January 2018 issue.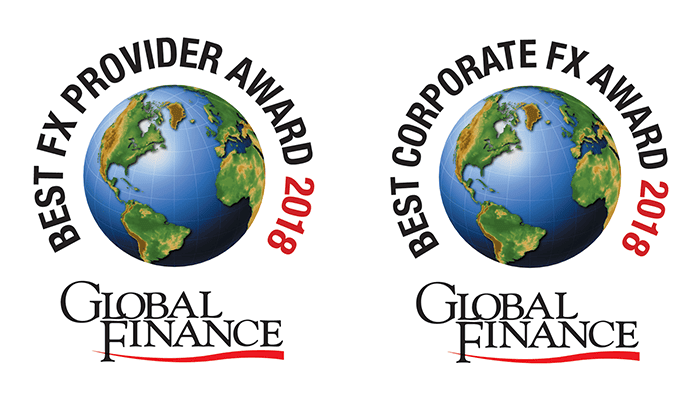 Regional and global Foreign Exchange Provider winners were revealed for the first time last night at Global Finance's first annual Foreign Exchange Awards Dinner at RSA House in London.
Criteria for choosing the Foreign Exchange Providers winners included transaction volume, market share, scope of global coverage, customer service, competitive pricing and innovative technologies. Global Finance also considered input from industry analysts, corporate executives and technology specialists.
Criteria for the Corporate FX Awards included clearly defined risk management policies, handling of crisis situations, measurement of FX exposure, and cost of hedging. The main objective of FX risk management is to minimize losses, and not to seek profit from currency movements.
"While the global economy is trending toward growth again, the world still contends with unexpected events that impact currencies, from political upheavals like Brexit and war to natural disasters. The institutions that win our FX awards demonstrate sophistication in anticipating and handling the resulting impacts for their clients," said Joseph D. Giarraputo, publisher and editorial director of Global Finance.
A summary of the evening's events can be seen below:
The complete list of Global Finance's World's Best Foreign Exchange Providers and the Best Corporate FX Awards 2018 can be found here, including the full list of country award winners. 
THE WORLD'S BEST FOREIGN EXCHANGE PROVIDERS 2018
GLOBAL AWARDS
| | |
| --- | --- |
| Best Global Foreign Exchange Bank | Citi |
| Best FX Provider For Corporates | Societe Generale |
| Best FX Provider For Emerging Markets Currencies | Standard Chartered Bank |
| Best Liquidity Provider | UBS |
REGIONAL AWARDS
| | |
| --- | --- |
| North America | J.P. Morgan |
| Latin America | BBVA |
| Western Europe | HSBC |
| Central & Eastern Europe | Societe Generale |
| Middle East | National Bank of Kuwait |
| Africa | Standard Bank |
| Asia-Pacific | DBS Bank |
FOREIGN EXCHANGE RESEARCH & ANALYSIS
| | |
| --- | --- |
| FX Research | BNY Mellon |
| Fundamental Analysis | Deutsche Bank |
| Technical Analysis | BNY Mellon |
| Forecasts | BBVA |
BEST BANK FX TRADING TECHNOLOGY
| | |
| --- | --- |
| Best Bank Platform (Overall) | J.P. Morgan eXecute |
| Most Innovative Bank Platform | Shinhan Bank's FX Hedge LC |
| Best Platform For Corporations | CitiFX Pulse |
| Best Execution Algorithms | Northern Trust's FX Algo Suite |
| Best Transaction Cost Analysis | Bank of America Merrill Lynch |
| Best Big-Picture View Of Positions | Citi Velocity's Command Centre |
| Best End-To-End Processing | Deutsche Bank's Maestro |
COUNTRY AWARDS
The full list of country award winners for The World's Best Foreign Exchange Providers 2018 can be found here.
CORPORATE FX AWARDS 2018
GLOBAL AWARDS – FOREIGN EXCHANGE MANAGEMENT
| | |
| --- | --- |
| Best Corporation in the World for Foreign Exchange Management | Alphabet |
| Best Corporation for Use of Currency Hedging | United Technologies |
| Best Corporation for Use of Foreign Exchange Options | Toyota Motor |
| Best Corporation for Use of Foreign Exchange Forwards | Airbus |
REGIONAL AWARDS – BEST CORPORATIONS FOR FOREIGN EXCHANGE MANAGEMENT
| | |
| --- | --- |
| North America | Apple |
| Latin America | Fibria |
| Western Europe | Siemens |
| Central & Eastern Europe | PKN Orlen |
| Middle East | SABIC |
| Africa | Sasol |
| Asia-Pacific | Reliance Industries |
REGIONAL AWARDS – FOREIGN EXCHANGE INNOVATION
| | |
| --- | --- |
| North America | Ford Motors |
| Latin America | Femsa |
| Western Europe | Philips |
| Central & Eastern Europe | Grupa Azoty |
| Middle East | Aramex |
| Africa | GoldFields |
| Asia-Pacific | Hoa Phat Group |