MILESTONES: GREECE
By Luca Ventura
The recently-announced merger of Greek banks Alpha Bank and Eurobank EFG could breathe fresh life into the much-troubled Greek banking sector.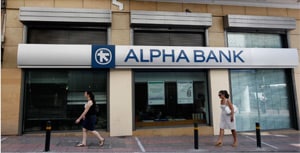 Tides turning in Greece with bank merger
In fact, it would difficult to overstate the significance. The deal will create Greek's biggest bank by assets—and one of the top 25 in the eurozone—with assets of 150 billion euros ($216 billion) and 80 billion euros worth of deposits. After the announcement, Greece's benchmark equity index—the Athens Stock Exchange General Index—rose 15%, its largest rise in more than 20 years, in a clear vote of renewed global investor confidence in the country's banking system.
As part of the deal, an investment vehicle of the Qatari Royal Family will contribute 500 million euros through mandatory convertible notes. It will have a 17% stake in the merged entity. News of the friendly merger has been widely characterized as the first important step in the much-needed consolidation of Greece's financial sector. Alpha Eurobank could also ignite further M&A; activity among other lenders in the region. Takeover or merger candidates include Piraeus, Greece's fourth biggest bank, and state-owned Hellenic Postbank and Attica Bank.
While Alpha and Eurobank said in a statement that their merger will play a crucial role in the economic recovery of Greece, there is widespread hope that it will also help trigger similar deals in other European countries faced with severe debt crises and recession.
The merger also gives an indirect nod to IMF director Christine Lagarde, who stated during a US Federal Reserve meeting held right before the official announcement of the Greek merger that Europe's banks "need urgent recapitalization," and "must be strong enough to withstand the risks of sovereigns and weak growth."
Whether Europe's sovereign debt crisis has turned the corner remains to be seen. The Qatari investment suggests they believe it to be so. After struggling mightily in the past few years, Greece has finally delivered what appears to be at least one happy ending.