MILESTONES: HUNGARY
By Paul Mackintosh
The Hungarian government threw the country's banking sector into disarray in mid-October by reneging on an agreement with local banks to halve from 2013 the crisis levy imposed on them.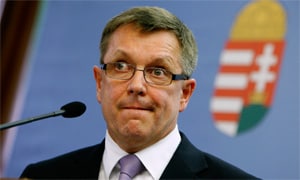 Matolcsy blames EU miscalculations for policy turnaround
The levy is part of an austerity package introduced to avoid loss of European Union Cohesion Fund aid under the European Commission's excessive deficit procedure (EDP).
Announcing the measures on October 17, minister of the economy György Matolcsy blamed "baseless and mistaken" EU calculations for having to backtrack. The conservative Fidesz administration of prime minister Viktor Orbán is striving to meet the EU's 3% deficit target, but its prior calculations of 1% growth for 2012 to 2013 were seen as overly optimistic by Brussels. Orbán claimed afterwards that the latest move will not hurt the Hungarian economy further because banks had already stopped lending in Hungary and deleveraging was under way.
After the latest announcement, the Hungarian Banking Association promptly issued a statement stating that it was "shocked to learn that the government is unilaterally breaching its agreements" and warning that the policy shift will "further reduce the lending ability of the banks, … harm the real economy and growth prospects and hamper recovery from the drawn-out crisis."
Other association representatives pointed to a possible 10% contraction in GDP as a result of the move. In mid-November, Mihaly Patai, head of the HBA, quit in protest. According to reports, Patai stepped down because of the additional burdens placed on the banking sector by the government.
The government appears to have calculated that it could shift the blame for its sidestep onto the EU, while clinging to the EU aid receipts to stave off a strings-attached International Monetary Fund package that would rein in the Orbán administration's authoritarian tendencies. If so, few seem to have bought the argument.
"The Commission fully expects Hungary, just like all the other member states, to maintain their commitments in the context of the EDP," stated European Commission spokesperson Simon O'Connor.