Kuwait's leading banking innovator, Boubyan Bank is transforming corporate banking with a fully digital one-stop corporate platform. Abdul-Salam Mohammed Al-Saleh, Chief Executive Officer, Boubyan Bank's Corporate Banking, Financial Control, Treasury and Legal Affair, discusses the bank's corporate banking strategy, market opportunities in transactional, trade and supply chain banking and commitment to serving as a digital transformation partner to corporates.
Global Finance: What are the goals of Boubyan's corporate banking transformation strategy?
Abdul-Salam Mohammed Al-Saleh: The long-term goal of Boubyan's corporate banking strategy is to be Kuwait's go-to bank for all commercial needs. Companies of every size want digital banking solutions and need to digitise their business operations. As Kuwait's digital banking leader, we will serve as a digital transformation partner for our corporate clients.
Boubyan is the country's leading Islamic finance organisation with the most innovative technology solutions for banking. We are committed to providing technology-enabled services that will impact our clients' operations and serve all corporate banking needs, whether that is logistical of financial.
GF: How is Boubyan using digital banking to transform corporate banking?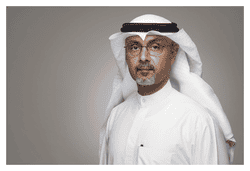 AMA: Following the success of Nomo, our mobile retail banking platform, Boubyan is well known as a trustworthy bank and market-leading innovator offering the latest banking technology. Our strong digital culture drives constant process re-design including robotics, full automation and digitisation of products and services.
Boubyan's corporate banking strategy is focused on leveraging our reputation for digital banking by serving best-in-class fully digital solutions for cash management, trade, supply chain and corporate treasury functions.
To launch our one-stop digital corporate platform, we have contracted top-tier service providers and will be gradually rolling out our digital corporate banking services during 2023.
GF: What are the most significant market opportunities and challenges for Boubyan Bank's corporate banking division?
AMA: Given digital transformation trends in corporate banking, we are well positioned to serve the growing market for technology-based solutions in payments, trade and supply chain. We are also focused on creating an ecosystem to exchange invoices and expedite payments and collections to facilitate trade and business processes through our new digital products, platforms and services.
In addition, Boubyan enjoys strong corporate relationships that offer considerable opportunities in transactional banking, and we expect to establish market share consistent with our market presence.
Staying at the cutting edge of constant technological change is always a challenge, as is delivering effective digital solutions on time. Our corporate banking teams are fully embracing Boubyan's innovative digital culture to launch our fully digital corporate products and services.
GF: What new products has Boubyan developed to serve large corporates and SMEs?
AMA: Boubyan is the leading bank in Kuwait to offer a completely smart supply chain platform that connects buyers and sellers while facilitating trades.
We also have a new state-of-the-art corporate card solution that is fully digitised and managed via an online portal as well as an app to manage corporate expenses and various payments to staff.
Boubyan will be rolling out a new real estate platform that will enable real estate ecosystem players to connect and interact for a completely digital experience. The platform's robust and comprehensive banking features are customized to the needs of the real estate sector, such as our fully automated e-rent payment solution.
GF: How is Boubyan Bank innovating the relationship management function of corporate banking?
AMA: Data-savvy Boubyan is transforming our customer relationship tools to support our digital corporate banking strategy. Our innovations will include introducing a relationship dashboard that provides an instant and comprehensive view of client relationships and identifies areas of client need and pinpoints products that can service them. Our new relationship management dashboard will significantly reduce time to action and service delivery. Our enhanced customer management combined with our fully digital banking platform will significantly differentiate the Boubyan customer experience in Kuwait's corporate banking market.
Sponsored by: