NEWSMAKERS: UNITED STATES
by Gordon Platt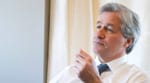 Dimon, JPMorgan: Questioning cumulative effect of reforms
As head of the most profitable US bank, JPMorgan Chase, CEO Jamie Dimon is a natural choice to lead the industry in its battle to curb higher capital requirements. For one thing, he has the most to lose. Analysts estimate profits at the New York–based bank will top $20 billion in 2011.
While regulators continue to struggle to implement the hundreds of rules passed by Congress last year as part of the Dodd-Frank Act, Dimon is questioning the cumulative effect of financial reform. He confronted Federal Reserve chairman Ben Bernanke at a conference of bankers in Atlanta on June 7, asking whether the total cost of new financial regulations is holding the economy back by making banks less willing to lend.
While the poor demand for loans in a weak economy is another part of the equation, along with the risk-aversion of banks, Dimon's broadside seemed to be aimed at persuading the Fed to go easy in imposing proposed new capital requirements that go beyond those agreed by international regulators in September 2010. The Basel III regime, to be finalized in July, could impose a 3%-of-assets surcharge on top of a 7% minimum capital requirement for the biggest banks that are deemed to be systemically important. JPMorgan Chase obviously would fall into this category.
To his credit, Dimon was able to steer his bank profitably through the worst financial crisis since the Great Depression with a 7% capital buffer. But JPMorgan Chase was the only US bank to remain profitable throughout the recession. Higher capital requirements and less leverage would make banking less risky and less susceptible to another crisis. Regulators disagree, however, on the effects of the proposed requirements on the economy and the competitiveness of big banks. Dimon may have put his finger on a key point: If the new rules are not enforced fairly and equally across countries, global competitiveness will become an important consideration. Not only does the world need meaningful financial reform, it also needs a level playing field.