NEWSMAKERS: JAPAN
By Valentina Pasquali
After the insider-trading scandal that, in July, forced the resignation of both its chief executive officer and chief operating officer, Japan's largest financial conglomerate, Nomura, is gearing up for a new chapter in its corporate history.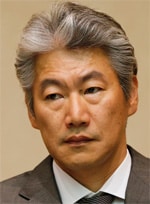 Nagai is expected to rein in Nomura's global ambitions
Photo Credits: REUTERS / YURIKO NAKAO
At the helm now is Koji Nagai, a longtime employee and manager who, since the beginning of April, has headed Nomura Securities, the bank's domestic brokerage. "Nomura's primary concern is to retain the customers they have and regain the customers they've lost because of this scandal, particularly in the underwriting business," says Masao Nakamura, professor at the Sauder School of Business of the University of British Columbia. "I think Nagai was appointed for being good with customers, including corporate clients, who are the potential source of their underwriting business."
Fifty-three-year-old Nagai joined the company more than three decades ago, as a graduate in law from Chuo University, a private institution in Tokyo. He has spent his entire career in Nomura's domestic unit, slowly climbing the corporate ladder from selling investments door-to-door to the top post.
Nagai inherits a distressed company that for many years pursued ambitious global growth. It culminated in the purchase, in 2008, of the Asian and European operations of Lehman Brothers, which has saddled the Japanese firm with losses.
The new CEO is expected to bring some order to Nomura's operations and partially downsize, refocusing on the core business in Japan.
"Pre-crisis, demand for global financial products was strong, and it made a lot of sense to build a global business," says Tom Kirchmaier, a visiting fellow at the London School of Economics. "But the world has changed, so it's actually quite sensible to say, 'Let's retreat to where we are good.'" Kirchmaier believes a strategic retrenchment would send a healthy signal to the industry as a whole.
Nagai will also have to restore Nomura's reputation, bringing an end to insider-trading practices. But having emerged from within the company and coming highly recommended by former CEO Kenichi Watanabe, Nagai may not be, some fear, the right man for the job. "He might be able to improve company profitability, but his capacity to implement mechanisms to prevent insider trading is unknown," says Nakamura.