DRAGGING A GEOPOLITICAL ANCHOR
By Justin Keay
There were few bright spots for Lebanon over the past year. However, the banking and real estate sectors showed encouraging signs, and a recovery has begun.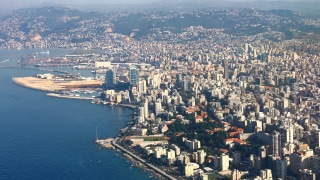 Despite their traditional stoicism, for most Lebanese 2012 was a year they would be happy to forget. Neighboring Syria's vicious and intractable civil war has engendered uncertainty at the worst possible time. Lebanon's economy is still struggling to recover from the effects of the global downturn, while confidence has been undermined by a coalition government whose main raison d'etre—survival—has precluded it from tackling any issues seriously.
The economy continued to be affected by the same factors that led to its drastic slowdown in 2011. Nassib Ghobril, chief economist at Byblos Bank, lists them: domestic political uncertainties, the lack of any credible attempt at implementing reforms, public finance vulnerabilities, the Syrian crisis and the severe deterioration in security conditions. "Activity is not expected, over the near term, to return to the level of the 2007–2010 period," he says, "when real GDP growth averaged 8% annually."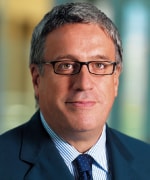 Baz, Bank Audi: Looking forward, our main pillars will be Turkey, Egypt and Lebanon
The latest report by Fitch Ratings on the MENA region suggests things could worsen, concluding: "There are significant risks … from continued political instability and further escalation of regional unrest." However, the central bank has launched a $1.46 billion economic stimulus package aimed at encouraging commercial banks to lend to small business by providing loans at 1%. Critics argue it won't be enough to boost domestic confidence, but it is a start.
The World Bank's recent figures show GDP growth over 2012 at 1.7%. It is expected to rise slightly to 2.8% this year, and should rise further in 2014 and 2015 when a fuller recovery is expected, with 3.6% and 4% growth forecast.
FALLING BEHIND
Lebanon's external prospects are not particularly encouraging. Last year's current account deficit of 20% of GDP is projected to fall to only 19.4% of GDP this year, and to the high teens in 2014 and 2015—the widest by far in the region and one of the highest among developing economies. Gross external debt is over 200% of GDP.
For close observers, sectors like tourism reveal the problem. It contributes up to 20% of GDP, but visitor numbers last year were 37% down on 2010's 2.17 million visitors, with high spenders from places like the UAE down 45%, as a result of Hezbollah's presence within government and threats against GCC nationals. Although the Ministry of Tourism launched a deep-discount campaign for tourists—offering a 50% markdown on air tickets, hotels and restaurants—it is unlikely to have a huge impact until security improves.
Another worry is foreign direct investment. FDI was at $96.5 million in the first half of 2012, accounting for just 0.4% of total FDI in Arab countries, with only ten projects attracting FDI (only Libya posted a worse outcome, receiving $45 million). This statistic compares to $609 million for full-year 2011.
Lebanon is also falling behind in other vital areas. The Heritage Foundation's Index of Economic Freedom downgraded Lebanon to 91st place (out of 177 countries)—behind Morocco and Azerbaijan—casting its economy as "mostly un-free" because of declines in property rights, business and labor freedom. The influential survey found Lebanon's judiciary to be weak and vulnerable to political interference, with piracy a problem despite the presence of intellectual property legislation.
Political dysfunction also explains the slow progress in developing offshore hydrocarbon reserves. If development were ramped up, it could make a significant dent in the energy import bill, reduce the deficit and promote energy independence. A recent report by Citigroup points out that it took two years from the passage of the Petroleum Resources Law in August 2010 for Lebanon just to appoint the six men who make up the new Petroleum Administration Board, which is to oversee tendering in the sector. It believes governmental hopes of starting commercial hydrocarbon extraction by 2017 are too optimistic, with 2020 a more probable date.
STRONG BANKS AND REAL ESTATE
On the positive side, the real estate sector is doing well. Construction of the ambitious, mixed-use Waterfront City project along the Dbayeh seaside north of Beirut is to get under way with the first $225 million phase. The project comprises hotels, luxury apartments, a marina, retail units and business facilities and will further bolster Beirut's real estate sector, which saw values increase by 4% last year.
Banking remains Lebanon's strongest sector, although profitability and prospects have been hurt. Standard & Poor's recently said it was keeping Lebanon's banking industry country assessment unchanged at eight out of 10 (one is least risky)—a placement the country shares with Argentina, Kazakhstan, Nigeria and Tunisia.
Although S&P emphasized that regulation and supervision remain strong, it warns of transparency and governance issues affecting some of the smaller banks, and thus possibly affecting depositor confidence—which is key to the industry's well-being.
Despite this, Freddie Baz, Bank Audi's CFO, remains upbeat. He says total deposits grew last year by around 9%. Unaudited figures suggest consolidated net profits of the top 12 banks, those with deposits over $2 billion each, reached $1.2 billion in the first nine months of 2012, 7.3% up on 2011. Baz says the largest three—Bank Audi, Blom Bank and Byblos Bank—remain healthy, the first two having posted a 5% and 1% rise in net profits last year, respectively.
Unsurprisingly, banks are working to increase capital strength. The three top banks increased their loan loss provisions by a combined $131 million over 2011. Increasingly they will be looking abroad, building on the subsidiaries, rep offices and branches they already operate in the Arab World and looking beyond the region to CIS countries and sub-Saharan Africa.
EXTERNAL GROWTH
"Looking forward, our main pillars will be Turkey, Egypt and Lebanon, supported by a second tier of destinations including the likes of Jordan," says Baz, who points out that Turkey's GDP, at $800 billion, and Egypt's, at $270 million, dwarf that of Lebanon. He says the group is looking seriously at frontier markets within Africa and even at the possibility of opening offices in Panama to serve the Levantine community in Latin America.
Other leading Lebanese banks are likely to follow suit in boosting their international operations. Bank Med—which already has operations in Saudi Arabia, Cyprus, Switzerland and Turkey—and Byblos Bank, in particular, are looking for new avenues of business.
Looking abroad is sound strategy, given the timeline for recovery in the home market. "In a best-case scenario, GDP could grow 2% to 3% in 2013 if the political class reaches consensus on an effective Cabinet, domestic security improves, political volatility subsides and structural reforms are implemented," notes Byblos Bank's Ghobril. "However, the more realistic scenario sees growth of 1% to 1.5% in 2013, with political and security conditions not improving, the Syrian conflict persisting, and the government failing to implement near- and medium-term fiscal consolidation."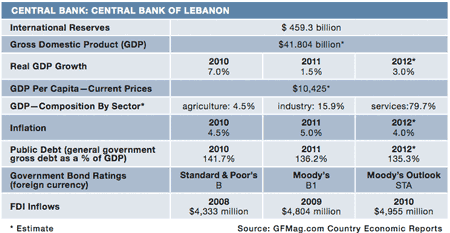 OIL COMPANIES EYE LEBANON'S OFFSHORE RESERVES
For a country keen to hear the faintest sound of good news, the government's approval in early February of the conditions under which international oil companies (IOCs) will be able to participate in offshore hydrocarbon exploration was greeted by many as a first step toward Lebanon's energy independence.
"[This] move is seen as crucial for putting Lebanon amongst the ranks of oil-producing countries," declared the local English-language paper the Daily Star, noting that more than 40 Western and Asian oil companies have bought data from British company Spectrum—which conducted 3D surveys offshore of Lebanon. It said Royal Dutch Shell, Cairn Energy and Cove Energy are among the IOCs that have expressed interest in bidding for a license.
Lebanon is not the first country to get excited about the potential of the Levant Basin. Ever since the US Geological Survey reported in 2010 that the area—lying offshore of Israel, Cyprus, Syria and the Gaza Strip, as well as Lebanon—could contain 1.7 billion barrels of oil and 122 trillion cubic feet of gas, politicians and energy companies have hardly contained their excitement. These countries are all dependent on energy imports and, with the exception of Israel, face severe problems of indebtedness and slow growth.
As a result, many hope soon to follow Israel's lead in exploiting the reserves: The country inaugurated the Tamar natural gas production platform in January 2013 and announced that deliveries would start in April. Israel could have sufficient gas reserves to last it 150 years. Cyprus has also signed a number of deals—for example, with France's Total group—to commence drilling, despite strong objections from Turkey, which says the contracts are illegal until agreement is reached on the controversial island's future.
Although initial explorations are encouraging, both in terms of quantities and the accessibility of the reserves, observers warn these are early days for Lebanon's hydrocarbon dreams. "It is way too premature to factor in any dividends or changes in the country's outlook … We have just taken the first step in a long road fraught with a lot of unanswered questions," warns Nassib Ghobril, chief economist at Byblos Bank. He says it will be the end of the decade before Lebanon can materially benefit from any reserves and that people must remain realistic. "Unfortunately, some politicians are already making plans on how to spend the oil and gas revenues," he says.