SEEKING UNITY
By Gordon Platt
GCC members continue to pay lip service to economic and political union, but experts say much more needs to be done on the military, security and development fronts before that can happen.
At the prodding of King Abdullah of Saudi Arabia, the six member nations of the Gulf Cooperation Council are attempting to draw closer together. High oil prices and economic diversification are improving the region's economic prospects, but attempts to create a political and economic union are faltering. Has the GCC lost its way, or can it continue to function as a loose confederation of monarchies?
GCC countries all peg their currencies to the dollar—except Kuwait, which uses a basket of currencies—negating the need for a monetary union, bankers say. Nationals can move freely among member countries, and GCC members coordinate infrastructure investments, including a regional rail network. Intraregional trade is increasing, although none of the six has a major industrial manufacturing base.
At their most recent summit in Bahrain at the end of last year, GCC leaders paid lip service to the Riyadh Declaration issued at the end of their summit in 2011, which called for the GCC to explore creating a single entity to meet the growing threats from Iran and the Arab Spring uprisings. Much more needs to be done, however, to enhance the military planning, command and training capacity of the GCC, says Anthony Cordesman, who holds the Arleigh Burke Chair in Strategy at the Center for Strategic and International Studies in Washington.
The security cooperation between the individual GCC states—Bahrain, Kuwait, Oman, Qatar, Saudi Arabia and the United Arab Emirates—must now deal with the emergence of patterns of complex warfare that can occur with limited warning, Cordesman stated in a report on Gulf security issued in February. The GCC would have only a seven to 15 minute warning of a major air or missile attack from Iran, he says.
"Each Arab Gulf state, and the GCC as a whole, will need to redefine their current dependence on the US and other outside powers for more serious conflicts involving the large-scale use of Iranian conventional and asymmetric military forces and be ready to fight on a near-real-time basis," Cordesman says.
"Each Arab Gulf state… will need to redefine their current dependence on the US and other outside powers."
– Anthony Cordesman, CSIS
The GCC has the potential to become a far more effective security structure, with more interoperable forces and integrated warning systems, he notes. "This does not require a sacrifice of sovereignty, but it does require the Arab Gulf nations to act upon what they have already said they should do."
Meanwhile, in the face of a "youth bulge," the GCC nations must create massive numbers of jobs and new social infrastructure to avoid political upheavals "that can do as much or more to disrupt reform and modernization as to achieve it," Cordesman says.
GCC governments, with the exception of Bahrain, have remained relatively immune to the turmoil in the region. Some, like Saudi Arabia and Kuwait, have showered large benefits on their populations in an effort to quell any potential uprisings.
"[GCC governments] have to respect local identities and culture and institute reforms against that backdrop."
– Simon Cooper, HSBC Middle East
With their budgets in surplus as a result of high oil prices, GCC countries are pushing ahead with ambitious development projects. Kuwait's $110 billion, five-year plan, first approved in 2010, was stalled by political infighting between the government and parliament. The deadlock could be broken now that parliamentary elections, held last December, are over, says Michel Accad, CEO and chief general manager of Gulf Bank. "The country's leadership has made it clear they want to kick-start the development plan," Accad says. "This year we ought to see something start." The small role of the private sector in Kuwait's economy could be expanded if planned public-private partnerships go ahead, he says. "It's a fair goal to want to diversify the economy, but it's not easy," he says.
Gulf Bank is present only in Kuwait. "We focus on domestic, conventional retail and commercial banking," Accad says. The bank's consumer lending rose 13% last year, while corporate lending increased less than 2%. The outlook for lending in 2013 depends on what happens with the country's development plan.
While Kuwait's GDP is expected to decline from 6.1% in 2012 to approximately 3.5% in 2013, growth in the non-oil sector is forecast to increase from 4% to 5%, owing to the more positive environment for projects and government spending, says Elias Bikhazi, chief economist at National Bank of Kuwait.
DEVELOPMENT PLANS
One of the first projects likely to go ahead is the Jaber al-Ahmad al-Sabah Causeway, which will stretch 37.5 km (23 miles) from Kuwait City across the bay to the planned Subiyah New Town, Bikhazi says. Other major projects include the Al-Zour North power plant, a metro and rail network, new hospitals, roads and a port on Boubyan Island. Major investments are also planned in the energy sector.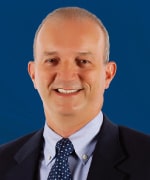 Eguren, Burgan Bank: The Kuwaiti economy has not improved. Signs of low investment levels, weak job creation and trade still persist
"The consumer sector is doing well, with good demand for residential and income-producing properties," Bikhazi says. "The commercial real estate market is weak, but there have been better volumes in terms of sales recently."
Eduardo Eguren, CEO of Burgan Bank, says the Kuwaiti economy has not improved. "The signs of low investment levels, weak job creation and trade still persist."
Eguren says he hopes Kuwait's development plan will go forward, and that there are some positive signs, but Burgan Bank's business model is not dependent on the government's five-year plan. "The objective is to continue growing our international operations," he says. Burgan Bank already gets half of its revenues from overseas operations. It has expanded its brand across Turkey with the acquisition of Eurobank Tekfen.
With massive investments in infrastructure, GCC governments continue to modernize, says Simon Cooper, CEO of HSBC Middle East. "They have to respect local identities and culture and institute reforms against that backdrop."
GCC countries are also investing in education and are reforming at their own pace, according to Cooper. "I am optimistic for the region as a whole and for its economic growth prospects," he says. "The demographics are also a plus, with a young, educated population."