VISIONS OF SPLENDOR
By Gordon Platt
Investor confidence has returned to the UAE, with the former debt-laden emirate of Dubai once again planning major infrastructure projects. Even a new financial center is planned for construction.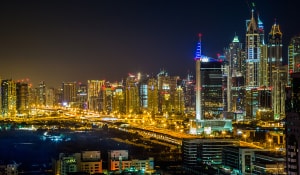 Dubai continues to dream big, coming up with ideas for major new projects and real estate investments. But for those who recall the events of November 2009, when the emirate found itself in deep financial trouble and state-linked Dubai World called for a debt standstill, any new investment project raises questions about where the funding will come from.
In the shadow of Burj Khalifa, the world's tallest building, Dubai plans to build a new city within a city. Mohammed bin Rashid City (MBR City) will include more than 100 hotels, a Universal Studios theme park and the world's largest mall, the Mall of the World, which will surpass the record now held by nearby Dubai Mall.
By the time the new city is completed in six years, some 90 million people a year will pass through Dubai International airport, up from 58 million in 2012, says sheikh Mohammed bin Rashid Al-Maktoum, Dubai's ruler. "We have a vision and high aspirations," he said, announcing the MBR City project last November. "The future does not wait for those who are hesitant. We do not anticipate the future. We build it."
"The future does not wait for those who are hesitant. We do not anticipate the future. We build it."
– Sheikh Mohammed bin Rashid Al-Maktoum, ruler of Dubai
In February 2013, Dubai's ruler approved a $1.6 billion project to build the world's biggest ferris wheel. Construction is set to begin this year on the 689-foot Dubai Eye, which will surpass the London Eye's 443 feet.
Dubai may have to rely more heavily on bond markets and private equity investors to finance its new building boom. It successfully raised $1.25 billion in January in a two-part offering that included a 10-year sukuk and its first-ever 30-year conventional bond. The issue was 12 times oversubscribed, demonstrating that investor confidence is returning. Investment vehicle Dubai Group, which had been negotiating to restructure $6 billion of loans, reached a settlement with dissenting creditors in March.
LESSONS LEARNED
There has been a significant improvement in the balance sheets of banks in Dubai, according to Oxford Analytica, an international consulting firm. "The negative impact of the property crash of 2008 to 2009 is diminishing, and asset quality is improving," it stated in a recent report. "Local banks are starting to perform in a much more robust manner, with increasing margins reflecting much stricter lending criteria."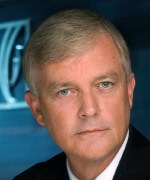 Pudner, Emirates NBD: Private equity will not replace bank lending
It appears lessons have been learned from the bursting of the property bubble and the mistakes of the past are unlikely to be repeated in the medium term, according to Oxford Analytica.
Rick Pudner, group CEO of Emirates NBD, says the real estate sector in Dubai continues to recover, and construction is no longer a drag on growth. "Having said that, we do not expect private equity and hedge funds to replace bank lending."
Emirates NBD, one of the largest banking groups in the region by assets, is the leading retail banking franchise in the UAE, with more than 141 branches. It is also a major participant in corporate banking and has Islamic banking affiliates. Its Emirates Islamic Bank (EIB) subsidiary completed the government-mandated acquisition of Dubai Bank.
EIB's $408 million rights issue in January was mainly to support the additional risk-weighted assets taken on by EIB as a result of its integration with Dubai Bank and was funded almost entirely by Emirates NBD, Pudner says.
"We do expect to see strong growth in the merged entity, so additional capital support was considered prudent," Pudner says. He notes that EIB will continue to focus on innovative products, which may include new shariah-compliant products and services. In 2012 the bank introduced a number of new products, including personal cash loans, business-vehicle loans and car refinancing. It also revamped its mobile application and introduced a new wealth-management platform.
"The new vision for the bank's wholesale banking business is to become the dynamic wholesale banking powerhouse in the Middle East," says Pudner, who aims to accomplish this with a client-centric approach that involves segmenting the business based on customer needs.
"The real estate sector [in Dubai] continues to recover, and construction is no longer a drag on growth."
– Rick Pudner, Emirates NBD
A NEW FINANCIAL CENTER
Meanwhile, Abu Dhabi, the capital of the United Arab Emirates, which controls most of the oil wealth of the UAE and which bailed out Dubai in 2009, is embarking on a spending spree of its own. It plans to invest $90 billion over the next five years on education, arts and culture, as well as environmental projects, housing and hospitals.
Abu Dhabi recently awarded a $3 billion project to build a new airport terminal. In addition, Dubai-based Arabtec Holding is leading a consortium that will build the long-delayed Louvre Abu Dhabi art gallery for $650 million. A new financial center is rising on Abu Dhabi's Sowwah Island that could challenge Dubai in the future as the financial hub of the Middle East.
STRONG ECONOMIC GROWTH
Expansive fiscal policies of the GCC countries are creating strong economic growth in the region, says R. Seetharaman, group CEO of Doha Bank. While Qatar has massive building plans of its own as it prepares to host the 2022 FIFA World Cup of soccer, Doha Bank is looking at cross-border opportunities under its new, three-year strategic plan, according to Seetharaman.
"We have grown organically as far as possible," he says. "We are increasing the capital of the bank by 50% through a rights issue [which was due to close on March 13] and through the future sale of global depositary receipts in London."
Doha Bank opened its second UAE branch in Abu Dhabi in December 2012. It already has branches in Dubai and Kuwait, as well as Japan, Singapore, South Korea, Turkey, the UK and Germany. The bank has applied for licenses in Saudi Arabia and India.
Abu Dhabi's Vision 2030 plan calls for revenue from the emirate's non-oil sector to grow to 60% of GDP, Seetharaman notes. Tourism will be a major component of the plan, he says, along with industries such as aluminum, petrochemicals production and media companies.