THE MIDDLE EAST 2011: DUBAI'S RESURGENCE
By Justin Keay
After a tough two years, Dubai has consolidated its position as a regional financial and transport hub and is set for a sharp upturn.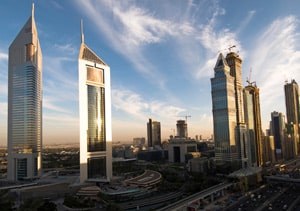 Anyone arriving on a spanking new Emirates Airbus A380 at Terminal 3 in Dubai could be forgiven for wondering: Crisis, what crisis? The ambition behind this hugely impressive new terminal—avowedly the largest building in the world, with acres of shops and restaurants—recalls Dubai before that fateful day in November 2009 when state-owned conglomerate Dubai World shocked the global financial community by wanting to renegotiate terms on almost $25 billion of debt.
Yet this city's changed fortunes become apparent soon after you step into your taxi. The frenetic construction work that defined the pre-2009 boom years has all but stopped; the bling that made Dubai a byword for gold-brocaded, in-your-face excess is more subdued; even the traffic that could make the four-mile journey into town a two-hour ordeal seems less severe.
"The extent of the overbuild in Dubai is just huge—the real estate sector will take years to recover," reckons Shahzad Shahbaz, CEO of Qinvest, a Doha-based bank.
Indeed. Average house prices here are 62% down from their peak, while international realty agency Jones Lang LaSalle says the value of real estate deals fell 65% last year from 2009, with transaction volumes down by half. Many ambitious projects, including Dubai Waterfront and Palm Jebel Ali, have been shelved, with investors offered an alternative or a cash refund in 2015 by developer Nakheel, whose need to renegotiate almost $11 billion of debt precipitated the crisis. And yet supply keeps coming—50,000 new homes are expected on the market over the next two years, which will help keep real estate prices in the doldrums despite bargain hunters being attracted by the lower prices.
Beyond the real estate sector, though, there is a growing sense of confidence. In early March, Dubai's ruler, Sheikh Mohammed bin Rashid Al Maktoum, formally announced the emirate was over the worst. He also indicated that a new regulatory body would be set up to oversee government departments in the future, presumably to prevent overspending.
And there is a growing sense that this well-connected, tolerant and outward-looking place will emerge as a key beneficiary of the unrest currently raging through the region, picking up financial and other business in particular from its beleaguered rival Bahrain. If Dubai's main function is as an international business hub sustained by Western-style regulation, institutions and laws, the signs actually look pretty good.
"The Dubai model is sustained by four key pillars—infrastructure, free zones (18 in total), international openness and a pro-business approach—and of these it is the first that has been the main building block," Nasser Saidi, chief economist at the Dubai International Financial Centre. He argues that the developments of recent years, combined with the phenomenal growth of Emirates Airlines, have transformed the economy of Dubai, essentially turning it into the Middle East's undisputed business hub. "Some 85% of the population here is expatriate, with 30% from India," says Saidi. "We are increasingly geared toward that market and others in Asia, connected by some 184 flights a day. People are attracted here by the four s's—sun, sea, sand and shopping—but increasingly professionals are putting down roots," he contends.
Saidi adds that Dubai's dependence on trade meant it was hit disproportionately by the downturn, but that trade's elasticity should mean Dubai sees a disproportionate share of the upside when the global economy recovers. "The investments made here, in roads, hospitals, free zones, but also in connecting the port at Jebel Ali directly to Dubai World Central cargo airport, will pay handsome dividends," he predicts.
Saidi also believes that in the wake of Dubai's 2009 crisis, the private sector will play an increasing role in financing future projects in the emirate, either alone or via public-private partnerships.
Jeff Singer, head of Nasdaq Dubai, is also hopeful things are picking up. "We've got a good pipeline of companies getting their accounts together, their statements consolidated before lodging their prospectus with the regulator. The signs for this year are encouraging, but 2012 will also be a good year for us," he says.
Supplement content: