MIDDLE EAST: RENEWABLE ENERGY
Oil producers aim to turn the desert sunshine into a new export: solar energy.
By Gordon Platt
When the oil runs out, the sun will still be shining and the Middle East may be the world's biggest exporter of solar energy. Ironically, the oil-exporting nations of the Gulf are taking the lead in developing "green" technologies and alternative energy sources that will one day replace fossil fuels.
Abu Dhabi, the capital of the United Arab Emirates, was chosen last year to be the headquarters of the newly formed International Renewable Energy Agency (Irena). Some 500 delegates from Irena's 120 member states met in Abu Dhabi in January to decide on the agency's tasks and projects for 2010. One of Irena's main activities will be the collection, generation and sharing of knowledge about renewable energy.
Irena, the first international agency to be based in a developing country, will create an international network of experts and will advise members on the financing of renewable energy projects. It also will build a comprehensive global database of policies to promote renewable energy.
The agency will be housed in Masdar City, a new, $22 billion city, under construction near Abu Dhabi International Airport, that will be powered entirely by renewable energy. Masdar City aims to become the Silicon Valley for clean, green and alternative energy. More than 1,500 companies from around the world will locate there to fund, research, develop and implement new and sustainable technologies.
The carbon-neutral, zero-waste city, designed by UK-based architectural firm Foster & Partners, will include the Masdar Institute of Science and Technology. The institute, which is modeled on the Massachusetts Institute of Technology, enrolled 90 students from 22 countries in September 2009.
Masdar, also known as Abu Dhabi Future Energy, is a subsidiary of Mubadala Development, the investment vehicle of the Abu Dhabi government. "The Masdar Initiative is a continuation and evolution of Abu Dhabi's five decades of leadership as a global energy provider," says Sultan Ahmed Al Jaber, CEO of Masdar. The city will also demonstrate the practical viability and appeal of living in an alternative-energy environment, he says in a statement on the company's website.
Abu Dhabi has committed $14 billion to the project, with another $8 billion expected to come from outside investors. The Masdar Clean Tech Fund closed its first round of financing in February after raising $265 million. The fund is co-managed by Masdar Venture Capital and DB Climate Change Advisors, part of Deutsche Bank's asset management business. Credit Suisse and Siemens were among the investors. The fund will support water and waste-management projects.
No automobiles will be allowed within Masdar City's walls. A solar-powered water desalination plant will provide water for the city's population, which could reach 50,000.
Meanwhile, neighboring Saudi Arabia has expressed interest in joining Irena and has begun work on its first solar-powered desalination plant to serve 100,000 people in Al Khafji, which is located near the border with Kuwait.
Saudi Arabia will emerge as a major exporter of solar energy, which could reach the current level of the kingdom's oil exports, according to US energy secretary Steven Chu. "The kingdom's drive to invest a portion of its oil revenue on scientific and technical research will enable it to strengthen diversification of energy sources and promote renewable energy programs," Chu said following a lecture in February at the Riyadh office of the International Energy Forum.
Khaled Al-Nabulsi, a professor at King Abdulaziz University in Jeddah, says that studies have proved that Saudi Arabia could become the largest exporter of solar energy in the world. The country has the capability to produce large amounts of solar energy due to its great expanse of open areas exposed to direct sunlight, he says.
Planners Think Big
In the most ambitious plan to date, known as the Desertec Industrial Initiative, a consortium of companies from Europe and North Africa plans to build a network of solar power plants in the Middle East and North Africa that would be connected by a super grid of high-voltage, direct-current transmission lines to Europe. The consortium is led by Germany-based Siemens and Munich Re, which hope to obtain above-market prices for the energy they would export to Europe. Deutsche Bank, E.ON, RWE, ABB and MAN are also involved in the project. Other participants from Morocco, Tunisia, Spain, France and Italy will be announced shortly.
Desertec plans to invest $550 billion by 2050 in the project, which it says would produce $3 trillion worth of energy and supply 15% of Europe's electricity. The plants would use concentrated solar power, a technique whereby the sun's rays are focused by curved mirrors to heat liquids that turn generating turbines. The first plant is expected to be located in Morocco, which will begin talks soon with the European Union on price arrangements.
"The largest investors in clean energy are existing energy companies," says Ted Pretty, acting CEO of Bahrain-based Gulf Finance House, which pioneered the concept of "energy cities," or purpose-built business clusters with shared infrastructure and services that are dedicated to the energy industry, including transport, trading and support services.
The $2.6 billion Energy City Qatar project is the first in a series of such cities planned for Libya, India and Kazakhstan. They will host the latest training and educational facilities, along with oil and gas service businesses. "The business clusters can coalesce and create a catalyst for development," Pretty says.
Located in the new city of Lusail, near Doha, the business and residential facility will incorporate multiple sustainable technologies to achieve a Leadership in Energy and Environmental Design (LEED) gold certification. A carbon-neutral office building is planned, including a district cooling system that will provide air conditioning for the entire project.
The first building in the Middle East to receive LEED certification was Dubai's District Cooling Chiller Plant, DCCP One. Central chilled-water plants can reduce air-conditioning costs by up to one-third. DCCP One is designed and managed by Green Technologies, a mechanical and electrical engineering firm based in the Dubai Airport free zone. Green Technologies, a founding member of the Emirates Green Building Council, was instrumental in developing the LEED rating system. Dubai hosted an international exhibition of "eco-friendly" technologies in the energy sector last month, which attracted representatives from 490 companies in 23 countries.
Lower Costs Boost Projects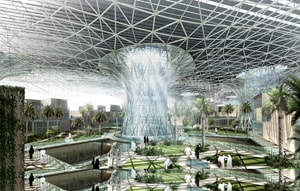 An artist's impression of Masdar City: The Silicon Valley for clean, green energy
Back in Qatar, plans are afoot for a $1 billion solar project, according to Shadi Abu Daher, manager of the World Trade Center in Doha. This is the right time to launch major projects, he says, because construction costs in Qatar have fallen by 40% from their peak as a result of the financial crisis and real estate slowdown. Qatar Foundation announced a joint venture with SolarWorld, based in Germany, to produce polysilicon, the main ingredient in solar panels, at a $500 million plant in northern Qatar.
More than a dozen UK-based construction-related companies with experience in "green" building techniques have located in Qatar to meet the country's demand for sustainable structures. The British Embassy organized a seminar at the Diplomatic Club Doha last month that showcased UK architects, consultants and producers of green buildings.
"Banks have a role to play in sustainable development," says R. Seetharaman, CEO of Doha Bank Group. "It's a good business model." Doha Bank, the third-largest commercial bank in Qatar, has been very active in helping to create awareness of the dangers of climate change. Earlier this year the bank joined with the United Nations' Educational, Scientific and Cultural Organization, Unesco, in an alliance to work together on environmental programs. The idea is to get children involved at a young age in eco-friendly school projects, such as beach cleanups and tree-planting, that will make them environmentally aware, Seetharaman says. He travels the world addressing seminars on the environment and performing a show with two hand puppets named Global Warming and Climate Change.
Doha Bank established a Planet Savers Club in February 2008, designed to make its employees aware of the need to protect the earth's limited resources. "We wanted to make it a corporate work culture and habit to protect the environment and reduce our carbon footprint," Seetharaman says. "The world must adopt a low-carbon model for growth as it rebuilds from the global economic crisis," he adds. "Green financing and climate change have achieved significant importance due to global warming."