THE MIDDLE EAST 2011: QATAR
By Justin Keay
Careful economic management and a strong strategic vision have helped propel Qatar to the front ranks of the world's fastest-growing economies.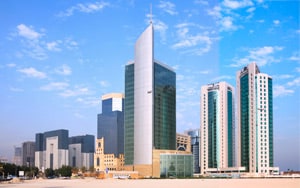 Ten years ago, Qatar could have safely laid claim to being one of the most obscure countries in the Middle East. With few historical attractions, little cultural appeal and a small population of maybe 600,000, it somehow seemed overshadowed even by its tiny neighbor and historic rival Bahrain, which had more of all three as well as strong ambitions to challenge Dubai as a financial center. Guidebooks rudely dismissed Doha as the Gulf's dullest city famous only for its Corniche and the pearl monument commemorating what was once the driver of economic growth—pearl diving.
Today the story couldn't be more different, with Qatar standing as one of the Middle East's biggest—and most unclouded—success stories. Last December the emirate announced that its export capacity of liquid natural gas had hit 77 million tons per year. This follows years of massive investment in its energy industry that has not only made Qatar the world's largest producer of natural gas—as well as a sizable producer of oil—but also transformed its economy into the fastest-growing in the world.
According to figures from Qatar National Bank (QNB), GDP last year grew some 16%—up from 8.8% in 2009, when energy prices slid during the global downturn—and this year is poised to increase a further 18.6%, against a GCC average of 5.9%. In per capita terms, the country looks even more wealthy—the CIA Factbook estimates that Qatar's $122 billion GDP (at purchasing-power parity) in 2010 gave its 840,000 people the highest GDP per capita in the world at around $145,000 (PPP).
Qatar's budget surplus over the past 10 years amounts to $52 billion, enabling the emirate—especially its sovereign wealth fund, the Qatar Investment Authority, whose assets top $65 billion—to become a high-profile global investor. Examples abound, including last year's £1.5 billion ($2.2 billion) acquisition of London's landmark Harrods department store by the Qatar Investment Authority's investment arm, Qatar Holding, and its investment of more than £2 billion in Barclays Bank. The QIA is reportedly considering large-scale investments in two of Britain's majority-state-owned banks, Lloyds TSB and RBS.
"The pace of change is phenomenal. Fifteen years ago, there was almost nothing here"
"It isn't often you can see a city literally springing up around you" – Richard Sykes, Standard Chartered
Qatar's international image has also been bolstered by the phenomenal growth of Qatar Airways, which describes itself as the world's five-star airline. Barely over a decade ago, the airline was practically unknown, with just a handful of planes. It now rivals Emirates as the region's best-regarded airline. The news that Qatar will host the 2022 Fifa World Cup—it surprised many by beating out better-known football nations when the vote was taken last December—has put this small nation even more prominently on the map.
"Not only are economic fundamentals here very good—perhaps better than anywhere else in a region that we expect to be very buoyant—but things have been very well managed, which bodes well for the future," says Mohamad Moabi, economic director at QNB.
This success story hasn't been altogether a matter of luck. Rather, it reflects an administrative approach that crystallized in 2008, when the ruling Al-Thani family unveiled National Vision 2030, aimed at transforming Qatar into an advanced economy by that date. On current reckoning, this will happen much earlier. Just as the huge investments that have been driving capacity growth in the natural gas industry come to fruition, many of the other vast planned infrastructure projects will also start to come on-stream, sustaining GDP growth. Even before Doha secured the World Cup, it was planning some $125 billion in infrastructure projects for the coming decade. They include a monorail system for Doha (to cost around $25 billion), the completion of several major construction projects—notably the West Bay financial district, with its Manhattan-style skyline—and the building of a brand new city, Lusail, some 25 kilometers north of Doha. Other planned infrastructure projects include the ambitious $3 billion Qatar-Bahrain Friendship bridge connecting the two emirates. At 25 miles, it will be the longest bridge in the world and will enable travel between the two countries within half an hour instead of the current five, via Saudi Arabia. Qatar has said that in preparation for hosting the World Cup it will spend some $50 billion building new stadiums—including the space-age-style Doha Port stadium—a new airport and several other projects.
Qatar's newfound wealth and confidence are already becoming apparent in Doha, and not just in its high-end West Bay neighborhood. Distinctive new buildings, including QNB's modern headquarters, the impressive new Museum of Islamic Art opposite and, soon to come, the new National Museum are transforming it into a must-visit destination. Many projects—such as the innovative $5.5 billion Musheireb city center housing/recreational project next to the revitalized souk—marry Arabic architectural traditions with new building design. "The pace of change is phenomenal. If you had come here 15 years ago, there was almost nothing. Now something new seems to get unveiled every month. It isn't often you can see a city literally springing up around you," says Richard Sykes, head of global markets at Standard Chartered in Qatar. He adds that the bank sector has also progressed by leaps and bounds.
Much the same can be said of Qatar as a whole, which in early 2011 looks to be not only the Middle East's fastest-moving economy but one of the few without a significant downside.
Supplement content: