UNITED KINGDOM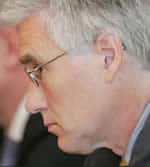 Tough talk: FSA chairman Adair Turner
Britain's battered banks—reeling from plunging share prices and ever-worsening subprime losses—face a major overhaul in the way they are regulated. Britain's unified regulatory body, the Financial Services Authority (FSA), is to publish a far-reaching review on March 18 that will propose "major changes" to the financial landscape in the UK. The report will come three weeks after the De Larosière Group on EU financial supervision submits its own report to the European Commission that will form the basis of the commission's proposals ahead of the G20 summit in London on April 2. Observers say tough negotiations between London and Brussels can be expected as politicians and bureaucrats try to reconcile how the various measures proposed will apply in the UK.
"The British proposals must fit with the EU framework, and the reality is that after the turmoil of the past 18 months Britain's negotiating position—and influence—is much weaker," says Andrew Hilton of London-based Centre for the Study of Financial Innovation (CSFI).
Although nobody expects London to lose its role as the largest financial center in the EU, the contribution of finance (and ancillary activities like accounting and legal work) is expected to fall a long way from the estimated 31% of GDP it comprised at its peak.
The FSA, created in 1997 by the then-incoming Labour government, has admitted to serious failings in regulatory oversight, with its new chairman, Adair Turner, admitting it became fixated on "processes and procedures" and neglected growing systemic weaknesses. Critics have added that its concomitant retail mandate to focus on "conduct of business" also distracted it from considering wider, systemic problems.
Turner has indicated the FSA will suggest creating essentially a two-tier bank sector comprising big, largely risk-neutral financial institutions that take deposits and provide loans much as they did, say, in the 1960s and 1970s and a smaller, more regulated, high-risk sector, including hedge funds and similar entities.
The FSA is finalizing its review amid growing public fury that banks—including some, such as RBS, that have had to be nationalized—are continuing to pay their executives handsome bonuses despite unprecedented failure. Meanwhile, turmoil in the sector continues.
As Global Finance went to press, big question marks hung over Lloyds Banking Group, created by the merger of Lloyds-TSB and HBOS, after it said HBOS losses could spiral to £10 billion ($14.5 billion), and analysts warned total losses from the combined group could top £35 billion.
Critics say the merger—aimed at saving HBOS from collapse last October and waved through by politicians despite concerns the new bank would distort competition in the financial marketplace—has devastated Lloyds-TSB, previously regarded as one of Britain's better-run banks.
Prime minister Gordon Brown stands accused of having lent his support to the merger because of employment concerns in Scotland, a Labour Party heartland: HBOS, comprising Halifax and Bank of Scotland, has thousands of employees in Labour constituencies. On February 16, Downing Street ruled out full-nationalization of Britain's newest and largest bank, which is already some 42% state-owned.
However, the share price has been plunging by the day. On February 16 shares were trading near 50p, well down on the 175p Lloyds shares cost when the merger was announced last October, while the £4.50-£5.00 level enjoyed in late 2007 is now a distant memory. Floundering behind the opposition Conservative Party, Brown's Labour government may find itself—yet again—overwhelmed by events and forced into another politically debilitating U-turn.
Justin Keay