Global
By Anita Hawser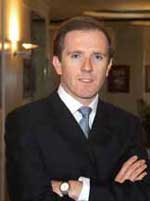 Moloney: Regulators'
lenient attitude toward
banks is over
As banks enter the convalescence phase after what some describe as the financial equivalent of a major medical trauma, there may be a need for further medicine to ensure a full and stable financial and economic recovery. This additional medicine is likely to take the form of enhanced regulation of financial services providers and ongoing government stimulus, which, according to management consultant Oliver Wyman Group's 13th annual State of the Financial Services Industry report, has induced a "morphine high" in terms of enhancing short-term financial and economic performance.
The report, based on feedback from 70 financial services firms globally, says financial services providers have recovered just 60% of their losses since the onset of the crisis in 2007. While they may be out of the "trauma room," their full recovery hinges on a number of factors. The report warned of the risk from withdrawing fiscal stimuli too soon. And those governments hoping to quickly dispose of their substantial equity stakes in banks may have to think again, says David Moloney at Oliver Wyman's Sydney-based financial services practice. If the Japanese and Scandinavian experiences are anything to go by, it could take a lot longer, he says.
The unfolding and rapidly evolving regulatory environment also creates an uncertain future for banks. Moloney says US president Barack Obama's announcement that he wants to limit the size and scope of US banks and their proprietary trading activities clearly shows the period of "temporary leniency" by regulators to enable banks to shore up their capital reserves and balance sheets is over.
Jamie White of Oliver Wyman's London office says worse is yet to come for banks in the form of initial proposals under consideration for Basel III, which could make certain lines of a bank's business impossible. For example, he says there is talk of getting rid of netting, which could in effect quadruple banks' exposures.