Middle East
By Gordon Platt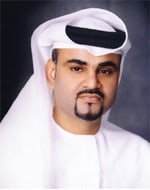 Sulaiman: Keen to develop efficient capital markets
In its first sukuk to raise long-term funds in the Gulf Cooperation Council (GCC), the International Finance Corporation (IFC) is giving a shot in the arm to the region's emerging debt markets. The World Bank affiliate is set to become the first non-Islamic financial institution to issue an Islamic bond to be listed and cleared on the Dubai and Bahrain stock exchanges. HSBC Amanah, Dubai Islamic Bank, Kuwait Finance House Bahrain and Liquidity Management House began a road show for the approximately $100 million, fiveyear issue on October 18.
Developing GCC debt markets has taken on added urgency in the wake of the global financial crisis, which showed how quickly access to international capital could shut down. "Deeper bond markets in local currencies and for longer tenors would allow the GCC to smooth volatile capital flows and itself be the main source of financing for its own infrastructure and development projects," says Omar Bin Sulaiman, governor of the Dubai International Financial Center (DIFC) and vice chairman of the UAE central bank.
The debt markets in the region are severely underdeveloped, says Nasser Saidi, chief economist at the DIFC. Most of the project funding in the region is done through banks and depends on the price of oil.
Meanwhile, DIFC signed a memorandum of understanding in October with another World Bank affiliate, the Multilateral Investment Guarantee Agency (MIGA), to promote foreign direct investment into the region. DIFC and MIGA will cooperate to design and implement a standardized shariah-compliant guarantee template. "The overarching goal of this program is to help develop efficient and liquid capital markets in the region, long one of the top priorities of DIFC and of strategic importance in the light of current global conditions," Sulaiman says. Last year, MIGA, which provides investment guarantees against political risk, announced its first-ever guarantee for shariah-compliant project financing.