INDIA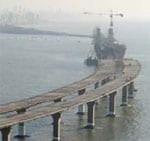 Reaching out: The US hopes its firms can win a slice of India's $500 billion spending spree.
Bhopal Medical College Trust is the first Indian project to reap the benefits of US Export-Import Bank's (Ex-Im Bank) Indian infrastructure support program. The bank approved $29.4 million in loan guarantees to back the supply of US equipment and services for the Bhopal Medical College construction.
The Bhopal financing facility, guaranteed by Punjab National Bank in New Delhi, will support the import of building, medical and office services and supplies from US companies, and the 30-acre Bhopal project will include the medical college, a 750-bed hospital and staff housing, among other things.
With $500 billion needed to finance upcoming infrastructure projects in India, the Ex-Im Bank launched its $2.2 billion Indian infrastructure facility in April to support US equipment and service export for infrastructure development.
Guarantor Punjab National Bank is one of eight Indian financial institutions approved under the Ex-Im Bank program to receive pre-approved credit lines of between $50 million and $800 million for US export guarantees. Other firms include India Infrastru
cture Finance Co., India Renewable Energy Development Agency, Industrial Development Bank of India, Infrastructure Development Finance Corp., Infrastructure Leasing & Financial Services, Power Finance Co. and State Bank of India. Additional projects are expected in the airport, healthcare, oil and gas, power and renewable energy generation, and small aircraft sectors.
The Asian Development Bank has also approved a $500 million India infrastructure project financing facility for developments in the agribusiness, energy, irrigation and water management systems, and transport sectors.
Infrastructure projects in India are often plagued by red-tape—from land ownership disputes to the need to satisfy competing political interests and unmanageable budgets. For example, the construction of Bangalore International Airport, which is expected to open for commercial traffic this month, was first launched in 1991 and was 14 years in the development stages before construction could begin. A consortium including Siemens and Unique Zurich Airport is now handling the project. The 111-kilometer (69-mile) Bangalore-Mysore expressway is also experiencing serious delays. The $790 million project has been 12 years in the making and is still mired in red tape.
Denise Bedell