MILESTONES: ITALY
By Valentina Pasquali
The general elections held in Italy in February yielded a hung parliament, marked the phenomenal rise of the little-understood protest movement of former comedian Beppe Grillo, and unexpectedly revived the flagging political career of former prime minister Silvio Berlusconi, who promised voters he would reimburse a real estate tax imposed last year.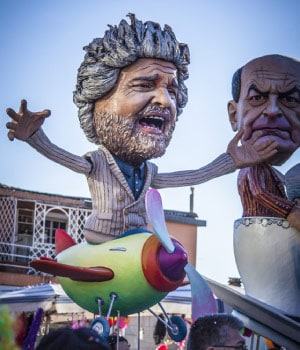 Italian election result was no laughing matter
Photo Credits: ONIGIRI STUDIO/ Shutterstock.com
Now the race is on to avoid a disastrous new round of voting, which would derail all plans for economic reform and threaten the stability not only of Italy but of the entire eurozone.
Besides generating much confusion, Italian voters did send at least one clear signal to the political class in Rome and Brussels: that they have had enough of painful austerity and now expect more from their leaders in terms of economic growth and job creation, but also greater transparency and accountability. According to Gianni Bonvicini, vice president of the Institute for International Affairs in Rome, Italians have made it amply known they believe "the country's political and party system is broken," and that Europe "should show solidarity in concrete ways in such moments of crisis."
The president, Giorgio Napolitano, who is traditionally tasked with appointing prime ministers, is constrained by the fact that his term in office is ending."Napolitano has been walking a tightrope for the last seven years, managing to keep things together at a time of institutional turbulences,"says Daniele Archibugi, research director at the Italian National Research Council. "He is one of the best minds in national politics, but I'm not sure he can understand the real nature and depth of the world-shattering changes under way."
At best, observers hope that a tenuous coalition government will be capable of pushing through a few basic institutional reforms—such as a reduction in the number of elected officials and a new electoral law. A coalition is only expected to last a matter of months, and no incisive economic and structural initiatives are expected from Italy's highly divided political constituencies. Sooner or later, voters will have to return to the ballot box. In the meantime, the risk is that instability in Italy will breed only more populism, which, in the absence of a more coordinated EU-wide strategy for economic growth, could spread to other member countries and threaten to turn the entire European project belly-up.