United States
By Gordon Platt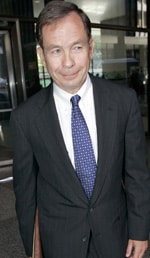 Valukas: Report raises fears over systemic risk
The Valukas Report on the collapse of Lehman Brothers, a nine-volume, 2,200-page document that cost $38 million to produce, was worth every penny. The comprehensive "post mortem" on the once-venerable Wall Street firm makes the most convincing case yet for the need for global banking regulation.
Jenner & Block chairman Anton Valukas, the examiner appointed by the US bankruptcy trustee probing the reasons for Lehman's failure in September 2008, led the one-year investigation with the help of more than 70 contract attorneys. They uncovered an accounting maneuver, known as "Repo 105," which was allegedly used by Lehman to hide its financial condition.
The report says Lehman entered into an arrangement to sell $50 billion of financial assets just before a reporting period to get them off its books and then repurchased them a week or so later. No US-based law firm would sign off on this practice, so Lehman engaged respected UK law firm Linklaters, which gave Lehman the answer it wanted to hear, provided the repurchase agreements were done in London through the bank's European arm, the report says.
The Valukas Report says Lehman used an advice letter written by Linklaters, which was intended specifically for use under English law with reference to the bank's UK subsidiary. The report highlights the roles played by Linklaters and Ernst & Young, the accounting and consulting firm. It is the first clear indication that financial firms are shopping around across borders for jurisdictions that will accept their questionable accounting practices.
The revelations support the belief that systemic risk to the global financial system cannot be tackled on a national basis but requires the full cooperation of countries around the world. The report also confirms that local regulators are incapable of dealing with the problems created by border limitations. As the G-20 countries attempt to coordinate efforts to create a secure banking system to prevent another crisis, the Valukas Report may well prove an invaluable ally.