MILESTONES: BANGLADESH
By Udayan Gupta
Even as Bangladesh tries to extricate itself from the Rana Plaza building collapse, the Dhaka disaster that killed more than 1,100 garment workers, one private equity fund is trying to infuse new capital into the economy: The $88 million Frontier Fund, a private equity fund managed by Brummer & Partners, a Stockholm-based asset manager.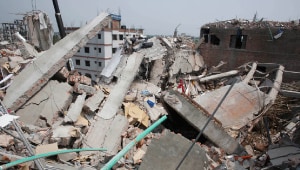 Picking up the pieces: The Rana Plaza collapse has not dampened investor enthusiasm
"Bangladesh offers one of the most promising environments for private equity, especially for patient investors that are medium- to long-term in their perspective," says Khalid Quadir, chief executive officer and founding partner of the Frontier Fund. In spite of its overreliance on textiles, which is expected to generate $25 billion in revenues in 2013, the Bangladesh economy is diverse, Quadir is quick to point out. The country's 150 million-strong population is young, there is increasing literacy, and GDP continues to grow at nearly 6%. Its future growth will come from a spike in domestic consumption and from leveraging such national assets as the labor pool. The Frontier Fund is focusing on investments to increase domestic consumption and on industries that export, where Bangladesh has a competitive advantage.
The fund is not alone in its optimism over Bangladesh. The World Bank's International Finance Corporation and the Norwegian Investment Fund for Developing Countries (Norfund), along with several Swedish private investors, account for 50% of financial contributions to the Frontier Fund. "Although our mandate is purely commercial, we also set high bars for corporate governance and environmental and social responsibility," says Anders Stendebakken, a Singapore-based managing director of Brummer & Partners. But he also believes that, with its capital, Frontier can influence corporate governance and strive for greater transparency and disclosure.
Investors say they are confident that the country's economy, in spite of its current turmoil, is on the right path. But they worry, as they would over most frontier markets economies, about governance issues and transparency. Quadir, a successful entrepreneur himself, is confident that Frontier can set the tone. More important, successful entrepreneurial companies will spawn new entrepreneurs to revitalize the overall economy.