MILESTONES: IRAQ
By Gordon Platt
The five largest nongovernmental banks in Iraq posted a 207% increase in aggregate earnings between 2010 and 2012, thanks to the country's strong economic growth and increasing demand for credit, according to a report on the sector by Singapore's Sansar Capital Management, a large investor in Iraq.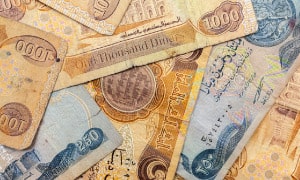 As its oil production has increased, Iraq's GDP growth has accelerated. The International Monetary Fund forecasts real GDP growth of 9% in 2013, following 8.4% growth last year.
"The growth in GDP and banking-sector earnings go hand in hand with the improving security situation," says Sanjay Motwani, CEO of Sansar. "Chicago is more violent than Iraq in terms of violence-related deaths per capita."
Although Iraq remains a difficult place to do business, the banking sector is poised for significant earnings and asset growth over the next decade, the report says. Iraq's level of domestic credit is only about 9% of GDP, versus 55% of GDP for the Middle East and North Africa, according to the World Bank. More than 80% of Iraqis do not have a bank account, and there is only one ATM machine for every 100,000 people.
Iraq's seven state-owned banks hold 91% of the deposits, but they are hamstrung by bad loans. The two largest, Rafidain Bank and Rasheed Bank, are being restructured with the help of the World Bank. The five largest private banks are: North Bank, Bank of Baghdad, Iraqi Middle East Investment Bank, Kurdistan International Bank (an Islamic bank) and Dar Es Salaam Investment Bank. HSBC holds a 70% stake in Dar Es Salaam.
One surprising result of the study was a negative correlation between valuation multiples and traditional drivers of value, such as growth and return on equity. Motwani attributes the poor correlation to market inefficiency. "This is due in part to the lack of fundamental analysis of companies," he says, adding that "as the market grows and matures, this will likely go away."
Iraqi banks will have to overcome some challenges to continue their impressive growth, Motwani observes. One of these is an uneven playing field, since government enterprises are prohibited from placing deposits with private banks.