QATAR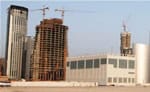 The only way is up: QFC moves to new, gleaming headquarters.
Rich in natural gas, the Gulf nation of Qatar has one of the fastest-growing economies in the world, with increasing demand for financial products and services. The country is planning to adopt a single, integrated financial regulatory body that will oversee all banking, insurance, securities, asset management and other financial services.
An interim board will be created by the end of this year for the new financial regulator, which will develop a common set of rules to be implemented by 2010. "This initiative, aimed at creating a best-practice legal and regulatory environment for Qatar's entire financial sector, illustrates the government's commitment to the development of a thriving financial services industry," says finance minister Yousef Hussain Kamal. He forecast a sea change in the depth and sophistication of Qatar's financial sector, which is vying with Bahrain, Dubai and Riyadh to be the preeminent regional financial hub.
The Doha-based Qatar Financial Centre, created in 2005, has attracted major financial institutions from around the world and recently moved into a gleaming new headquarters building. The Qatar Financial Markets Authority was established in 2006 to regulate the securities sector. Staff resources from the Financial Markets Authority, along with those from the central bank's Department of Banking Supervision and its consumer services unit, will be combined with the QFC Regulatory Authority in a single organization.
Qatar is following a global trend toward an integrated approach to the regulation of financial services that enables a comprehensive view of financial institutions that operate across different lines of activity. The government says it anticipates other benefits as well, including greater transparency and predictability and greater efficiency through the pooling of scarce regulatory staff. All staff members from the existing regulators are scheduled to move to the new regulatory body by early 2008.
Gordon Platt