JAPAN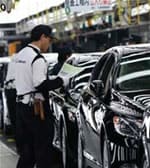 Toyota: Top holding in new ETF.
Tokyo-based Daiwa Asset Management will create an exchange-traded fund based on the newly formed FTSE Shariah Japan 100 index. The ETF, which will be listed on the Singapore Exchange in the next few months, will provide Islamic investors with expanded access to the Japanese stock market. Singapore is competing with Malaysia to be the most important center of Islamic finance in Southeast Asia.
The new index contains the 100 largest Japanese companies by market capitalization from the FTSE Japan universe screened by UK-based research firm Yasaar for compliance with Islamic Shariah laws. The stocks are also screened for liquidity to ensure that the index is tradable. The index has a strong weighting in automobiles. The top five components are Toyota Motor, Canon, Matsushita Electric Industrial, Takeda Pharmaceutical and Nippon Steel. The index is the first of a family of Shariah-compliant FTSE indexes that will encompass 23 countries as well as regional indexes.
Last year, FTSE Group, the Singapore Exchange and Yasaar launched Asia's first Shariah-compliant market index, the FTSE SGX Asia Shariah 100. The Asia Shariah index is composed of 100 compliant stocks from companies based in Japan, Singapore, Taiwan, South Korea and Hong Kong.
Companies involved in alcoholic beverages, tobacco, weapons, entertainment, pork and non-halal food, conventional finance and insurance are excluded from Shariah-compliant indexes. Companies included must meet financial standards regarding debt, interest, non-compliant income, cash and accounts receivable.
Gordon Platt