Lebanon/Syria/Turkey
By Nick Kochan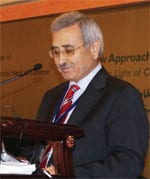 Yilmaz: Turkish banks were ready for leverage crisis
The evolution of Turkey's role in the Middle East and beyond was clearly on display at a late-October risk management conference in Beirut. The guest speaker at the conference was the Turkish central bank governor, Durmus Yilmaz. He came attended by many officials from the finance ministry in Ankara and the Turkish Bankers Association.
This was a full-scale delegation, and it illustrated the growing political rapprochement between Turkey and the Arab world. Riad Salameh, the governor of the central bank of Lebanon, and Adib Mayaleh, the governor of Syria's central bank, attended the conference and spoke glowingly of their Turkish colleague. Such praise would not have been lavished during an earlier era, when Turkey orientated itself more explicitly toward the US.
A common interest in the implications of the economic crisis—as well as politics— brought the bankers together. Yilmaz attributed Turkey's relatively benign experience of the meltdown of 2007 to the country's bitter experience in 2001. The banking crisis of that year brought forth legislation and regulatory pressures that prepared Turkey's banks for the current crisis of leverage.
The Lebanese governor and bankers argue that they are relatively well protected from the effects of crisis by the scale of funds repatriated to the country by overseas Lebanese businessmen. However, bankers admit that controls of Lebanon's sprawling banking sector have yet to be implemented. "The lessons of Turkey have a relevance to Lebanon," says Meguerditch Bouldoukian, the head of financial institutions, Middle East and North Africa, at Banque Libano-Française, a Beirut-based bank. "We have a number of banks with weak controls on lending. Lending criteria are not adequately established," he points out.
Haroutiun Samuelian, deputy governor of the Bank of Lebanon, says that Lebanon's growth potential has "scarcely been recognized. The crisis has yet to inflict damage on Lebanon, and the authorities are confident that we have established resilient and procyclical systems of checks on credit exposures."