ASIA-PACIFIC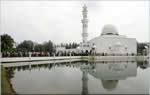 Asia looks to cash in on its emerging Islamic financial center status.
The Asia-Pacific region already accounts for 60% of the world's Islamic banking assets and could be a center of growth for the shariah-compliant finance industry in the future. Islamic banking in the region, which is home to 1 billion Muslims, is growing at a rate second only to the Middle East, according to a report by Celent, a Boston-based consulting firm that advises financial institutions.
"The financial crisis in the West has made emerging countries in the Asia-Pacific region more attractive," says Prathima Rajan, Bengaluru, India-based author of the report. India has a Muslim population of 153 million, making it a promising potential market if the Reserve Bank of India were to allow Islamic banking in the country, she says.
Iran is the largest Islamic banking market, with more than half of the world's $750 billion of shariah-compliant banking assets. It is a mature market, however, with limited opportunities for new entrants and products, according to Celent. The country's entire banking industry is shariah-compliant.
Pakistan, Bangladesh and Indonesia all have good growth potential for Islamic banking, Celent says. They are all countries with majority Muslim populations. In Pakistan, Islamic banking accounts for less than 4% of the banking system. Bangladesh also has very low Islamic banking penetration, leaving more room for growth. Islamic banking in Indonesia, which has a population of 238 million, is growing very quickly.
Malaysia, with an Islamic banking sector of about $43 billion, has been a pioneer in Islamic finance in southeast Asia. Its industry is at an advanced stage of development, and Kuala Lumpur is competing with financial centers such as Dubai and London to become a global hub for Islamic banking. The Philippines, Singapore and Thailand have relatively small Islamic banking sectors, matching the smaller Muslim populations in these countries.
Gordon Platt